BRIDAL GURU / Jun 16, 2021
MEGHAN MARKLE'S WEDDING DRESSES: HOW TO SCORE THE ROYAL LOOK ON YOUR BIG DAY
Minimalist, but elegant. Timeless, yet modern. Sexy, and refined.
Meghan Markle is known for bringing two worlds together—one that is real and relatable and another that is lavish and glamorous.
Her wedding looks were no different. They captured that beautiful balance perfectly. It's no wonder that women worldwide still turn to Meghan Markle for inspiration as they create their own wedding look. Her looks weren't over the top. From the dresses to her hair and makeup, she kept things simple.
The outcome? Two royal looks that were simply stunning. And today, we're breaking them down for you—so you can look and feel like a princess when you walk down the aisle, too.
* Meghan Markle's Wedding Dresses *
1— Givenchy Wedding Dress
Meghan Markle donned two wedding dresses—one for the ceremony and one for the reception. For the ceremony, she wore a stunning Givenchy gown that epitomizes timeless, minimal elegance. How can you score the look and feel of this dress—without paying the £100,000+ price tag?
• A bateau (or boat) neckline: This is a straight neckline that stretches across the collarbone to each shoulder.
• Three-quarter length sleeves: The length of these sleeves may vary on each person because they are three-quarters of your arm or halfway between your elbow and wrist.
• Silk material: Silk is smooth, light, and luxurious, with a natural shine. It also feels incredibly soft on the skin!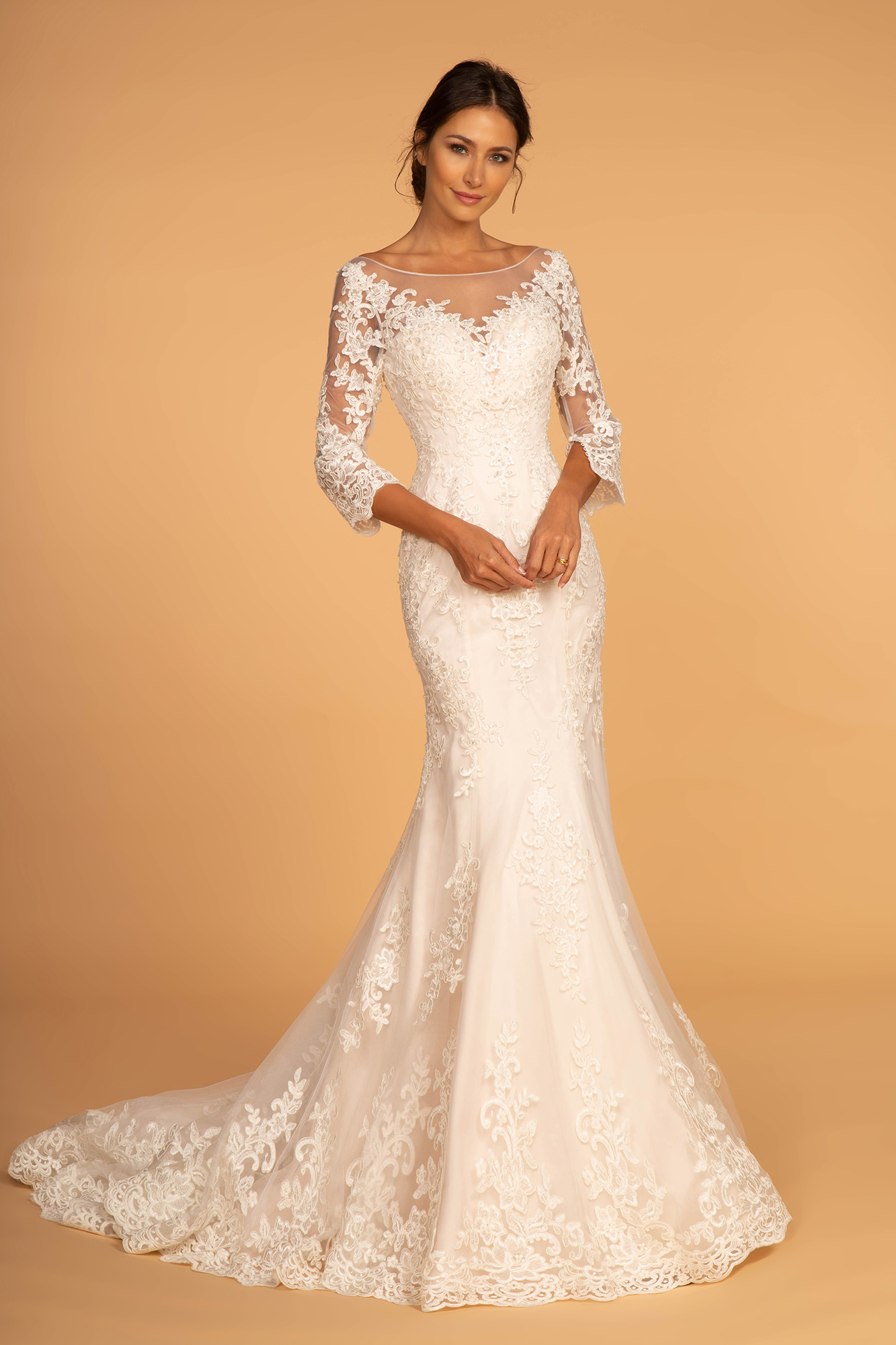 Get the look:
style GL2592
| Embroidered Mesh Mermaid Wedding Gown w/ V-Back
We can't take our eyes off this embroidered Mesh dress. It's not silk material, but it still looks absolutely stunning (and regal) nevertheless. We especially love the jewel embellishment that adds an oomph to the dress' understated elegance.
If you can find a dress that features this trifecta, you're well on your way to scoring Meghan's first look.
2— Stella McCartney Wedding Dress
As we mentioned, one reason why Meghan Markle is so well-liked is that she's relatable. She, too, wanted a second look that would take her into the evening comfortably. This Stella McCartney halter-neck sheath gown did just that.
What makes this gown so notable?
• A halter neckline: Instead of two straps, a single strap runs from the front of the garment around the back of the neck, exposing the shoulders and generally leaving the upper back uncovered.
• Silk crepe: Crepe describes a weaving method that leaves a distinctively crisp and crimped appearance.
• Sheath silhouette: A sheath dress is a fitted, straight-cut dress that nips at the waist. This style of dress is super flattering because the exposed shoulders and sheath fit create an hourglass shape. Get it in a silk crepe material, and you've nailed the second look!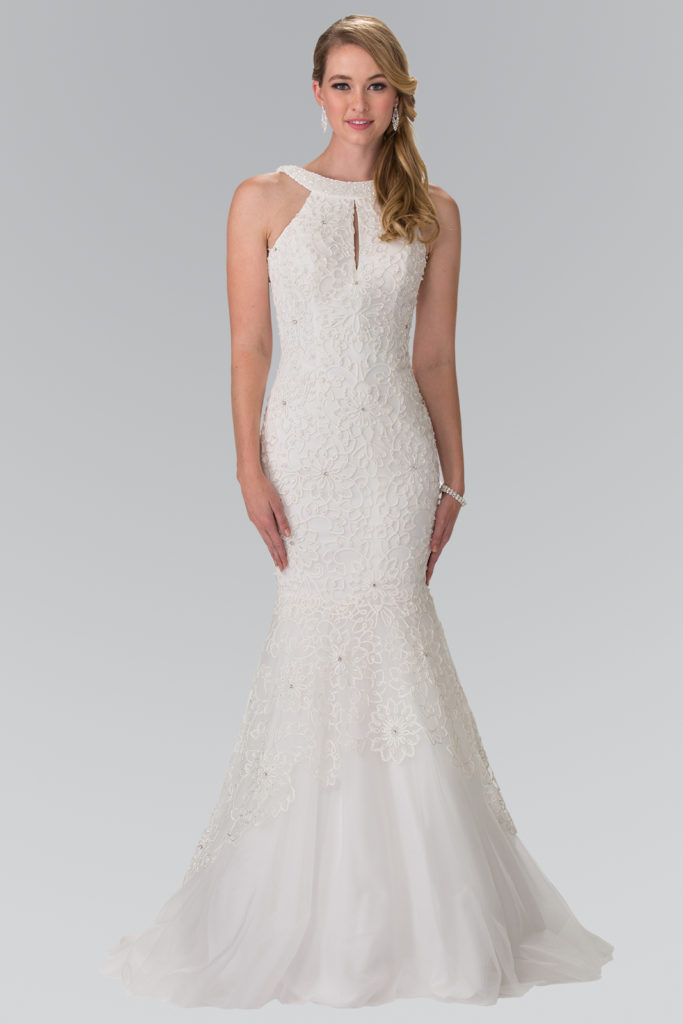 Get the look:
style GL2262
| Halter-Neck Mermaid Tulle Long Dress
This style GL2262 has it all—a halter neckline to show off the shoulders, a cinched waist to give that hourglass shape, and stunning floral embroidery to add texture to the dress (and another touch of femininity).
* Meghan Markle's Wedding Accessories *
While Meghan's dresses were elegantly simple, her accessories upped the glamour. When it comes to your royal look, we encourage you to embrace your femininity and wear accessories fit for a queen. Use Meghan's lineup as inspo:
1— Veil: You don't need a 16.5-foot veil to score Meghan's royal look. What do we love most about hers? The intricate floral embroidery on the ends. While these flowers are distinctive flora of all 53 Commonwealth countries, we think you could get away with something a tad simpler.
2— Bandeau tiara: What's a royal look without a tiara?! Meghan wore the famed Queen Mary bandeau tiara made of diamonds and platinum. What's a bandeau tiara? A headband-style ornament of low profile, usually without a graduation in height from one side to the other, and is often worn on the forehead.
3— Court shoes (or pumps): Meghan opted for classic court shoes from the same brand that created her first wedding dress—Givenchy. A court shoe is a British term to describe a type of shoe worn in the royal courts by the wealthy upper class or royals. What does it look like? A classic pump. Find one in silk satin, and nobody will know your pair from hers.
* Meghan Markle's Wedding Hair and Makeup *
While some folks were up in arms about Meghan's loose hair strands, we think that her hair and makeup radiates effortlessly chic. Long before the wedding, she's pushed to be authentic—and her wedding day was no exception. We love that her hair and makeup are something you can totally recreate for yourself on your wedding day:
1— A low, messy bun: Meghan's bun was low and securely pinned to the nape of her neck towards the right. Her hair was parted right down the middle, with a few face-framing strands loosely curled to soften the look.
2— A natural base: When it came to Meghan's skin, she kept things light and natural—allowing her freckles to come through. She noted that she wanted to avoid a bunch of contouring and strobing. But to add glow and a slight flush, her makeup artist used a luminizer and a coral cream blush.
3— A smokey, doe-eyed look: Meghan's makeup artist wanted to draw attention to her eyes while keeping things natural. So instead of black or gray eyeshadow, he used shades of warm brown. To make eyes look like they're "fluttering" when she glanced up at Harry, he customized and shaped some of the outer lashes to give her that doe-eyed look.
---
Leave a comment