BRIDAL GURU / Jun 16, 2021
5 BEST WEDDING DRESS STYLES FOR AN INTIMATE GATHERING (PLUS ACCESORIZING TIPS!)
COVID-19 paused a lot of things—business, travel, events, and more. But it didn't press pause on love. Many couples are moving forward with their weddings, albeit the guestlist is probably smaller than initially planned. Accordingly, 2021 brides are looking for wedding dress style inspo that suits a smaller intimate wedding—something that's not a ball gown but will still steal the show.
Whether it is due to the pandemic or you're a low-key kind of gal, here are five wedding dress types perfectly suited for an intimate wedding.
Type 1: The Mini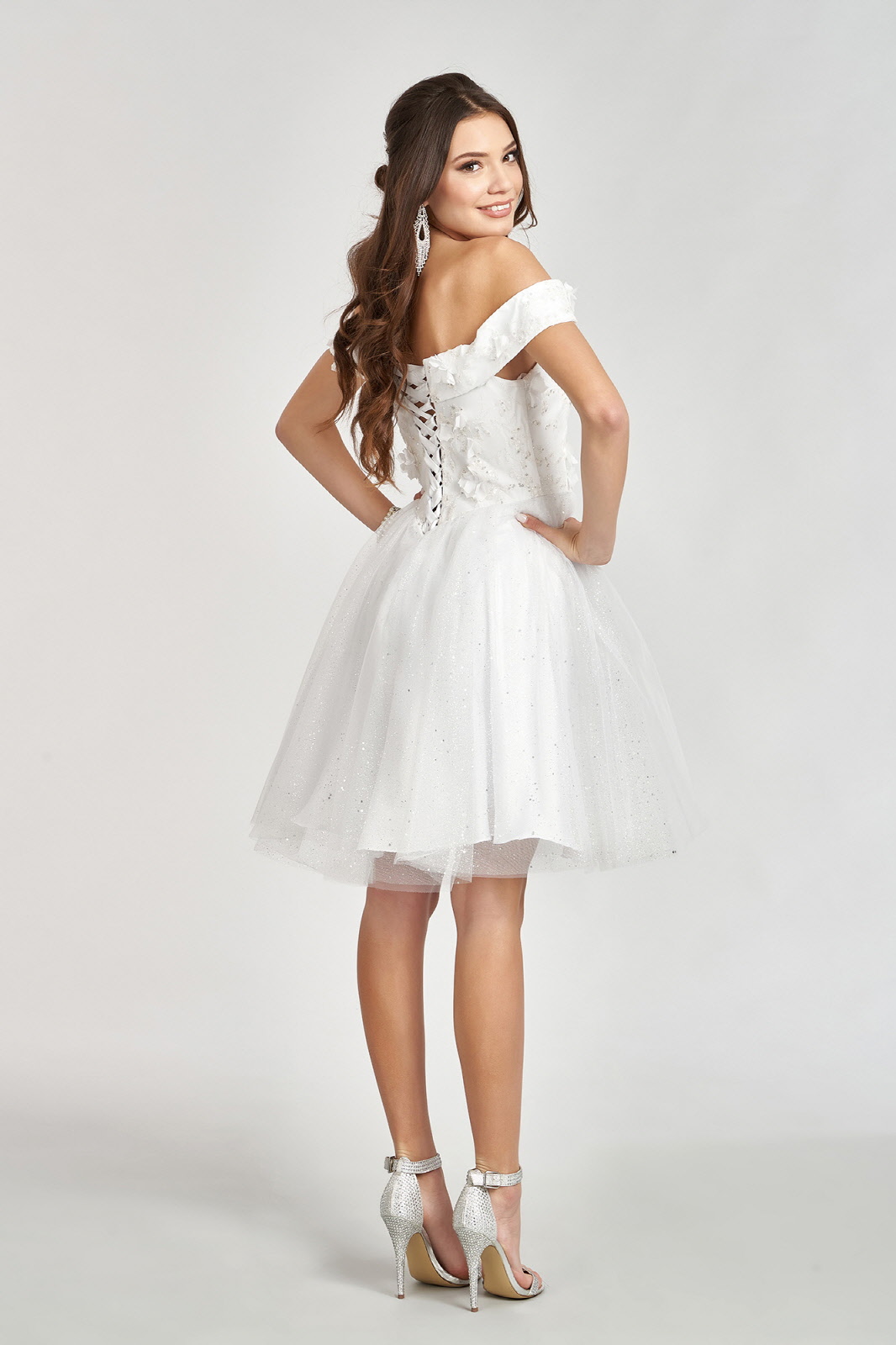 Get the look:
style GS1978
| Sweetheart Glitter Mesh Homecoming Dress w/ Corset Back
Planning a wedding on a hot summer day with just a few close friends and family? Mini wedding dress styles will totally suit the occasion (and keep you cool!). This type of dress is for the fun-loving brides whose main priority is to have fun.
• The fit and cut: Much like the tea-length style, the mini wedding dress often cinches at the waist and flows out at the skirt. Because the length is above the knee, we recommend choosing a higher-cut neckline to create balance.

• The material: Satin, cotton, tulle, mesh, lace—the mini is found rocking various materials—and patterns. Find something that's comfortable for you!

• Accessorizing tip: Since you're showing off the legs, find a pair of eye-catching heels to show them off! If you choose a high neckline, we recommend throwing your hair up and rocking some fun, bold earrings. (Perhaps, something blue?)
Type 2: The Slip
Get the look:
style GL3009
| Sweetheart Embroidered Mermaid Wedding Gown w/ Open Back Laced Up
Are you a woman who has always wanted a minimalist wedding? Then the slip dress may be just the wedding dress style for you! A slip dress is designed to resemble an underslip or petticoat. Don't worry, it's not as risque as it sounds—and is certainly suitable for a low-key garden or backyard wedding.
The style GL3009 is the perfect mash-up between simple and elegant. It borrows the silhouette and cut of the classic slip dress, but dials up the glamour with the embroidery and tulle. And don't forget the accessories! With her hair up, eyes go straight to her beautiful neckline and collarbone.
• The fit and cut: Slip dresses typically have a streamlined, slightly loose-fitting silhouette with spaghetti straps. Lengths vary from above the knee to maxi length. To "up" the sexy, many brides opt for a low back. However, if you want to make this slip style more refined and elegant, look for midi or maxi length or those with a cowl neckline.

• The material: We often see slip dresses in silk or satin. For outdoor sunny weddings, these luminous materials shimmer beautifully.

• Accessorizing tip: If you want to add some glamour to this dress style, pin your hair up in a loose updo and wear some shoulder-dusting earrings.
Type 3: The Two-Piece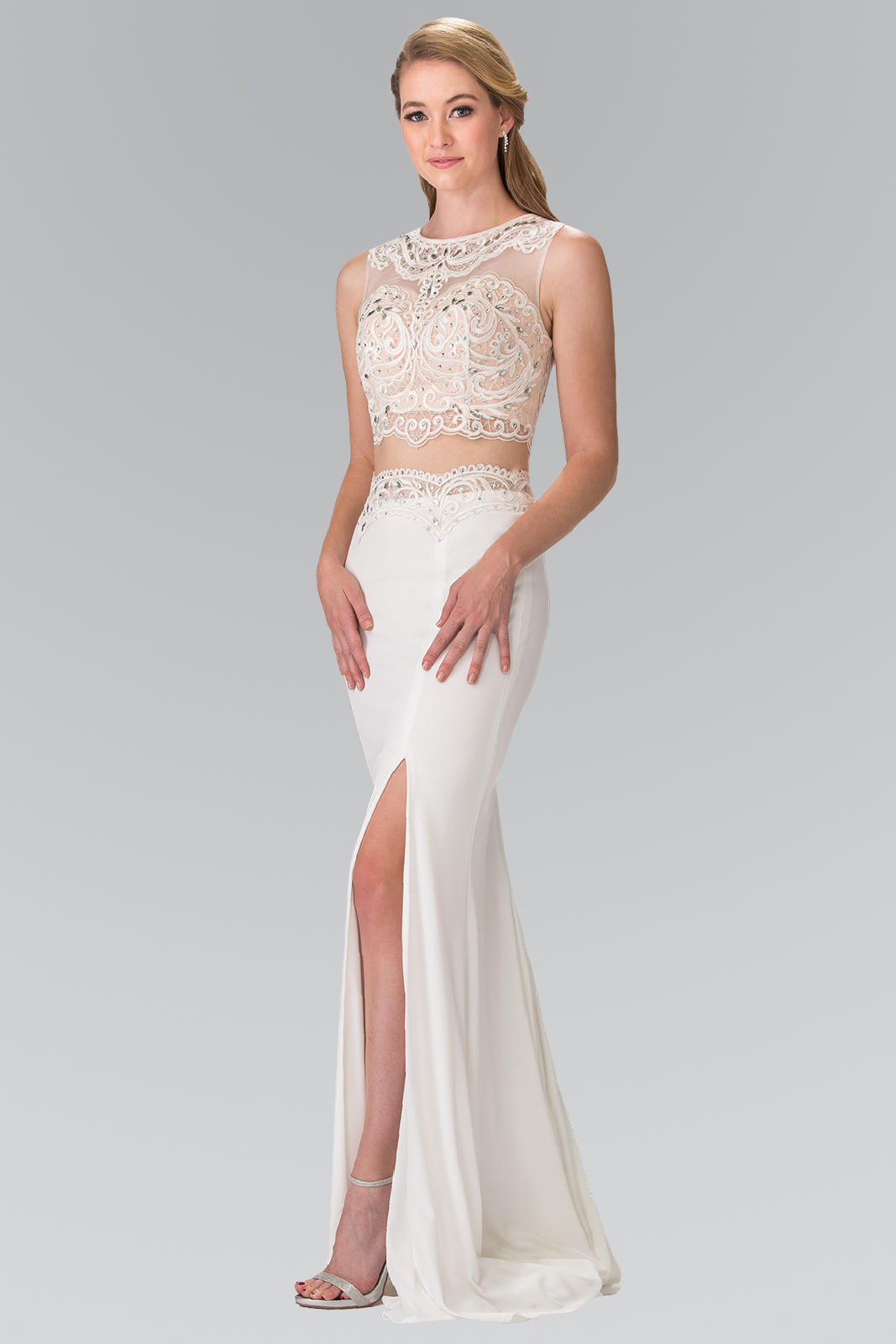 Get the look:
style GL2373
| Two-Piece Prom Dress with Embellished Lace Top
The two-piece is perfect for the bride who's looking to break tradition. The versatility of this wedding dress style allows you to be as sexy or conservative as you want! Similarly, this type of wedding dress pairs well with both outdoor venues and urban venues, such as restaurants or hotels.
• The fit and cut: The "two-piece" can mean many things—from crop tops paired with waist-high skirts to pantsuits.

• The material: Like the fit, the two-piece style is versatile and allows for a lot of mixing and matching! Pair a lace or beaded crop top with a long tulle skirt for a fun, unique look!

• Accessorizing tip: This untraditional style allows you to explore bolder footwear—think straps, embellishments, and different colors. Try something different—you can get away with it!
Type 4: The Boho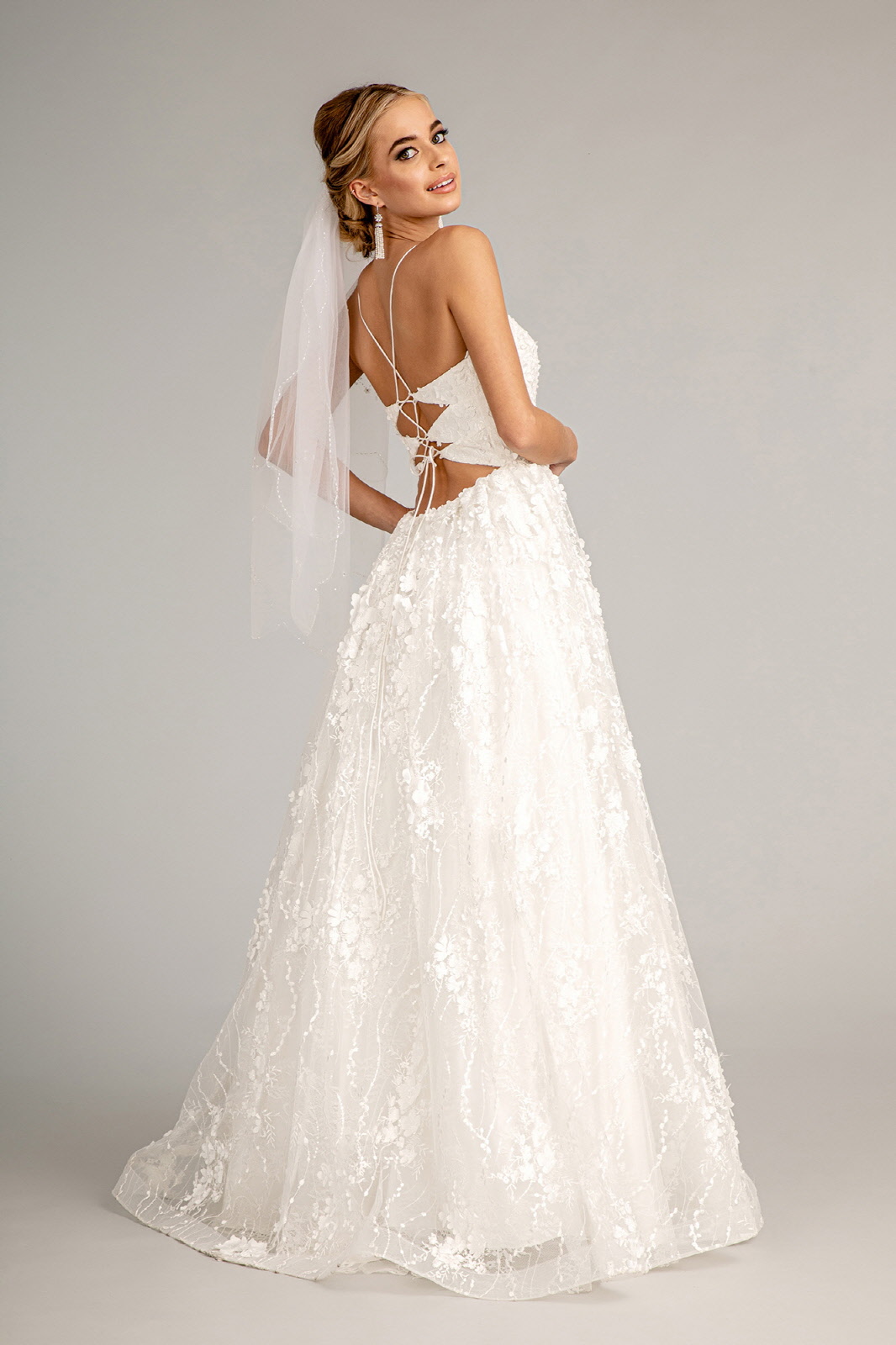 Get the look:
style GL1985
| Floral Embroidered Lace-Up Mesh Wedding Gown w/ Sweetheart Neckline
Calling all free spirits! Bohemian-style wedding dresses are perfect for rustic, outdoor weddings held outside—such as those at the beach or on a farm. (Can I say, very COVID-19 friendly?) Although they come in various styles, all boho dresses are airy with a feminine twist. Sound like your vibe?
The style GL1985 is a quintessential boho-style dress: feminine, airy and free-flowing. You can wear your hair down, and your makeup dewy and natural to complete the look. Add some glamour by adding a pair of statement earrings.
• The fit and cut: Boho dresses are long and loose, with light, flowing fabrics—allowing for plenty of movement.

• The material: Crochet and lace are standard fabrics for the bohemian style—oh, so romantic!

• Accessorizing tip: When it comes to hair accessories, choose a whimsical headpiece that features flowers, lace, or pearls over a veil.
Type 5: The Tea-Length
Source: thecelebritydresses.com
Do you consider yourself a modern bride craving a casual look—with a touch of classic? Then the tea-length wedding dress is for you. Think Audrey Hepburn—no, really! Her dress in the movie Funny Face made this retro style very popular today. It's perfect for a garden wedding or even a civil ceremony.
• The fit and cut: What exactly does "tea-length" mean? Below the knee, but above the ankle—about three to four inches. Tea-length wedding dresses often feature a full skirt and a nipped waist, creating that hourglass figure we all want on our wedding day.

• The material: Many of these dresses will feature lace or tulle. This wedding dress style is also all about feminine detailing, using lace, embroidery, and bows.

• Accessorizing tip: Want to bring in a bit more tradition? Consider adding a tea-length veil as Audrey Hepburn did. A pretty pair of flats would also pair well with this style. (Skip the sore feet? Sign me up!)
---
Leave a comment