DRESS TRENDS / Oct 05, 2021
5 DATE NIGHT LOOKS FOR FALL
Fall is upon us. To us, it's the most versatile season for your wardrobe. One day, you could be rocking a skirt. The next you're wearing a cozy knit sweater. Layers are your best friend!
But with so many options, it's easy to get overwhelmed—especially when you're dressing for a date.
If you have a date night fast approaching, don't pull apart your entire closet just yet. To get inspired, here are five date night looks fit for fall.
1. Long skirt paired with a sweater
If you feel like you can't part with your summer skirts just yet, don't fret—simply throw on a cozy sweater and you've got the perfect date night look for fall.
Long skirts provide more coverage against those cold and breezy evenings. But if it's a warmer night, a short skirt will do, too! Pair it with some boots to keep the ankles warm.
The fall season opens up a lot of options for colors too. You could wear light, warm colors—such as yellow, orange, white, and brown. Or you could rock a darker color scheme. But since we tend to wear dark clothes during the winter, we encourage you to wear your brighter colors on those sunny fall days.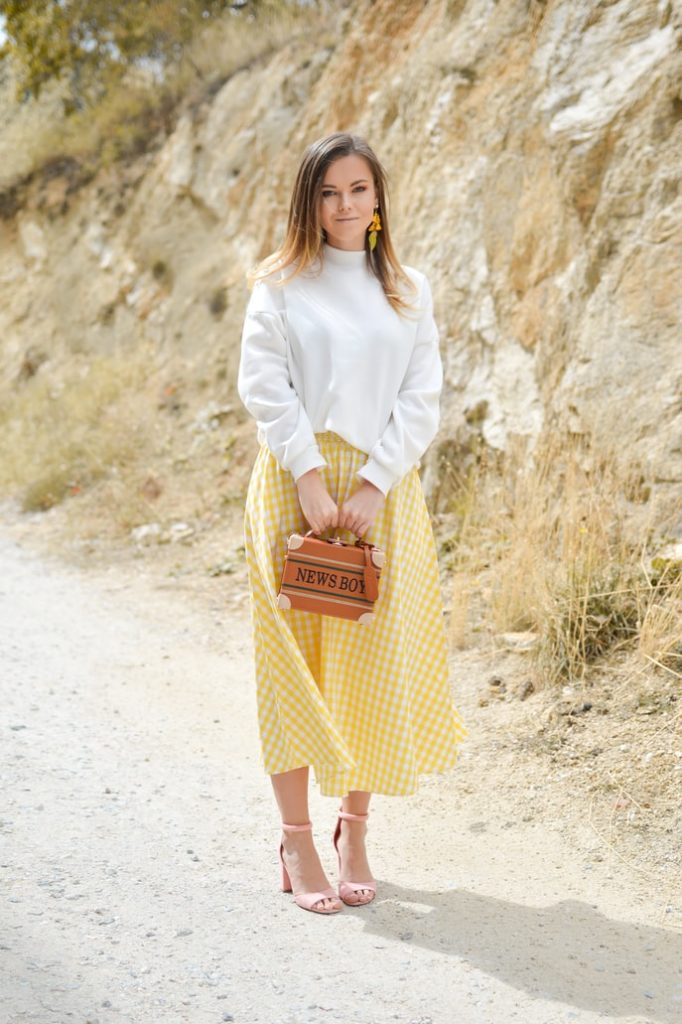 🍒 Perfect for: Dinners, outdoor walks, shows and events, picnics, wineries, art galleries
2. Jeans and a leather jacket
Ah, jeans and a leather jacket—a classic combo for date night, and the perfect amount of coverage for fall.
Black leather jackets are many women's go-to, but we're loving brown for the earlier fall months. Plus, the color pairs so well with blue jeans. Choose a cropped jacket to accentuate your waistline.
High-waisted skinny jeans would work really well here. Again, you're calling attention to a natural hourglass shape—which is exactly what we want to achieve on date night!
We love that this look is versatile. You could keep it casual and wear some sneakers. Or, you could dress it up with some boots or heels.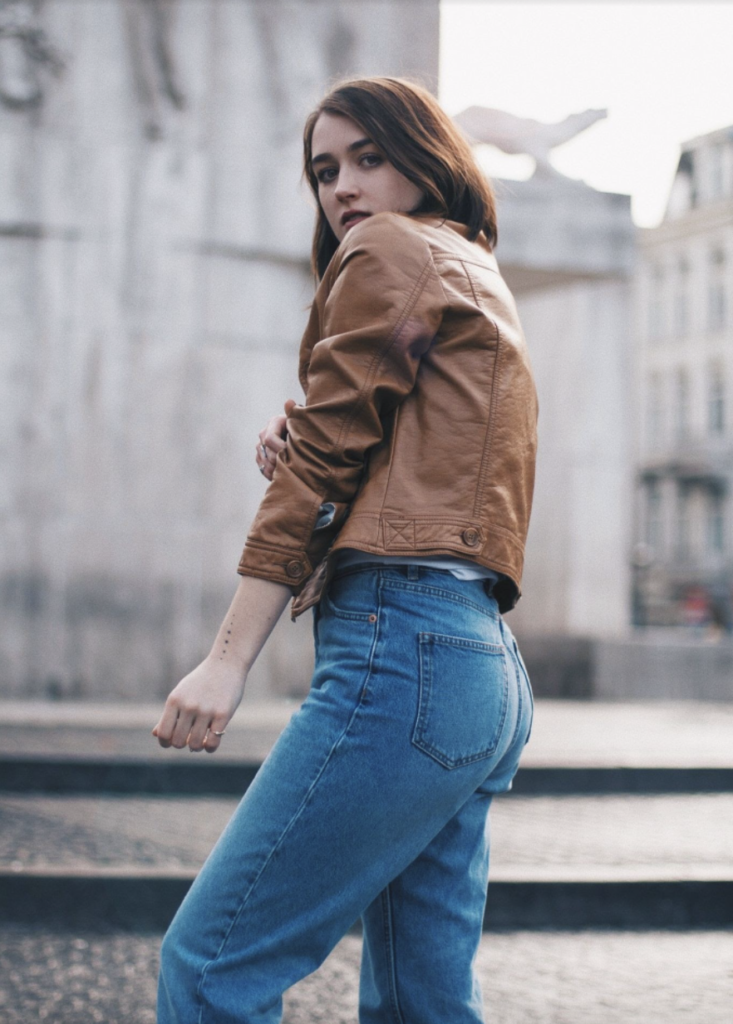 🍒 Perfect for: Concerts, movies, bars, arcades, sports games, outdoor walks
3. Jean jacket, dress, and festival hat
A knee-length dress paired with a jean jacket and festival hat is oh-so-classic for fall—and for good reason. While many of us love rocking dresses on date night, it can get chilly! A jean jacket is just what we need when the sun goes down.
And the festival hat? It immediately adds character to your look. If you have a bold personality, let it shine through using accessories. A funky purse would be another option.
We also recommend taking the time to pick out the perfect shoes. Because your legs are bare, you could choose chunky block heels, canvas sneakers, derby shoes, gladiator sandals—there are so many options to make a statement!
Since your hair will likely be down, we suggest skipping jewelry for this date night look. But bold red or pink lips would look stunning.
🍒 Perfect for: Bike rides, breweries, outdoor walks, dinner, outdoor concerts and fairs
4. Short dress and knee-high boots
The fall season doesn't mean date nights are dull and drabby. For a night out on the town, wear your favorite dress or skirt and pair it with knee-high boots.
If it's a cooler evening and you'll be outside, opt for a long sleeve shirt or dress. Or, pair the look with a trench coat. (It's practical and looks super sexy. Va-va-voom!)
Most of us don't wear knee-high boots every day. We recommend investing in a nice pair of black boots—so when you do want to wear them, they can match any outfit.
This look is all about sex appeal, so push the limits with your hair and makeup. A high, textured ponytail will make you feel like a rockstar. And a bold smokey eye? Move over Rihanna.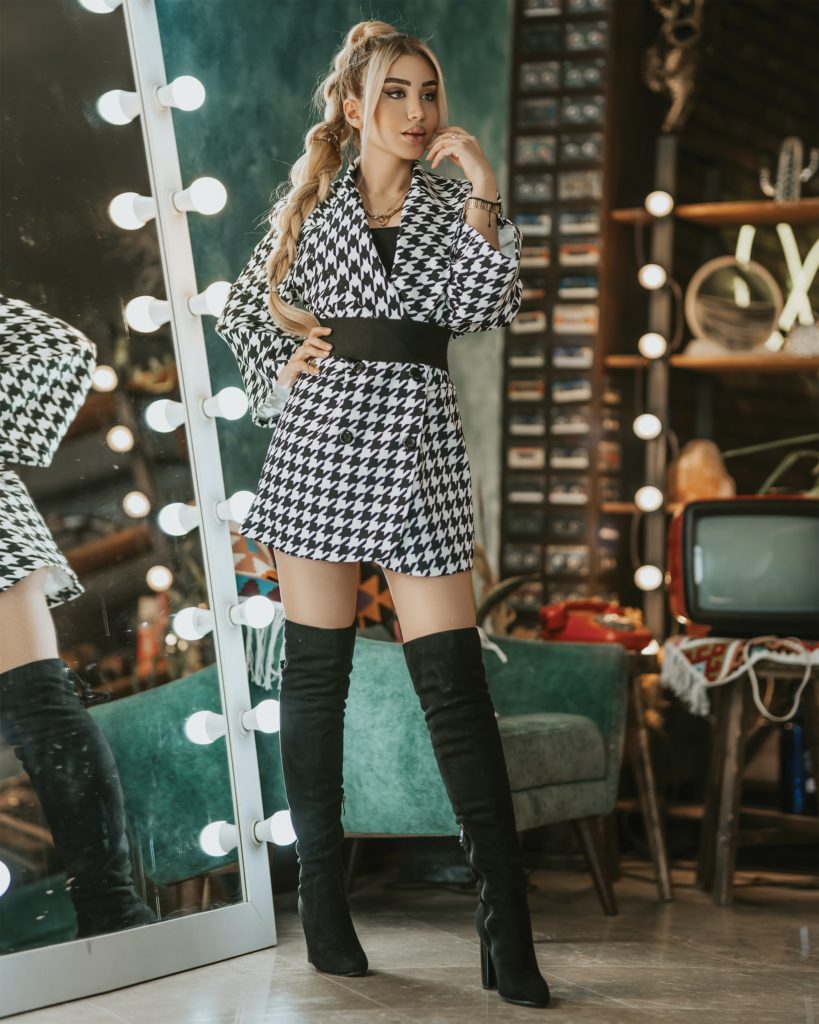 🍒 Perfect for: Concerts, Late-night cocktails, dancing
5. Long-sleeve dress with heels 
Got a fancy fall date night on the horizon? Then grab your heels ladies, it's time for a show-stopping dress.
We're all about long-sleeve dresses for formal events. They keep you warm, so they're practical, but they also look fabulous.
What would be the perfect long-sleeve dress according to us, you ask? Mesh sleeves and sequins—hands down! For a glamorous event, sparkles are always a good idea. And mesh fabric is super trendy this season.
Pair the look with some heels. If you anticipate that you'll be outside, wear a peacoat. They're fashionable but will also keep you nice and toasty.
Don't fret about hair and makeup. With a dazzling dress like this one, you can sweep your hair to the side, throw on some lipstick, and be ready to go!
Feeling fancy? Take a look at these cocktail dresses for more inspo.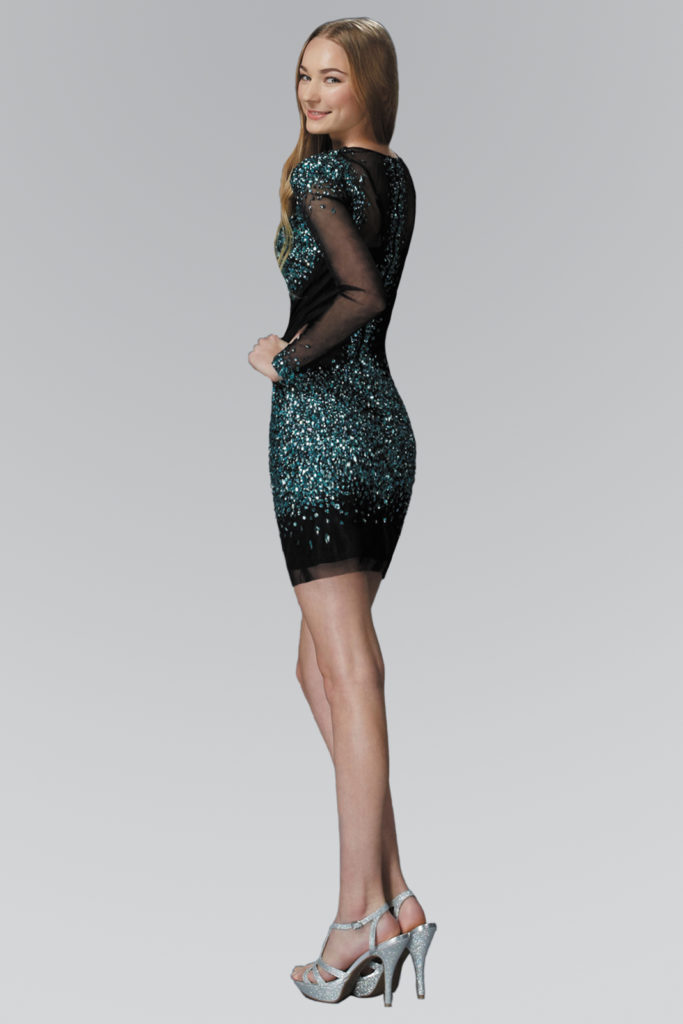 Get the look:
style GS2134
| Long Sleeve Bodycon Short Dress Accented with Jewel and Sequin
🍒 Perfect for: Cocktail parties, Christmas and New Year's events, galas
---
Leave a comment