BRIDAL GURU / Aug 02, 2023
WHAT TO WEAR TO A BACHELORETTE PARTY: DRESS TO IMPRESS WITH THESE STYLISH OPTIONS
Pop the champagne—your gal is getting married! And, of course, what's a wedding without a bachelorette party first? If you're wondering what to wear to a bachelorette party, you're not alone. Our first piece of advice? Don't wear white. (Well, unless she wants you to. Bride's orders!) While some bachelorette parties have themes, others will have one simple rule: dress to impress. Here are four outfit options to help you do that job effortlessly.
What to Wear to a Bachelorette Party as a Guest: Four Fab Options
Bachelorette celebrations call for glitz and glam. When else can we dress to the nines?! We're showing you these four stylish bachelorette dresses to ensure you serve up looks the bride will love.
1. Sequin asymmetrical bodycon dress 
What to wear to a bachelorette party if pink is on the packing list? Look no further. This fuchsia bodycon dress is just what you need. All shades of pink are on brand for a bachelorette, but if you're looking for a bold and bright number, we recommend hot pink shades, like fuchsia. We love the versatility of this bodycon dress. It can take you to a
formal dinner,
the dance floor, or both! The asymmetrical neckline and sleeve make this a classy option for any affair.
The sequins, of course, will turn heads. But we also have to call attention to the feathers! It's a stylish detail that takes this look to the next level. If you fancy this dress, we have a feeling you adore wearing color. So lean into that! Rock a fuschia eyeshadow or lip to complete this look.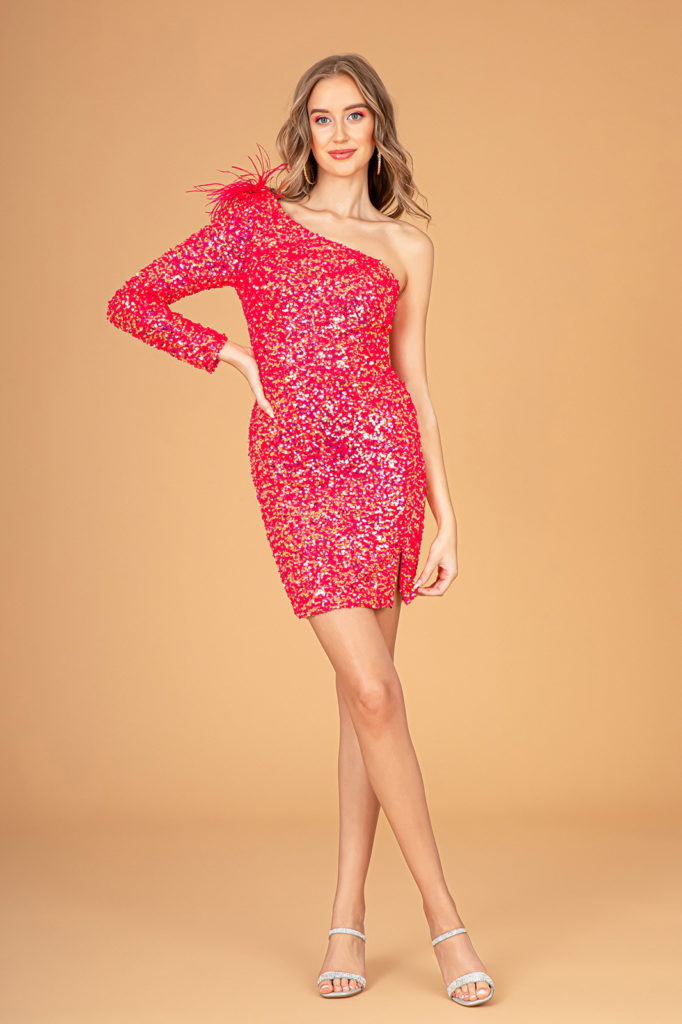 Get the look: GS3092 Asymmetric Sequin Bodycon Short Dress w/ Feather Embellishment
2. Black velvet bodycon dress with sequins
What do you wear to a bachelorette party that's all about the nightlife? A little black dress, of course! Black and other dark colors and gemstone shades are perfect for dancing attire. You don't have to worry about seeing sweat or spills. You can enjoy your night stress-free. If the bride plans to wear white, you should encourage the other girls to wear dark colors too. She'll really pop amongst the crowd—and she deserves the spotlight! Another practical bonus? The illusion v-neckline. It dials up the spice, but the see-through fabric keeps the bodice secure. The spaghetti straps will also keep everything in place. No need to fiddle or adjust your clothes. (Trust us, this is a huge benefit for late-night bachelorettes.) We recommend loose curls and shoulder-grazing earrings to style this party look. If you're wearing heels, choose comfy ones, so you can rip up the dance floor all night.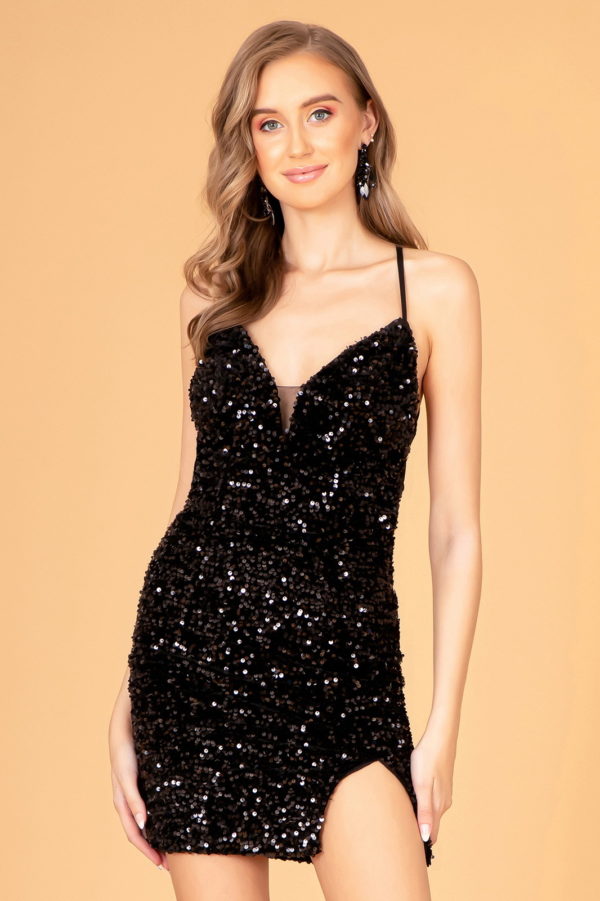 Get the look: GS3084 Velvet Sequin Bodycon Short Dress w/ Side Slit
3. Embellished mesh bodycon dress 
Elegant yet sexy, you should wear this dress to a bachelorette party that's bringing the fancy—five-course dinners, swanky
cocktail lounges
, sold-out concerts, you name it.
We love how flattering this dress is on any skin tone. The rose gold fabric brings out the glow in all of us. (Yes, please, especially in the fall or winter months!) The sparkling sequin and jewel embellishments will also make you glow. But they serve another purpose too. See that thin jeweled belt? That'll cinch your waist and highlight your hourglass shape. (Yes, please x 2!) To style this look, we recommend nude heels. This hot tip will give you legs for days. Va-va-voom.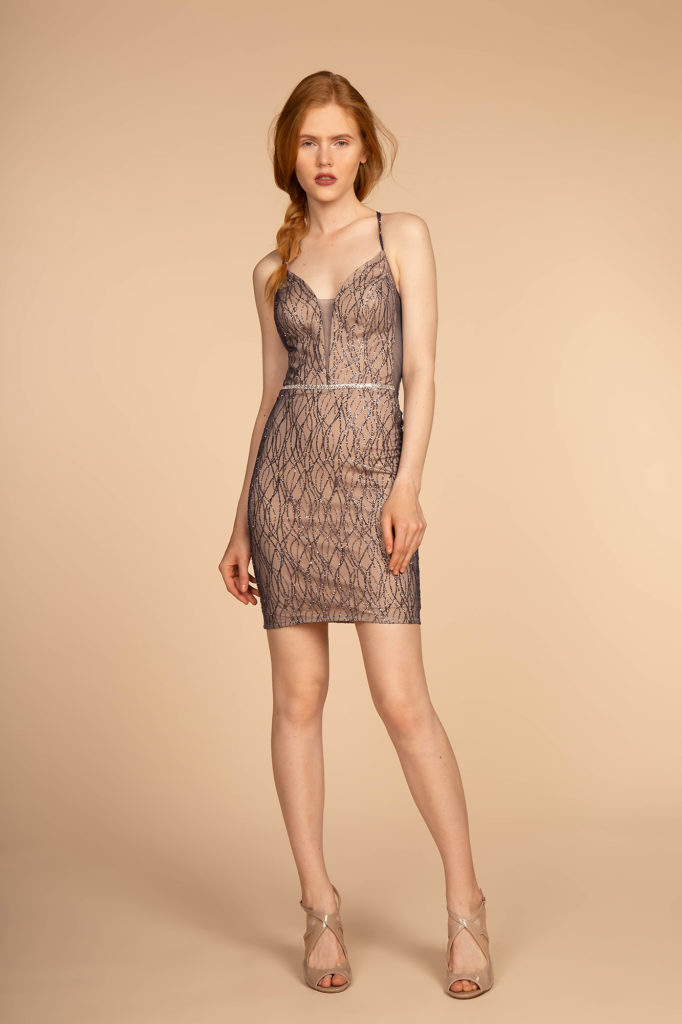 Get the look: GS1634 Deep Illusion V-Neck Corset-Tie Short Dress
4. Floral applique A-line dress
What to wear to a bachelorette party that's hosted during the day? Maybe you're off to some wine tasting or brunch? Here's a dress we think you'd like. This dress is warm, feminine, and romantic, from the color to the fabric. It's just the vibe you need as a guest for a bachelorette party. If the event is in spring or summer, floral applique should be your best friend! It creates a unique 3D effect, calling attention to your flowery details. Pastels, like peach, pair perfectly with this fabric. They'll also bring out your tan! The A-line silhouette is another popular silhouette for bachelorette parties. They cinch and flare at your waist, creating a slimming effect. They make any woman feel comfortable and beautiful. To style this look, we recommend simple jewelry and makeup. A minimalist bracelet, peachy lip tint, and mascara are all you need.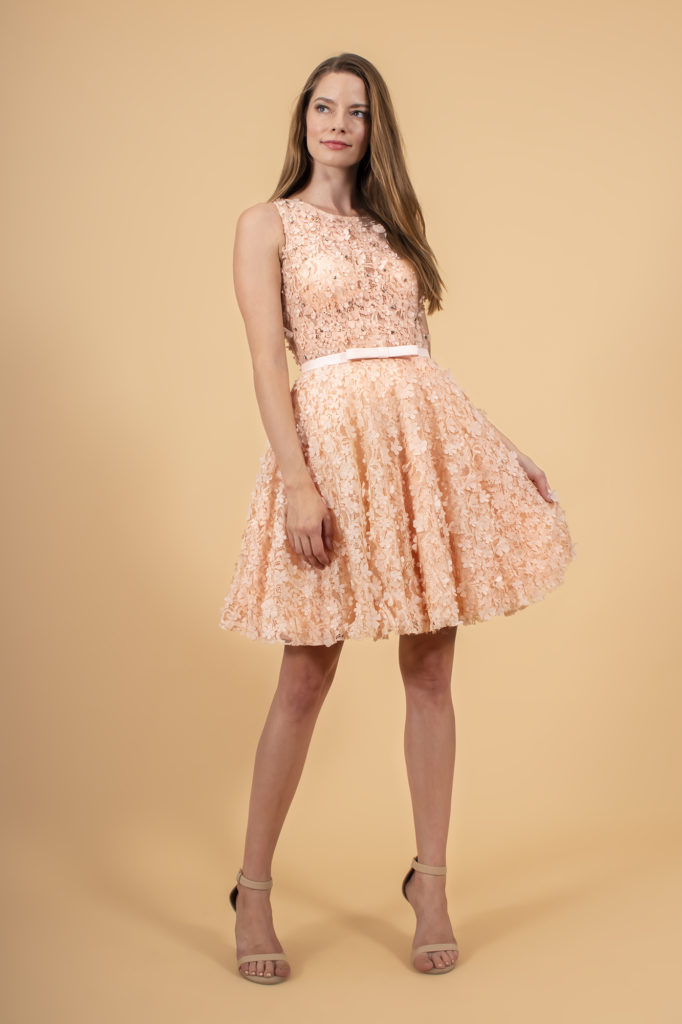 Get the look: GS1604 3D Floral Applique Lace Short Dress
Looking for Your Wedding Outfit, Too?
Today's focus is knowing what to wear to a bachelorette party. But soon, you'll be searching for the perfect wedding guest dress. To kickstart your search, take a peek at these stunning dresses—curated for fashionistas like you.
Click here to explore the entire GLS Collective line
.
---
Leave a comment