BRIDAL GURU / Jun 23, 2021
4 TIPS TO PRESERVING YOUR WEDDING DRESS
A lot of women ask us about wedding dress preservation. Why? A wedding dress isn't just any ol' dress—it bears so many beautiful memories and emotions. For that reason, it's no surprise that many brides want to keep and preserve them as a family heirloom. It represents the day when two families merge into one.
But wedding dresses are intricately designed, and therefore, incredibly delicate. You probably know that you can't just throw it in the washing machine after your big night. But did you know you shouldn't store it in plastic and hang it up in your closet either?
If you don't preserve your dress properly, the material will deteriorate quite quickly. Common signs are yellowing of the fabric, mold and mildew growth, permanent fabric creasing, brown oxidation spots.
It doesn't sound pretty, does it? It doesn't look pretty either. The photo below compares two silk veils—one preserved and one not.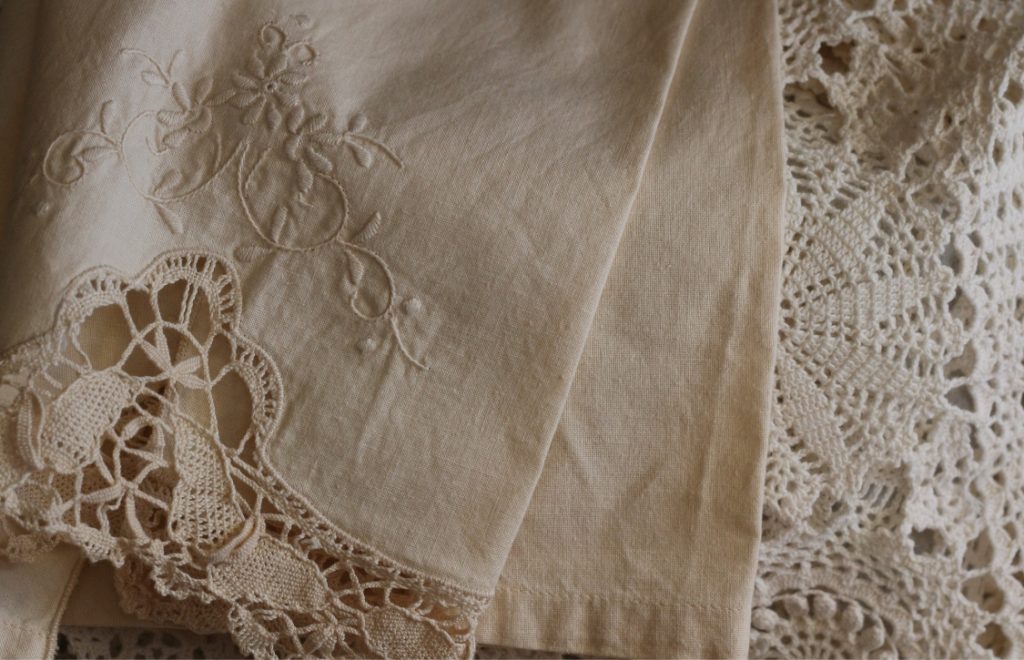 To keep your dress radiating the love, happiness, and laughter from your wedding day, here are four wedding dress preservation tips:
Tip 1: Clean your wedding dress right away
Some brides wait weeks before cleaning their wedding dress, and that's a big no-no. Why? The longer you wait, the longer the stains have to set in, making them harder to remove.
So if you're off on your honeymoon the next day, enlist a family member or friend to get it to the dry cleaner the next day. Remember, the sooner, the better!
Tip 2: Go to a specialized wedding dress cleaner
Did you know there could be invisible stains on your wedding dress? White wine and other substances may dry clear, but they contain sugars that will caramelize over time.
Specialized wedding dress cleaners are trained to find these invisible stains. They also know how to preserve the dress—which is an additional service.
We recommend doing a bit of research on who you work with—so your dress is in good hands.
For example, ask them what cleaning solution they use or what their wedding dress cleaning and preservation process is. They should be using a virgin solvent rather than a recycled solvent. Recycled ones are typically used for ordinary dry cleaning—but they contain impurities that can redeposit onto clothing and leave your wedding dress with a...not-so-nice smell. With that said, you should also take a look at your gown's label for specific directions and cleaning solutions it can handle. And whatever it says—listen to it!
Tip 3: Preserve your wedding dress in an airtight acid-free box
When we say airtight, we mean it. Typically, a preserved dress is stored in a 100% acid-free box where the oxygen has been sucked out and replaced with nitrogen. This prevents oxidation (aging, discoloration, etc.) which can happen to clothes that have been stored for several years. The dress should also be wrapped in 100% acid-free tissue paper for additional protection.
Wedding gown specialists recommend you never break the seal. If you do, you'll need to preserve and seal it back up again.
If you choose not to store it in a box, please don't store your dress in a regular, zip-up plastic bag! Plastic like that holds moisture and can potentially discolor a wedding dress. The exception is acid-free plastic (which the preservation boxes are made from).
We know you're also pretty tempted to hang your gown in your closet, so it's there to admire whenever you please. But experts strongly recommend removing it from a hanger, which can cause the heavy dresses to become misshapen. If you want to preserve it for generations to come, it's best to store it properly.
Tip 4: Store your wedding dress in a cool, dark place
Wedding dress preservation and hot, humid temperatures do not go hand-in-hand. Storing your dress in direct sunlight is another surefire way to discolor and damage your gown. So once it's cleaned and preserved, put it in a cool, dark, dry place.
Keep in mind that some environments vary in temperature from season to season, such as attics and basements. This atmospheric change from warm to cold could create condensation and could spoil all your hard work preserving it!
And if you choose to clean and preserve your wedding dress at home...
Some of our previous wedding dress preservation tips assume that you're getting professional cleaning done. If you choose to clean and preserve your wedding gown at home, here are some quick DIY tips for you:
1) Always use white cotton gloves when handling the dress
2) Spot test the fabric to make sure your cleaner won't harm it
3) Use a soft-bristled brush—a toothbrush will do!
4) Never, ever use bleach—the material is much too delicate and could be irreversibly damaged
5) Wrap the clean, dry dress in acid-free tissue paper
6) Place layers of acid-free tissue paper between the folds of the dress to avoid permanent creasing
7) Place the dress in an acid-free container with silica desiccant packets for humidity control
8) Store in a cool, dry, dark place
More wedding-related tips!
We love that you're planning ahead to make sure your wedding dress preserves beautifully. If your wedding is approaching and you'd like some more expert tips—for you, your mom, or bridesmaids—we've got you covered!
---
Leave a comment