BRIDAL GURU / Jul 27, 2023
5 STUNNING NAVY BLUE MOTHER OF THE GROOM DRESSES
On the quest for the perfect dress for your beloved son's wedding but finding that your options are bringing you to tears? You can wipe away that glum look and instead put on your most gorgeous smile because we have the answer to your woes! 
We have just what you need—five stunning navy blue mother of the groom dresses that would definitely please!
Navy blue simply oozes class and never goes out of style. This fab hue is all about confidence, poise, and a touch of mystery. Its deep, midnight-like tone throws in a dash of intrigue and undeniable allure to any ensemble. Plus, its versatility means it can play nice with just about any wedding color scheme.
Now we all know the groom's mom deserves to slay on her son's big day. So we've curated a list of jaw-dropping navy mother of the groom dresses that scream chic, stylish, and oh-so-glam. So jump in and find that perfect show-stopping ensemble that's sure to make you turn heads as the ultra-cool boss mama that you are! 
Our Top Picks of Navy Mother of the Groom Dresses 
Here are five of the most fabulous finds in our latest collection of navy blue mother of the groom dresses, most of which come in extra small to plus sizes.
1. Chiffon A-line dress with illusion v-neck and short sleeves
Drum roll, please, as we bring you this fabulous mother of the groom dress in navy blue. This stunner is designed with a metallic embroidered bodice and back that'll have you shining like a star. Add in the sultry illusion V-neckline, and you've got a winning combo of sass and sophistication.
The airy chiffon skirt flares out gracefully, creating an elegant A-line silhouette and giving you queen vibes. 
Now, for the pièce de résistance: the sheer back. Embellished with dazzling glitter and jewels, it surely is the cherry on top of this modern masterpiece.
Made with luxurious chiffon and lace and available exclusively in navy blue, this dress is the ultimate choice for a stylish and confident mother-of-the-groom.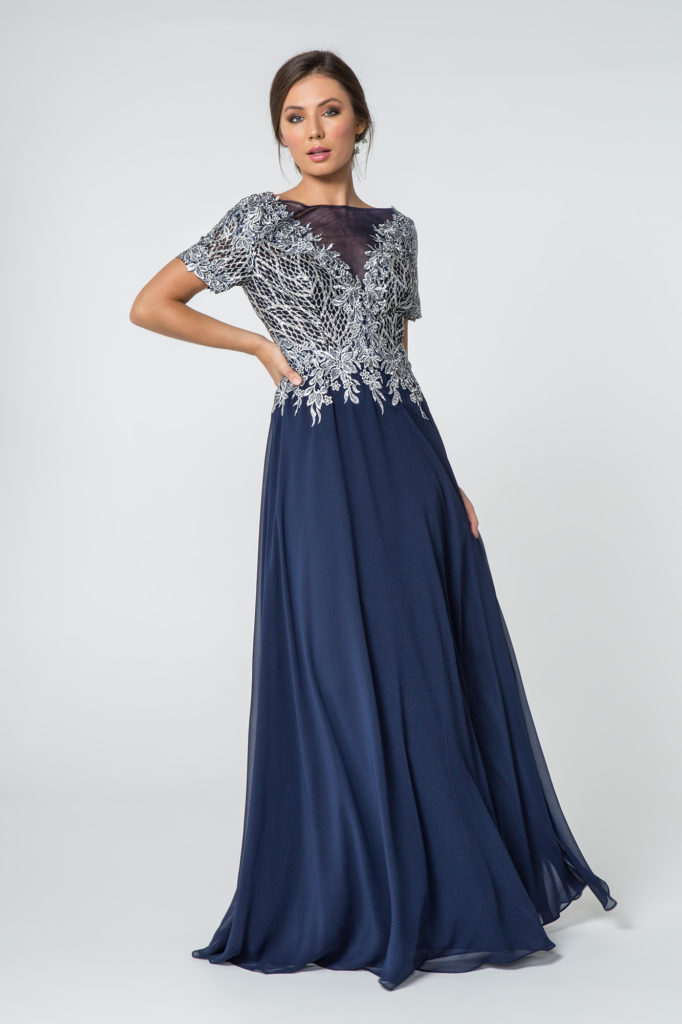 Get the look: GL2826 Lace Embellished Illusion V-Neck Long Dress
2. Jeweled chiffon and lace dress with a V-neck and long sleeves
This drop-dead gorgeous navy blue mother of the groom dress is just bursting with style! Picture a soft chiffon floor-length gown in an A-line silhouette that flows effortlessly, making your every move graceful and elegant. What about those long sheer sleeves? Just pure sophistication! 
As if those details weren't enough, the exquisite embroidery in a delicate flower pattern takes this gown to a whole new level of chic. Of course, let's not forget those strategically placed jewels on the bodice for just the right amount of sparkle and glam.
Crafted from a dreamy combo of chiffon and lace, this dress with a flattering V-neck and sheer back is an absolute showstopper. Also available in the luxe shade of wine, this outfit ensures you'll look and feel like a million bucks.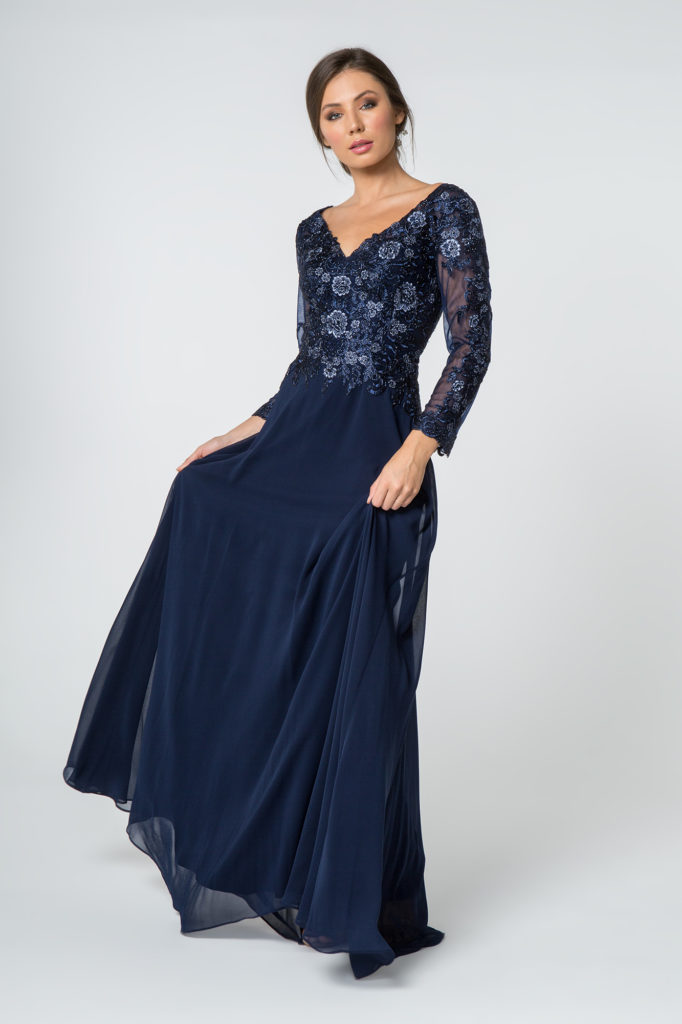 Get the look: GL2825 Lace Embellished V-Neck Chiffon Long Dress w/ Mesh Sleeve
3. Embroidered chiffon-and-mesh dress with a boat-neck neckline
Ready to be the brightest belle of the ball? Then be blown away by this stunning navy mother of the groom dress that's equal parts chic and elegant. This beauty is intricately made from a gorgeous blend of chiffon and mesh, giving it a luxurious feel that's perfect for your son's special day.
Strut down the aisle in this floor-length ensemble, featuring a classic boat-neck neckline and three-quarter sleeves that spell charm and grace.
Sugar and spice and all things nice—that's exactly what this sultry outfit is all about! The sheer back adds a touch of allure, while the exquisite embroidery and embellishments make this gown truly unforgettable. Don't they just remind you of the style of fashionable royals? Then there's the A-line silhouette designed to hug your upper curves in all the right places. So go on and embrace your regal aura on the big day! 
Get the look: GL1368 Lace Embellished Floor Length Dress with Sheer Sleeve
4. Sleeveless chiffon dress with illusion sweetheart neckline and beaded bodice
Feast your eyes on this swoon-worthy mother of the groom dress in navy blue! Made from lavish chiffon, this floor-length ensemble is adorned with dazzling beads around the bodice. The enchanting illusion sweetheart neckline gives you a romantic look, while the sleeveless design adds modern flair.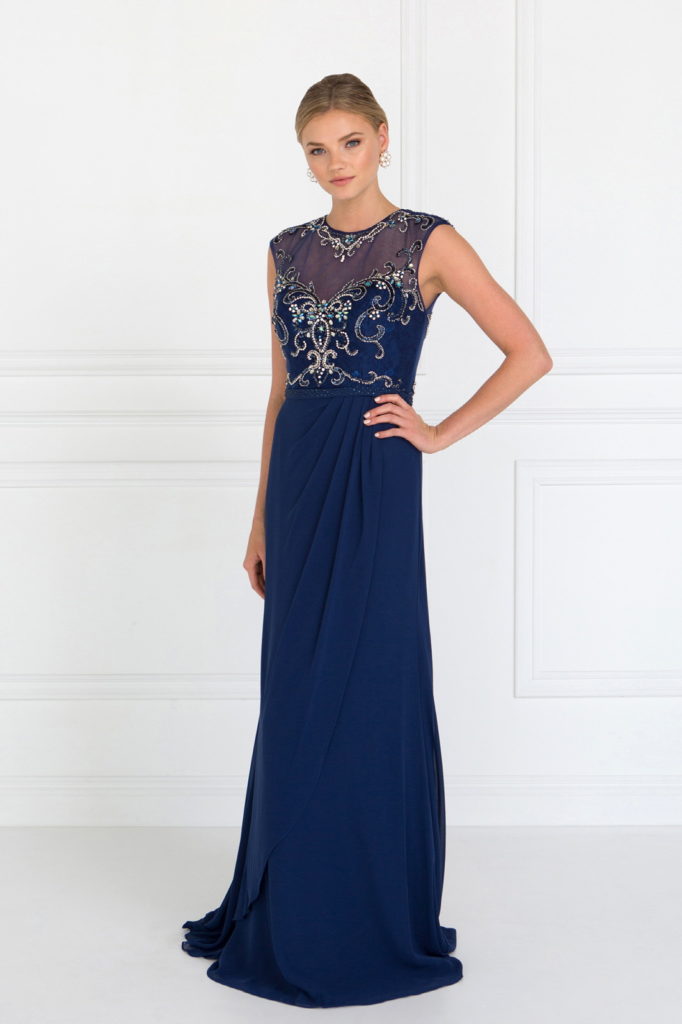 Get the look: GL2099 Sleeveless Chiffon Floor Length Dress with Jewel Embellished Bodice and Back
5. Sleeveless jeweled jersey dress with embroidered bodice and hemline 
Dazzle them all in this sumptuous Rome Jersey creation. If there's one navy mother of the groom dress designed for creating an unforgettable entrance, this one's definitely it! With a contemporary sleeveless cut and sheer back, this gown boasts intricate embroidery, shimmering jewel accents, and metallic details. 
Plus, the unique mermaid silhouette will help you cut a captivating figure anywhere! Also available in burgundy and dusty rose, this gown will turn you into the most fashionable and radiant mother-of-the-groom ever!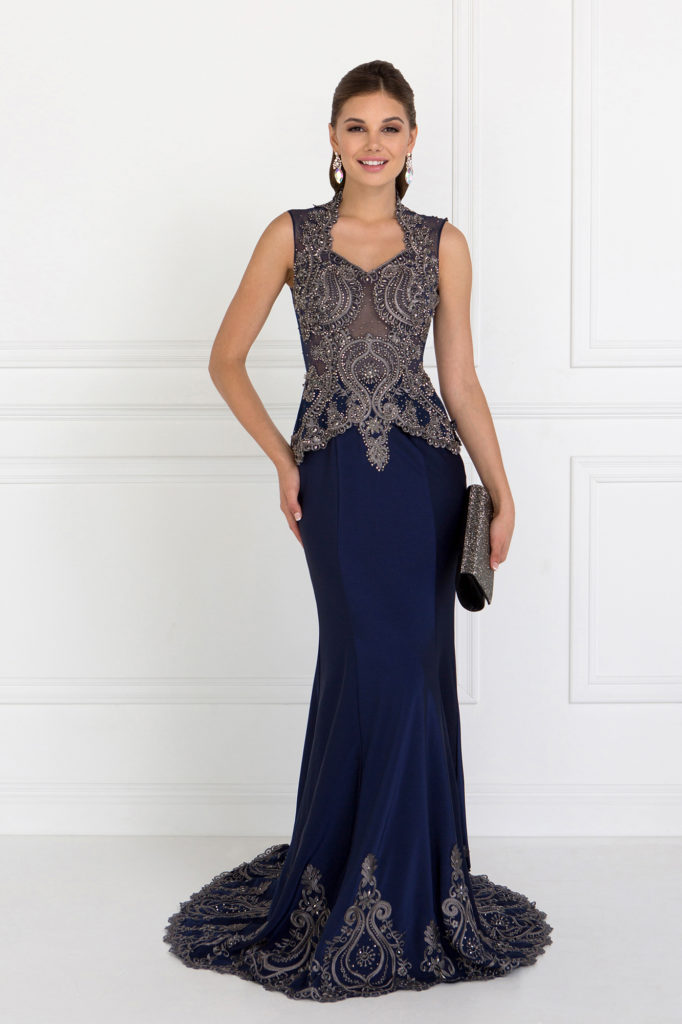 Get the look: GL1598 Rome Jersey Mermaid Long Dress with Metallic Embroidery
Want to See More Mother of the Groom Dresses? 
Explore more of our exquisitely luxe mother of the groom dresses this season, along with tips on how to achieve your most gorgeous look. 
---
Leave a comment