BRIDAL GURU / Aug 15, 2023
A QUICK GUIDE TO SUMMER COCKTAIL ATTIRE FOR WEDDING GUESTS
POV: You scored an invite to a summer wedding. You open up the invitation and it says: summer cocktail attire. Hmm…what exactly does that look like? That's a fair question!
Of course, if you're headed to a wedding, you want to ensure you dress appropriately—no matter the dress code. You're in luck because today we're breaking down summer cocktail attire for weddings. 
What is a Summer Cocktail Wedding Attire? 
Summer cocktail wedding attire is semi-casual. You can wear a dress, skirt, or trousers and a nice blouse. As fashion enthusiasts, we're excited to discuss your dress options. Here are some guidelines to kick us off:
1. Colors: To celebrate the warm season, we recommend pastels, bright shades, or floral prints.
2. Fabric: Airy and thin fabrics are best for summer cocktail wedding attire. Think chiffon, silk, satin, or even linen.
3. Length: You can wear short, midi, or long dresses to a semi-casual summer wedding.
4. Details: Floral prints or designs are always welcome at summer weddings. Floral applique is one of our favorites!
Summer Wedding Cocktail Attire: Five Fab Dresses
Now that you've read our hot tips for summer wedding cocktail attire, let's take a look at some dresses that check off all the boxes for this wedding dress code!
1. Lace short babydoll dress 
While you should avoid wearing short dresses to a formal wedding, they totally fit the "summer wedding cocktail attire" dress code. 
But with this said, we recommend choosing a dress with a flowy silhouette—like A-line or babydoll—to balance out your look. 
Lace is a popular fabric for ladies who want to add a touch of elegance to their look. It adds unique texture and design, without being too attention-grabbing. When it comes to summer cocktail attire for weddings, less is more. All eyes should be on the bride. But with this look, you'll definitely get a nod from any attending fashionistas.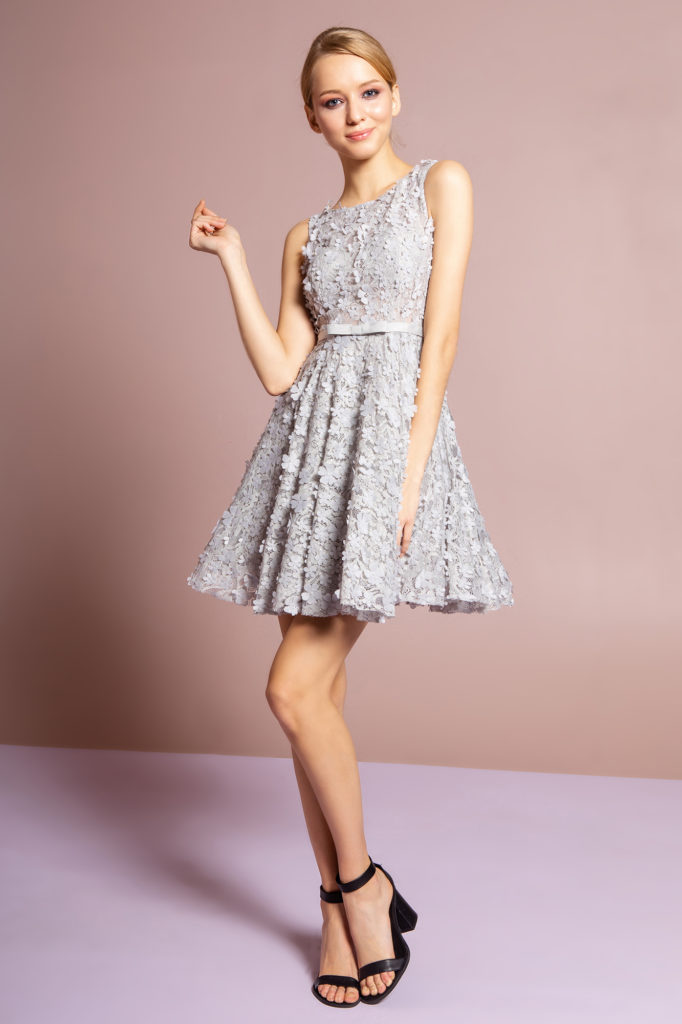 Get the look: GS1604 3D Floral Applique Lace Short Dress
2. Chiffon short babydoll dress 
Chiffon is one of our favorite fabrics for summer wedding cocktail attire. For most, summer means hot, hot weather! And chiffon is proven to keep you cool. But it's not just practical. Chiffon is an airy fabric that flows gracefully over the body. You'll look like a goddess—without any effort!
Your color choice will also help you battle warm temperatures. Instead of a dark color, opt for a light pastel shade, like mauve. 
To accentuate your hourglass shape, choose a dress with an A-line silhouette and add a simple belt to cinch the waistline.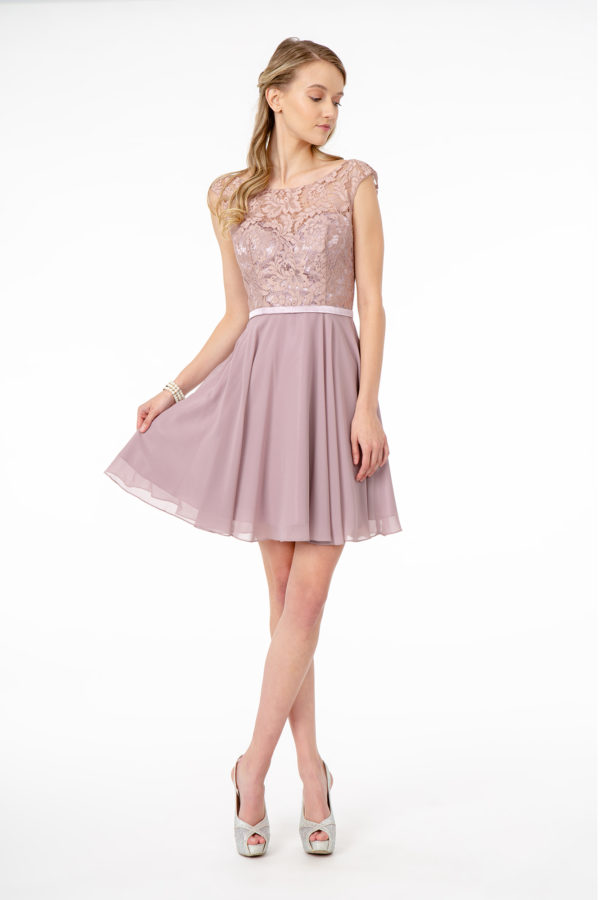 Get the look: GS2807 Lace Embellished Bodice Chiffon Short Dress
3. Chiffon long A-line dress 
Yes, chiffon is a great fabric for long A-line dresses too. No matter the length of your dress, it creates a flattering look. 
Pastel pinks, like mauve, rose, and blush, are all popular shades for summer cocktail wedding attire. But light blues, greens, purples, yellows—and even neutrals like gray—are also great choices. 
Headed to an outdoor wedding? Then you must try on a dress with floral applique! This weaving technique creates 3D floral designs. It's totally unique and fits the vibe of the venue. Your photos will look gorgeous.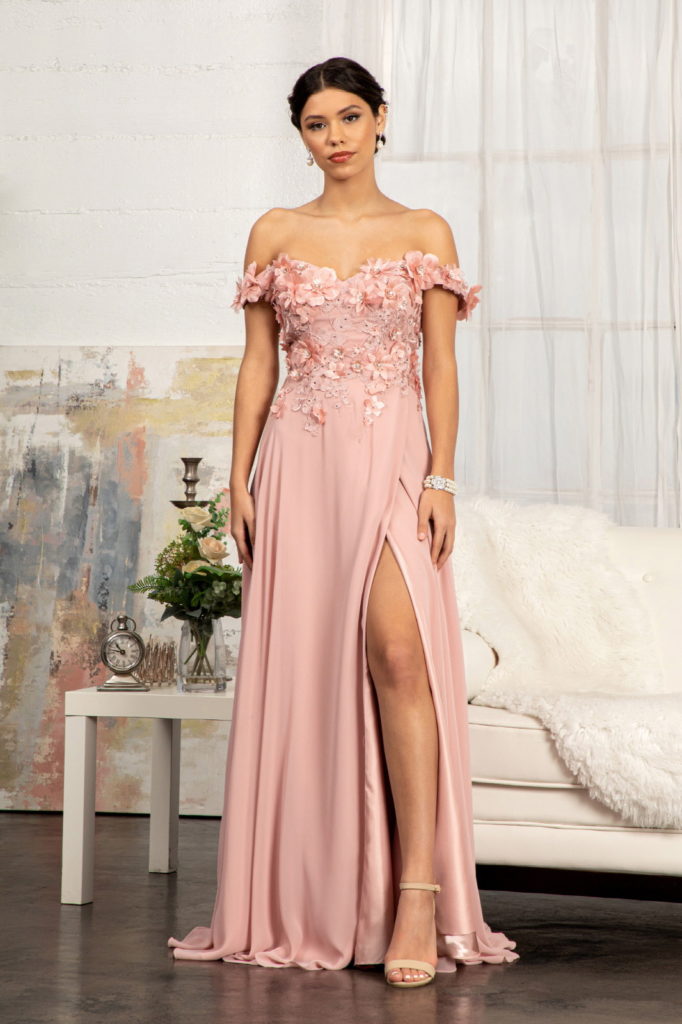 Get the look: GL3018 Floral 3D Applique and Embroidery Embellished Bodice A-Line Chiffon Dress
4. Satin long A-line dress 
When it comes to summer wedding cocktail attire, satin is incredibly popular. It turns any simple dress into an understated glamorous look. 
Take this dress as an example. As a cotton dress, it would be quite casual: spaghetti straps, long A-line silhouette, v-neckline. But with satin? All of a sudden, it's so chic. Find a dress with a slit in the skirt if you want to dial up the spice (without dialing up the heat)!
Warm colors, like orange, red, and yellow, are fan favorites in the summertime. These colors enhance your summer glow. Just add a pop of bronzer and you're set for the big event.
Get the look: GL1993 Spaghetti Strap V-Neck Satin A-Line Dress w/ Slit
5. Mock two-piece A-line dress
Fancy brighter colors? Patterns? This look offers both. 
Neon and bright colors are having a moment this year and summer wedding cocktail attire isn't exempt. You'll find bright and neon shades of pinks, greens, blues, and yellows everywhere. 
Patterns are also A-OK for summer wedding cocktail attire. Florals are always welcome because they complement the romantic feel of weddings. (And the lush greenery if the event is outdoors.)
If you like this dress, we have a feeling you like to do things differently. Two-piece dresses are just for you—they're oh-so unique!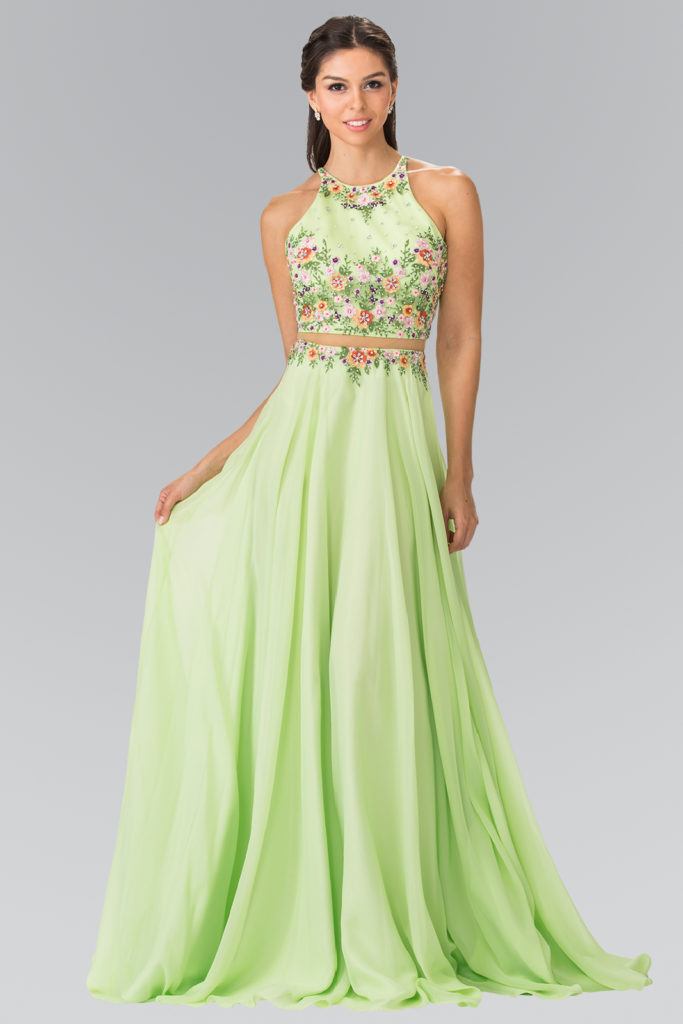 Get the look: GL2340 High-Neck Mock Two-Piece Long Dress with Criss Crossing Back Strap
Summer Wedding Attire for Every Attendee
We've got dress ideas for mothers of the bride, groom, and bridesmaids too! Or, go straight to our full catalog to check out all your options.
---
Leave a comment