PARTY QUEEN / Dec 27, 2022
BRING IN THE GOOD LUCK: WHAT COLOR SHOULD YOU WEAR ON NEW YEAR'S DAY
To many, New Year's Day signifies a fresh start. If you're researching what color to wear on New Year's Day, you're probably also looking for good vibes to ring in the new year. (We're with you—the last few years have definitely felt like a rollercoaster.)
According to color psychology, colors can have a powerful impact on mood and behaviors. While this may be subjective, there's no harm in trying it out, right?
So today, we're showing you six colors that signify fresh starts, good luck, optimism, prosperity, and more. Plus, if you're headed out to a fancy dinner, party, or a night on the town, you'll find six dresses that can serve as inspo for your New Year's look. 
Six Colors to Wear on New Year's Day
What color should you wear on New Year's Day? Find six shades below to wear to your New Year's celebration!
1. White (fresh beginnings)
White is a great color to wear on New Year's Day. Because it's untainted by any other hue, it projects a sense of purity, cleanliness, and new beginnings. If you're ready to start the year fresh, white will bring the vibes you're looking for.
It's also a popular color to wear over the winter holidays because it reminds us of the beauty of snow. If you're headed to a party on New Year's Eve, it's an excellent shade for your dress. Because white is a simple color, there's no need to shy away from adding some texture to your look. Feathers, sequins, and jewels are all fab additions to your New Year's look!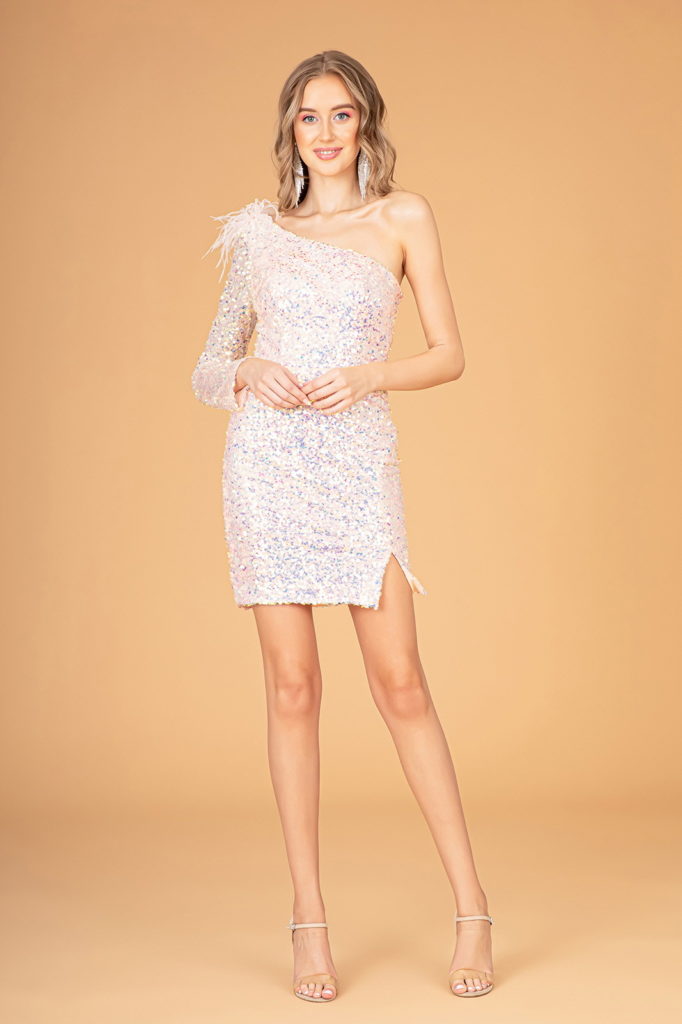 Get the look: GS3092 Asymmetric Sequin Bodycon Short Dress w/ Feather Embellishment
2. Green (good health)
As we come out of the pandemic, we're reminded that our health is so important. So if you're looking for colors to wear on New Year's Day that'll bring good health, we suggest green—a symbol of vitality in many Eastern and Asian cultures.
If you're comparing shades, we recommend emerald green. It's very trendy right now and turns any outfit into an eye-catching look. Whether you're staying in and rocking a pair of sweats or headed to a fancy dinner, this shade of green is a fabulous option. Fabrics like satin, silk, and velvet will add depth to this color and keep all eyes on you at your New Year's event.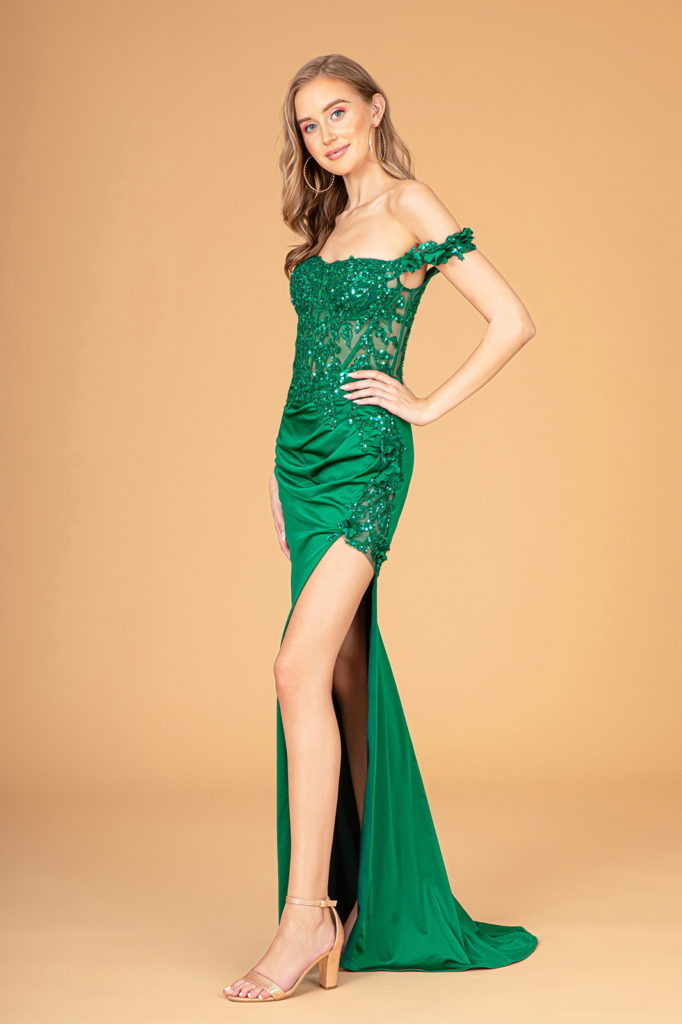 Get the look: GL3082 Straight Across Neckline Mermaid Long Dress w/ Sheer Bodice
3. Red (good luck)
What color should you wear on New Year's Day to bring you extra luck? Red, of course! In Chinese culture, red symbolizes luck, joy, happiness, celebration, and vitality. All good things in our books!
Red is also a very powerful color and can give you the confidence to enter the new year fearlessly. So if you're headed to a night on the town, wear a red dress, so you're ready to channel your inner queen right at the stroke of midnight!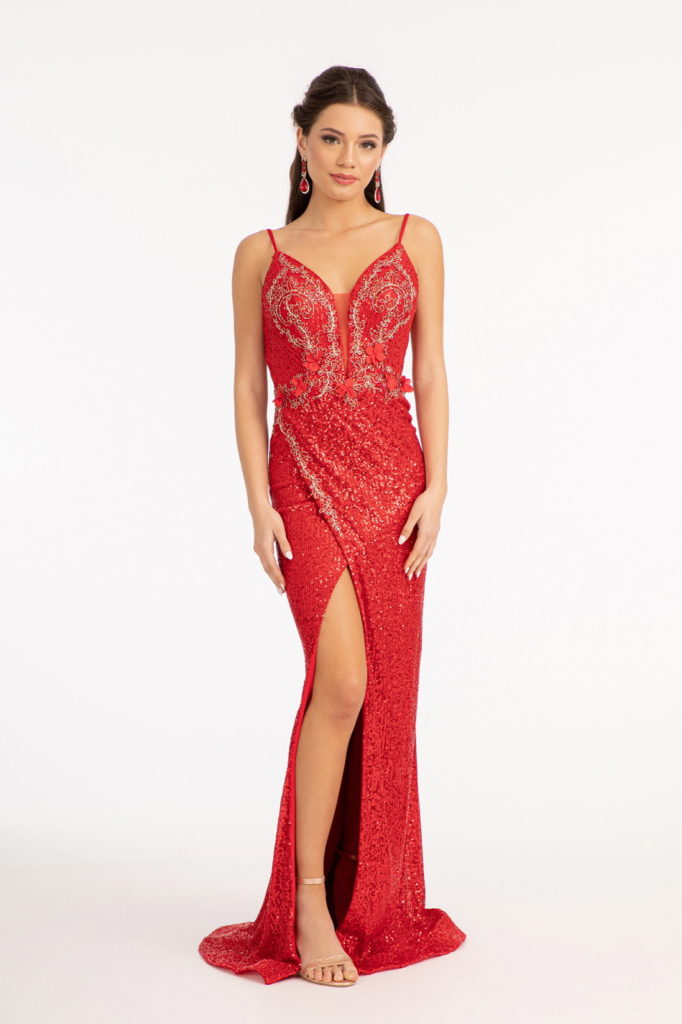 Get the look: GL3053 Sequin Embellished Illusion V-neck Mermaid Dress w/ Open V-back
4. Blue (serenity)
Had a hectic year? Looking to bring some peacefulness back into your life? Then blue is a color you should wear on New Year's Day. 
According to color psychology, blue brings feelings of calmness and serenity. It's often described as peaceful, tranquil, secure, orderly, and stable. And it's even believed to lower your pulse rate and body temperature! So if life has been feeling tumultuous lately, embrace this hue in your day-to-day wear to remind yourself to slow down, take a deep breath, and remain positive.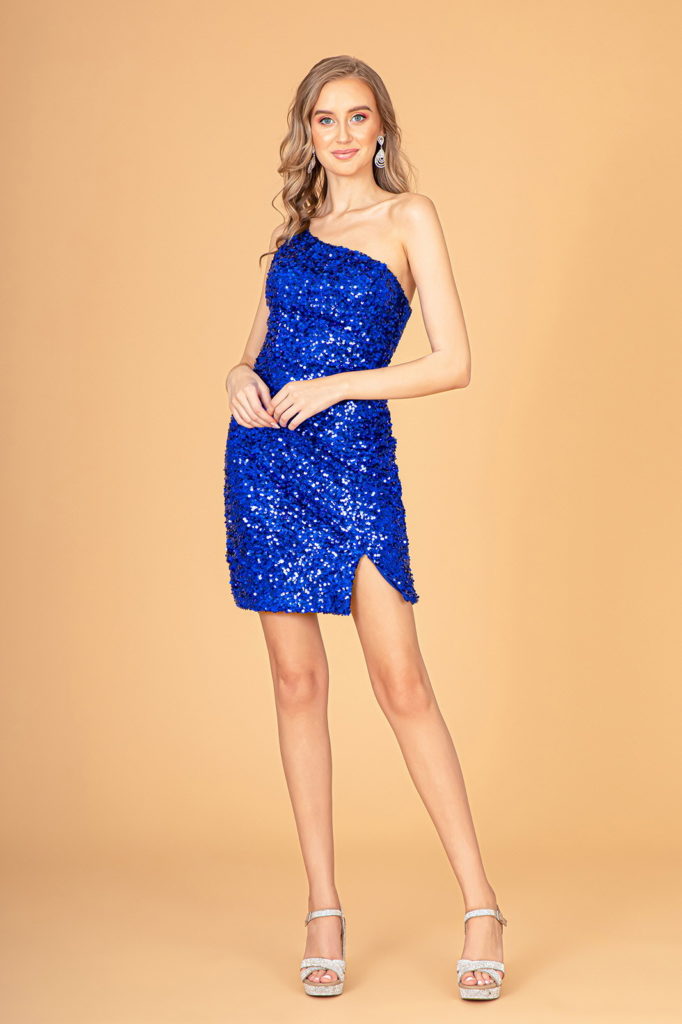 Get the look: GS3093 Asymmetric Sequin Short Bodycon Dress with Lace-up Back
5. Purple (prosperity)
Got some goals to crush next year? Then purple is the color you should wear on New Year's Day. In many cultures, purple is associated with prosperity and wealth because royals were the only people who could afford clothing dyed purple. 
Whether you've got your eye on a promotion, starting a side hustle, or even winning the lottery, purple is just the color to attract wealth and success.
People also often describe this color as spiritual and imaginative. If you've felt uninspired this year, wearing purple may push you to explore your creativity and passions once again.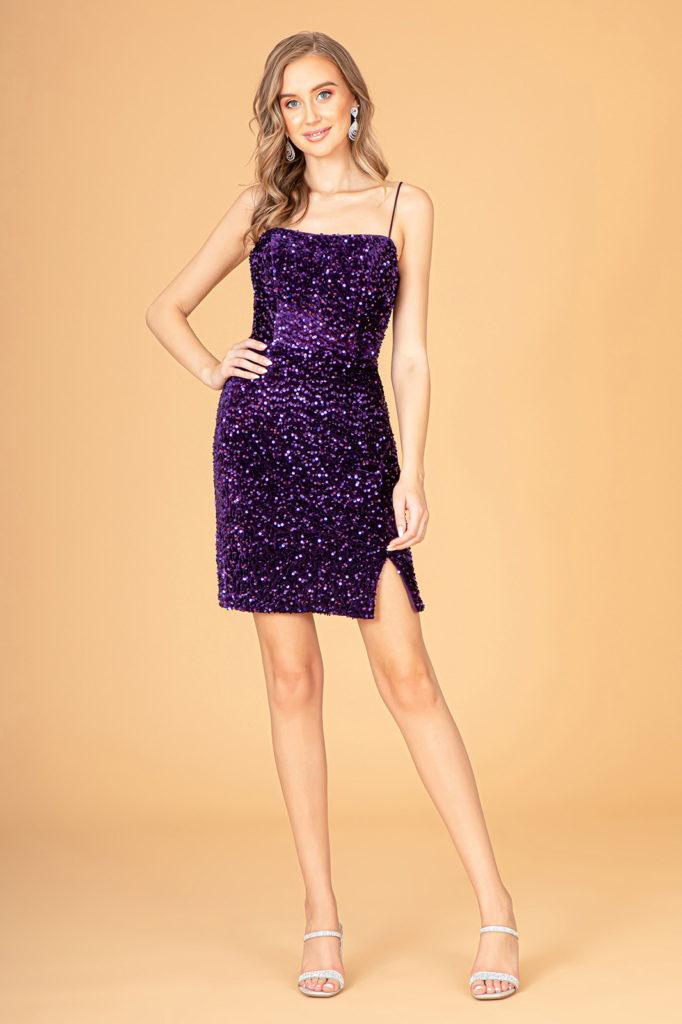 Get the look: GS3083 Straight Across Neckline Velvet Bodycon Short Dress w/ Leg Slit
6. Yellow (hope)
In many Western cultures, yellow is considered the brightest and most energizing of the warm colors. It's associated with happiness, sunshine, and hope. 
If you're approaching the new year with a positive aura, yellow is the perfect color to wear on New Year's Day. It'll help you soak in all the good energy around you—and take on each day with a smile on your face!
You can also consider wearing gold or champagne if you're off to a formal New Year's Eve party. Both are "yellowish" in color but bring luxe vibes for an elevated evening.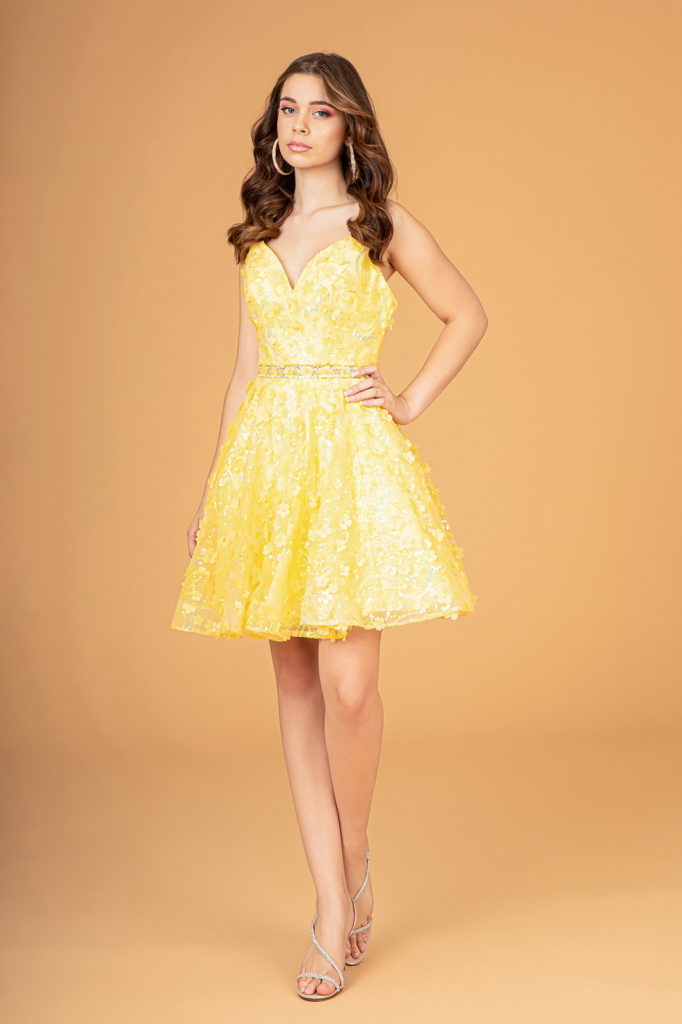 Get the look: GS3091 Mock Two-Piece Babydoll Short Dress w/ 3-D Flower Applique
Enter the New Year with Good Vibes and Good Style
Today, we showed you five dresses that are both lucky and gorgeous. Want to see more New Year's looks? Take a look at our full GLS catalog or check out the blogs below to find your perfect fit: 
New Year's Eve Outfit Ideas for the Cold Weather: Four Looks to Keep You Warm and Fab
---
Leave a comment