BRIDAL GURU / Aug 07, 2023
CAN YOU WEAR RED TO A WEDDING? STYLE ETIQUETTE & OUTFIT IDEAS
Choosing a color to wear to a wedding is a big decision. It's an important day for somebody special in your life, so you want to make sure your wedding guest outfit meets the vibe and the dress code. 
If you're wondering if you can wear red to a wedding, you're in the right place because in this article, we're gonna give you the answer to that exact question! 
Can You Wear Red to a Wedding? 
Yes! In most cases, red is totally appropriate to wear to a wedding. While there are some colors you should avoid (like white), red will contribute to the celebratory nature of a wedding. 
With that said, in some cultures, the bride wears red. So it's important to always check in with the couple and/or the invite to ensure red is not off the table for wedding guests. 
5 Must-See Red Wedding Guest Dresses 
If you've checked with the couple and they've confirmed that you can wear red to the wedding, don't leave just yet! We've compiled five of our favorite red dresses for weddings that you can take inspiration from! 
1. Chiffon A-line dress with lace embroidery
Looking for a short red dress option? This one's for you. Red's vibrance takes center stage and is complemented by feminine touches. 
Lace is ultra-romantic—and always a good idea for weddings. If sequins, jewels, or even floral applique are too bold for you, then this delicate embroidery is a great option for your look. 
Chiffon is another popular fabric for wedding guest dresses because it's light and falls elegantly on the body. Choose a chiffon dress with an A-line skirt and a thin belt to accentuate your waistline and show off your natural hourglass shape. 
With your feet on display, make sure to find a cute pair of shoes! For a garden outdoor wedding, we recommend block heels. If it's mainly indoors or on solid ground, you can comfortably wear your best stilettos.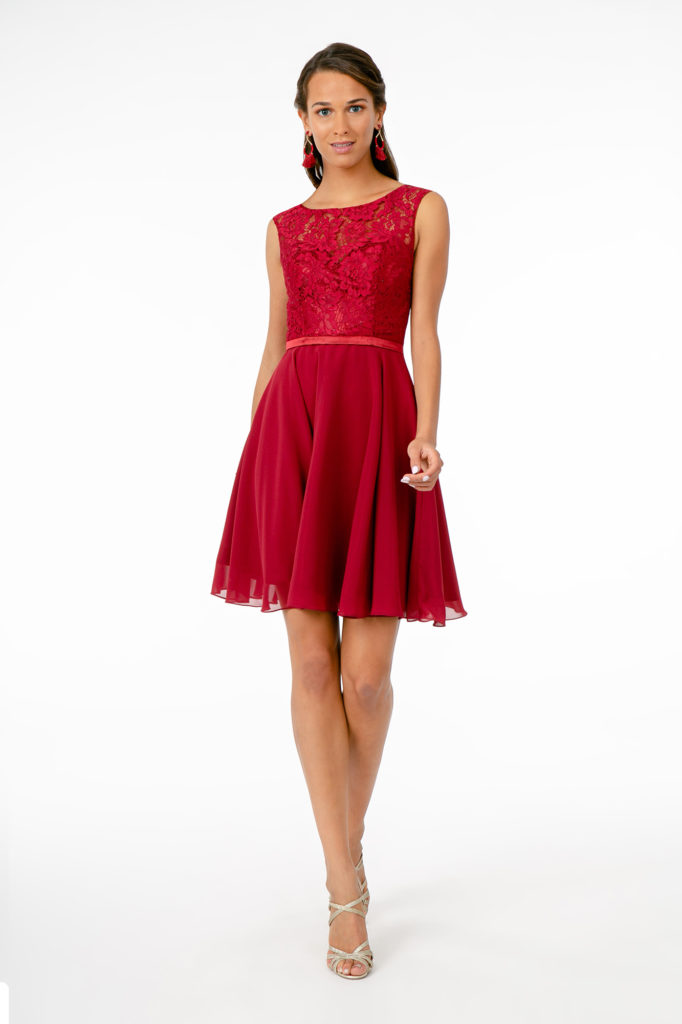 Get the look: GS2807 Lace Embellished Bodice Chiffon Short Dress
2. Satin A-line dress with a skirt slit
How can you wear red to a tropical destination wedding? Think light and airy!
As we mentioned, A-line silhouettes and brighter shades are ideal for sunny weddings—and that includes tropical or beach destinations. If you prefer a smoother, lustrous fabric, satin is another choice that's great for warmer settings. 
Red will already create a fiery look. But if you want more ways to dial up the heat, look for gowns with a slit in the skirt and a deep-v neckline. Va-va-voom!
Red can also be naturally incorporated into your styling. A red hairpiece or red lipstick makes for the perfect final touch.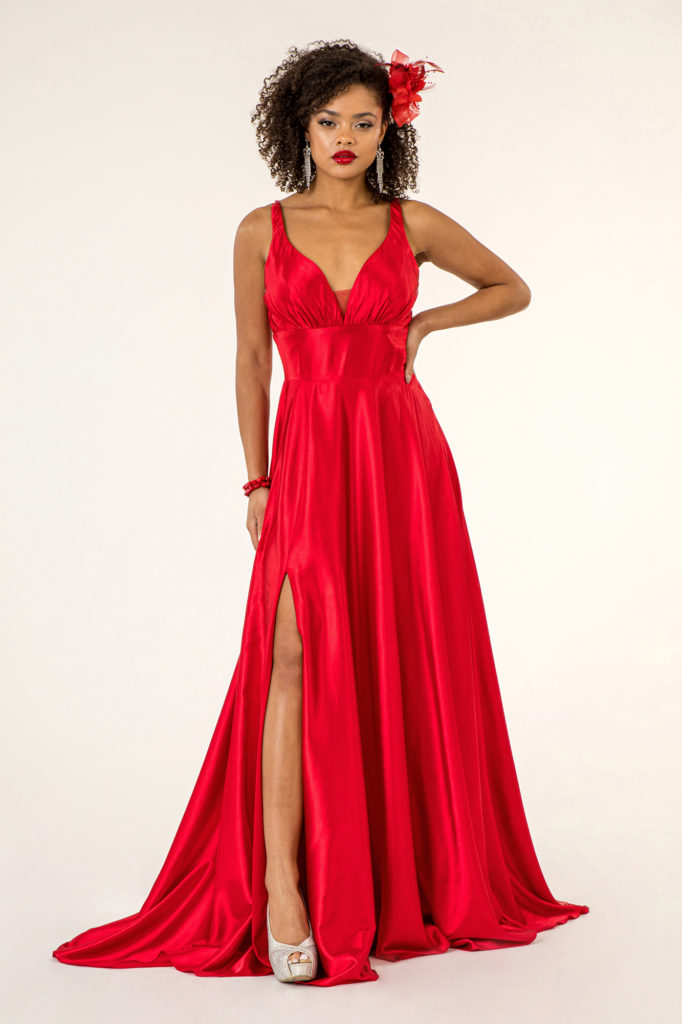 Get the look: GL2963 V-Neck Wide Waistband A-Line Satin Long Dress /w Slit
3. Mesh A-line dress with floral applique
Can you wear red to a wedding in the summer? Of course! Here's how to rock this vibrant hue during the warmer months. 
First, to blend in with other summery shades, we recommend rocking a bright red gown like this one. It'll look great among pastels, floral prints, and other bright primary colors, which are commonly worn at summer weddings. 
To embrace the season, look out for dresses with floral details, like applique. Applique is a weaving technique in which one fabric is sewn on top of another. It creates a unique 3D effect that'll make you stand out.
You can also beat the summer heat in a flowy A-line skirt and airy fabrics, like mesh and tulle.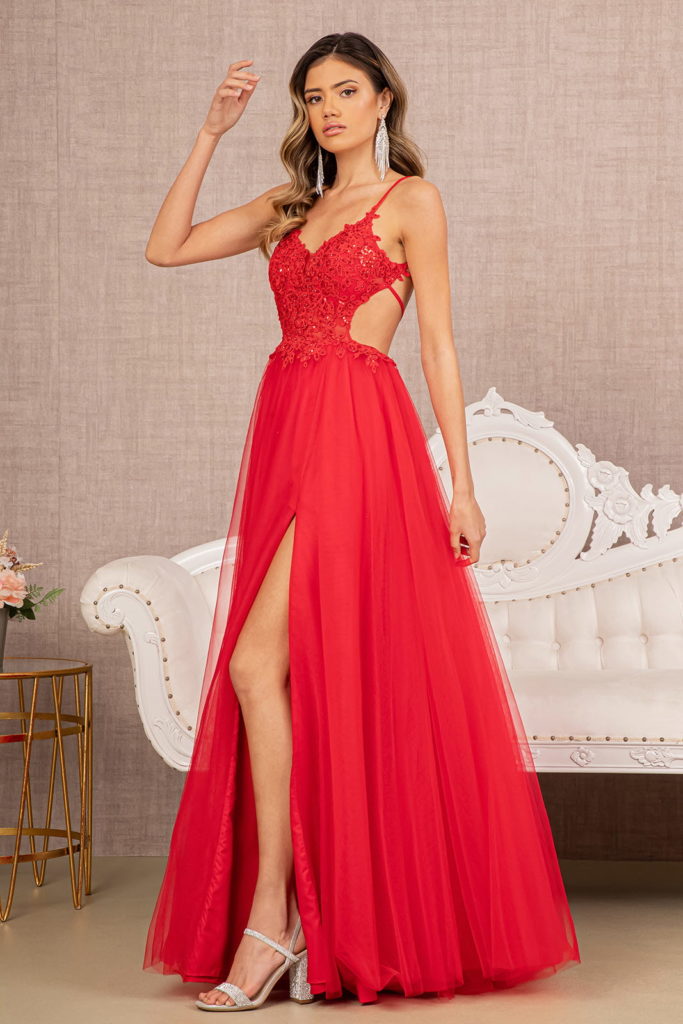 Get the look: GL3152 Flower Applique Sheer Front Cut-out Side Mesh A-line Dress
4. Velvet mermaid dress with feathers and sequins
Can you wear red to a black-tie wedding? The answer to this question is also: yes! Red can totally meet this formal dress code, especially if you choose darker shades, luxe fabrics, and long silhouettes. 
Deep rich hues, like burgundy, are perfect for black-tie weddings. You'll find many other guests wearing gemstone colors as well, so you'll fit right in. These darker shades are also ideal for fall and winter affairs. 
When it comes to fabrics, bring on the luxury! Velvet, sequins, silk—or all of the above—are perfect picks. If you want to create a unique look, zhuzh up your outfit with feather details, which are super trendy right now!
One non-negotiable is the length. Long dresses are a must for black-tie weddings. (Luckily, you can find plenty of those here.)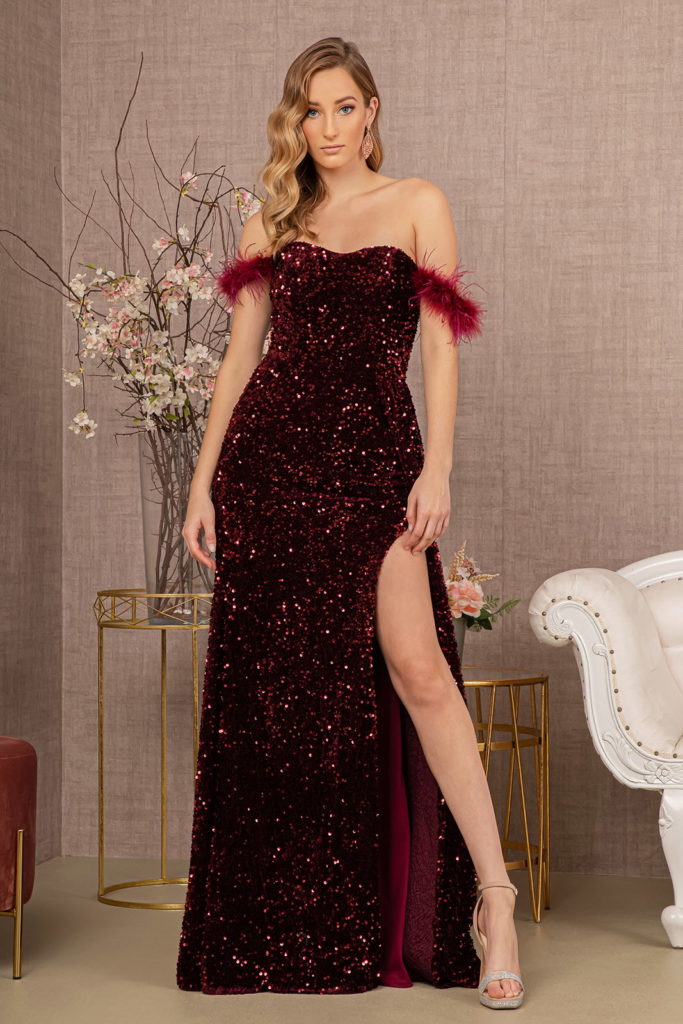 Get the look: GL3163 Feather Sequin Velvet Mermaid Dress w/ Velvet Side Waist Layer
5. Satin mermaid dress with gold embroidery
This option is also fit for a black tie or formal wedding. 
Why? Let's start with the gold embroidery. Red and metallic colors pair beautifully—and there's something extra regal about gold. In our opinion, red is the perfect backdrop for adding some extra shimmer and shine. 
Asymmetrical necklines are also very elegant—and on trend (bonus!). They create the perfect opportunity to show off those shoulders and gold shoulder-grazing earrings.
To create a sultry look, mermaid dresses, which hug all your curves, are the way to go. Paired with the color red? Your outfit will totally give off Marilyn Monroe vibes!
Get the look: GL3125 Strapless Sheer Bodice Glitter Satin Mermaid Dress w/ Ruched Back
Find More Wedding Guest Dress Inspo Below
Yes, you can wear red to a wedding. But if you're not quite sold on this color, we're here to help you find your perfect look: 
---
Leave a comment