BRIDAL GURU / Aug 01, 2023
CAN YOU WEAR BLACK TO A WEDDING? RULES, STYLE IDEAS, AND MORE
We get asked this question a lot: "Can I wear black to a wedding?" If you're wondering the same, we don't blame you! Black is sometimes associated with despair and mourning and you may be hesitant to wear this color to a happy celebration like a wedding. 
The short answer is yes, but there are some exceptions to the rule. Today, we're letting you know when you can wear black to a wedding. We'll also show you some of our favorite black dresses. With these options, you can definitely get away with wearing this shade to a wedding!
Can you wear black to a wedding? Yes, you can!
Black is a staple in most people's wardrobe for a reason. Because it's neutral, you can dress it up for formal events or dress it down for casual affairs. However, its versatility also makes it easy to second-guess your look. 
So is it appropriate to wear black to a wedding? Generally speaking, black is absolutely acceptable. However, to ensure your look hits the right tone, you'll need to thoughtfully select and style your outfit. (Don't worry, we'll help you with that below!)
We also recommend considering the wedding location, season, and time of day. For a summer beach or brunch garden wedding, you may want to explore something a bit more colorful. But at the end of the day, it's best to choose a color you feel confident in. 
Exceptions to the rule: 
Before buying a black dress for your upcoming wedding, you should consider:
The couple's cultural traditions: In some cultures, dark colors and black may be considered bad luck. Check-in to see if traditions are being observed. The couple may prefer you to wear bright colors if that's the case.

The dress code: Take a peek at the wedding invite. Usually, a dress code will be expressed. If it says casual summer dresses, for example, you may want to reconsider a formal black dress. 
It's also best to avoid wearing a black and white dress to the wedding if the bride is wearing white. 
Wearing black dresses to a wedding: 3 stunning options
Can you wear black to a wedding? Yes! Here are three black dresses for a wedding that we love—and we have a feeling you'll love them too!
1. Black satin mermaid dress
In this black dress, there will be no mistake about where you're headed. It's cut, fabric, and silhouette create a sultry look that's perfect for a romantic occasion!
Mermaid dresses hug the curves of your body and show off your hourglass shape. This type of silhouette isn't a woman's first choice for funerals and other solemn events, but it's a go-to for weddings! Look out for ruching or a gathered waistline to enhance your figure. 
For weddings, it's also A-OK to rock thin or off-the-shoulder straps—like these spaghetti straps. If you're off to a warm outdoor wedding, these straps are a great option.
Satin is also a popular fabric for black dresses for weddings. It's very sleek and dressy. So if your wedding is a black-tie affair, satin is a perfect pick.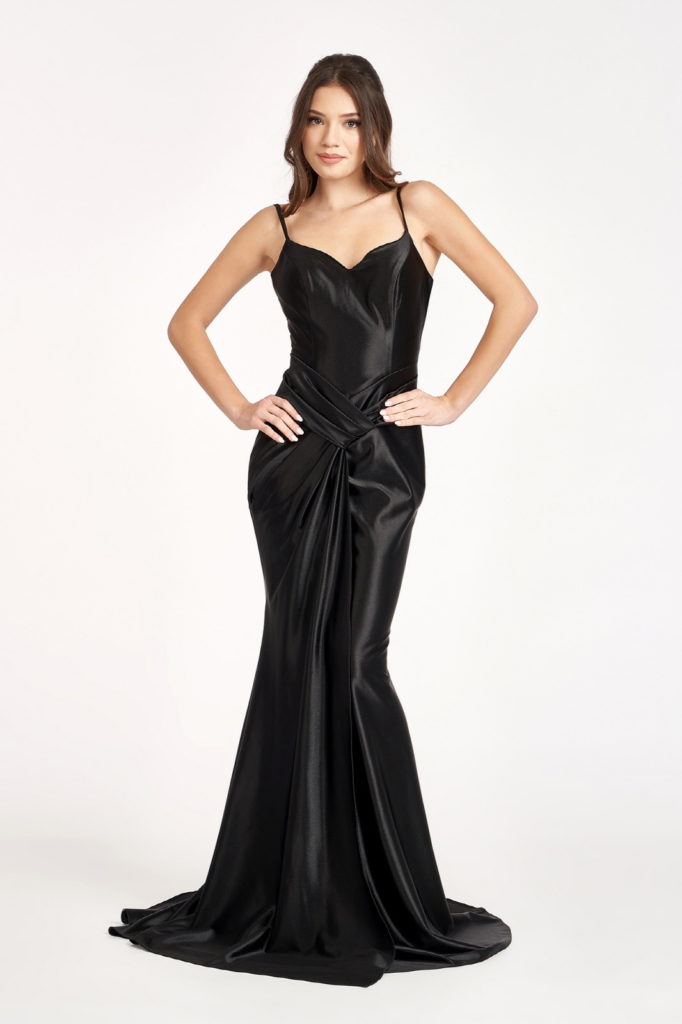 Get the look: GL3044 Sweetheart Satin Mermaid Dress w/ Open Back and Side Gathered Waistline
2. Black asymmetrical sequin dress
Nobody wears sequins to a funeral—but they're great for black dresses for weddings! While black isn't a bold and bright color, there are ways to capture the celebratory nature of weddings—like rocking sparkling embellishments. Sequins, jewels, glitter, and beads are all appropriate for wedding attire.
We love that this dress also captures the current feather trend. It adds a little something special to your look and highlights the asymmetrical neckline, which is also very stylish right now.
A high slit in the skirt dials up the heat and allows you to show off a winning pair of heels. To zhuzh up your outfit, opt for nude or silver heels instead of black.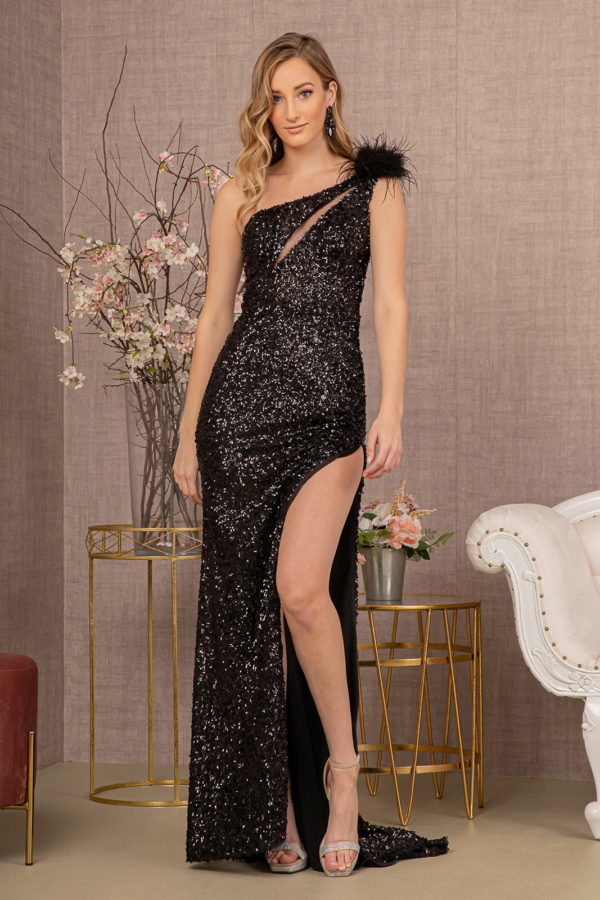 Get the look: GL3129 Sheer Bodice Sequin Mesh Mermaid Dress w/ Feather on Shoulder
3. Black and silver A-line dress
Black is the perfect backdrop for metallic details. Silver or gold both look great on black dresses for weddings. 
Metallic embellishments on the bodice, skirt, or all over work well for wedding guest dresses. Or, you can look for a dress that uses embellishments to accentuate your curves. Along the waistline, for example, will draw attention to your natural hourglass shape. 
Another popular silhouette for black dresses for weddings is the A-line. It cinches the smallest part of your waist but flows freely over your legs and hips. A-line dresses are known to flatter any body type. 
When it comes to jewelry, we recommend sticking to the same metal featured on your dress. So if it's silver, rock some silver shoulder-grazing earrings or a dainty necklace. If you want to wear your hair up, a sleek ponytail or bun would look gorgeous!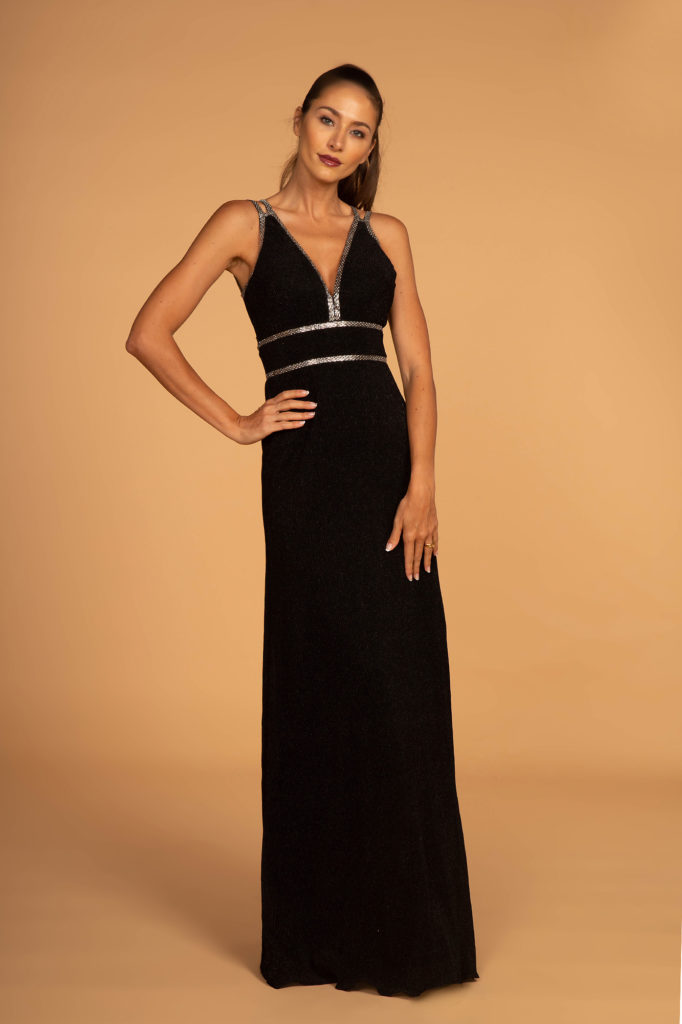 Get the look: GL2503 Double Waist-Bands V-Neck Long Dress w/ Strap Back
Get Outfit Inspo for All Wedding Events
Headed to a bachelorette? Bridal shower? Find dress ideas for weddings—and these other special wedding events—below: 
What to Wear to a Bridal Shower: Fashion Tips for the Perfect Ensemble

What to Wear to a Bachelorette Party: Dress to Impress with These Stylish Options
---
Leave a comment