BRIDAL GURU / Aug 10, 2023
WHAT TO WEAR TO A BRIDAL SHOWER: FASHION TIPS FOR THE PERFECT ENSEMBLE
When a dear woman in our life gets engaged, we want her to feel special. Cue: engagement parties, bachelorette getaways, and bridal showers. It's time to make a toast—or three—to our special gal! Of course, you want to look your best for these important events. But how exactly should you dress? Today, we're discussing what to wear to a bridal shower.
What to Wear to a Bridal Shower: Five Perfect Dresses
There are endless options to choose from—and you can explore them all in our
full GLS catalog
. Or, take a look at our five handpicked favorites below!
1. Lilac babydoll dress with floral applique
If you're wondering what to wear to a bridal shower brunch, or tea party, this dress creates the perfect look. The color, the silhouette, the fabric—yes, it checks off all the boxes. Lilac and other pastels are always great colors for bridal showers, especially daytime events like brunch and tea parties. They're calming, whimsical, and feminine. They also allow the bride to stand out in white without looking too jarring in photos. (The bride will thank you!) A babydoll silhouette also makes this look effortlessly feminine. It draws attention to your waistline and elongates the legs—highlighting your womanly curves—without being too revealing. Lastly, we must take a minute to admire the delicate floral applique details here. They subtly elevate your look without taking attention away from your bride. Win-win. Styling tip: Keep your hair down, straight or in curls. Add a pair of hoops to complete the look.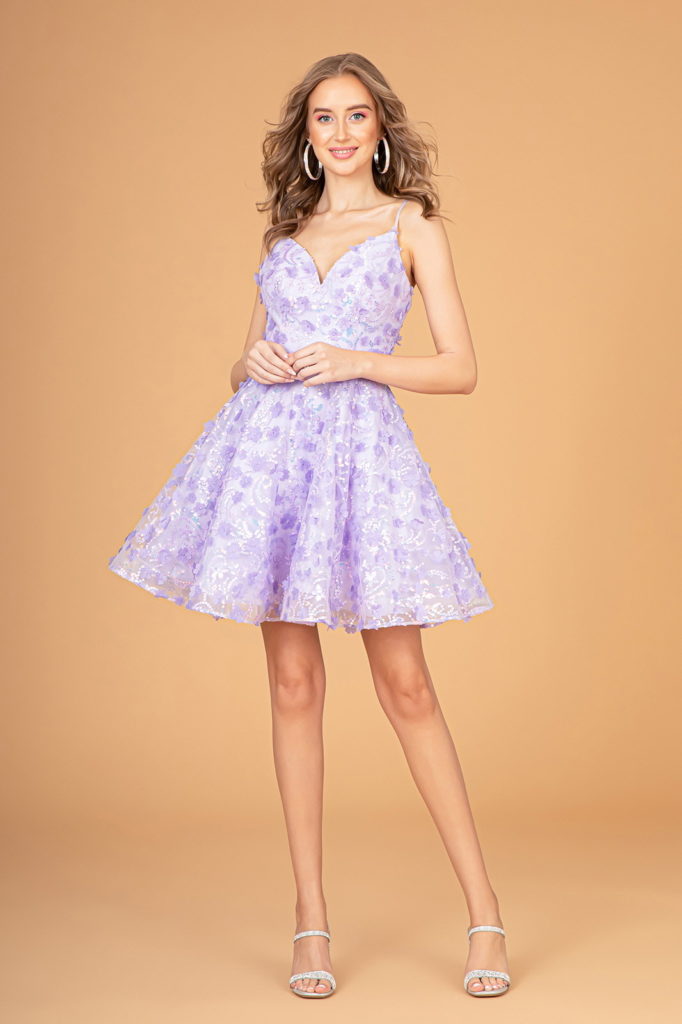 Get the look: GS3091 Mock Two-Piece Babydoll Short Dress w/ 3-D Flower Applique
2. Peach two-piece dress with embroidery
This dress is another fab option if you're researching what to wear to a tea party bridal shower or brunch. Peach is another popular pastel for bridal shower attire. But really, any shade of pink is a great idea. Pink is associated with romance, love, and femininity—all the things we celebrate at a bridal shower, right? We're always looking for opportunities to rock a two-piece dress. They're so unique—and highlight all your curves. Va-va voom! Embroidery and other details along the waistline and neckline will further enhance your hourglass shape! To ensure your look is appropriate for a bridal shower brunch or tea party, choose a two-piece dress with a longer skirt and/or a higher neckline. Styling tip: A chic updo and bright lipstick will turn this into a striking look.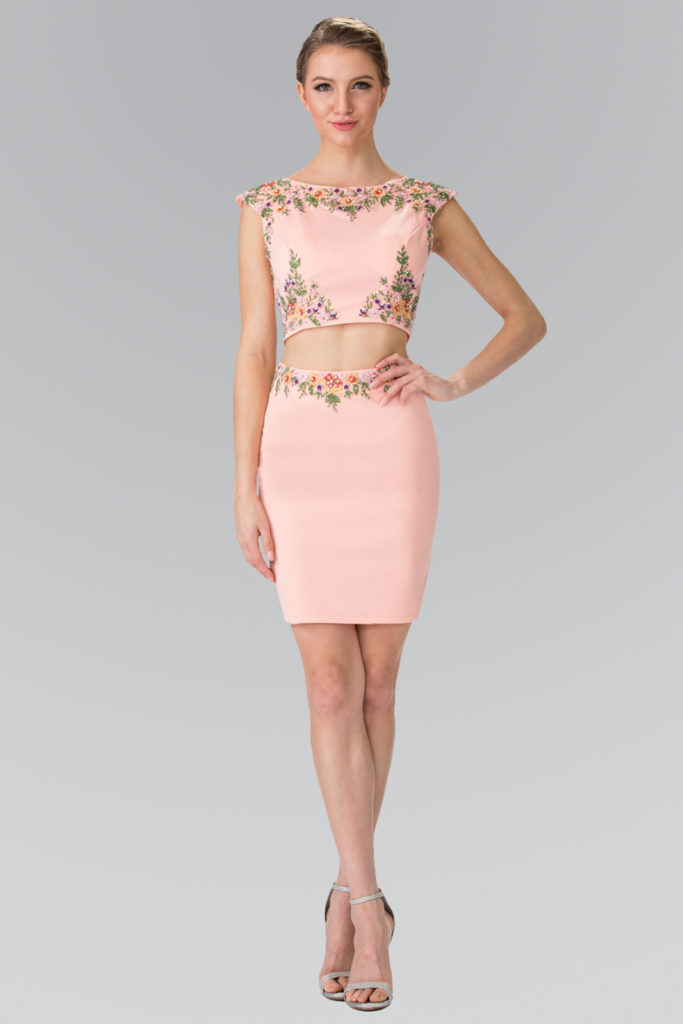 Get the look: GS1439 Two-Piece Embroidered Pencil Skirt Dress
3. Blush satin dress with embellishments
What to wear to a bridal shower as a guest? As you can tell, our answer is pastel, feminine colors! Just kidding—you can totally wear darker shades too, which are especially fitting for fall and winter bridal showers. We'll show you those next. But first, let's talk about this blush satin number. Satin is having a huge moment right now—for weddings, bachelorettes, bridal showers, and any other related event. Why? Its smooth, shiny texture is ultra luxurious. And these special moments deserve a luxe look. The rhinestones, sequins, embellished belt, and layered skirt also create a glamorous feel. This dress definitely matches the dress code if you're off to a fancy bridal shower. Styling tip: Keep your makeup simple. This look can stand on its own!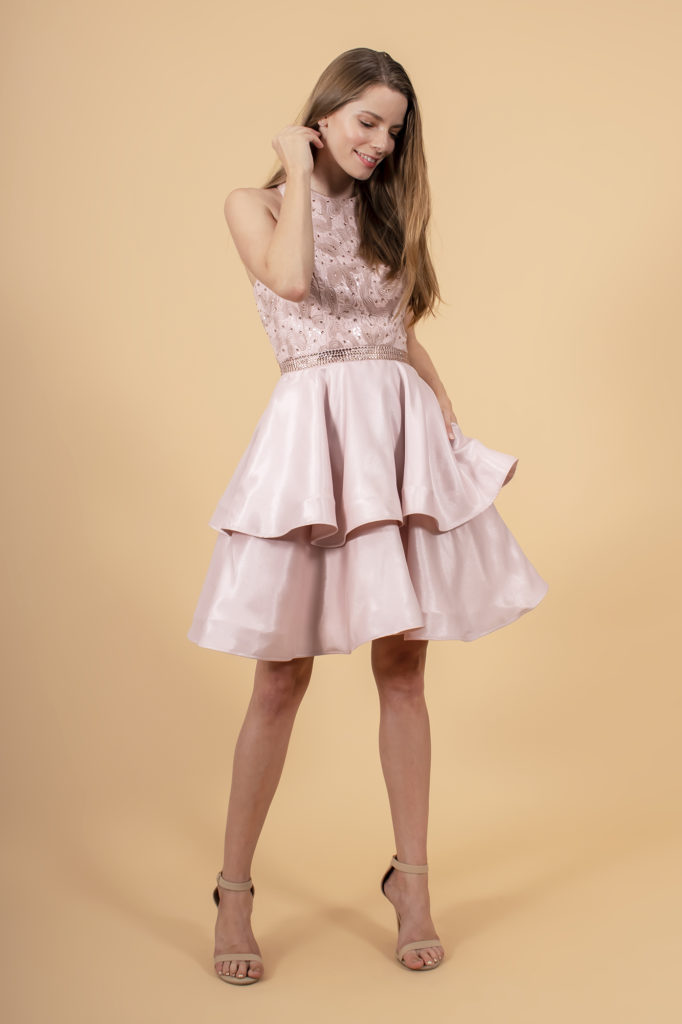 Get the look: GS1603 Sequin and Rhinestone Bodice Satin Short Dress /w Side Pockets
4. Sienna floral applique long dress
We understand not all bridal showers are in the spring and summer. Let's look at some other styles so you'll know what to wear to a bridal shower year-round. This sienna dress is a stunning option for the fall. Its warm hue reminds us of the changing colors of the leaves. And the floral applique covering the bodice creates a boho, earthy vibe. If the bridal shower is a garden party, this dress will fit in perfectly and look fab in photos. We also recommend this dress because it offers an A-line silhouette, which flatters any body type. It highlights the smallest part of your waist and then flows loosely against your hips and legs. Paired with off-the-shoulder sleeves? Hello, hourglass shape! Styling tip: Style your hair in loose curls to build on this whimsical look.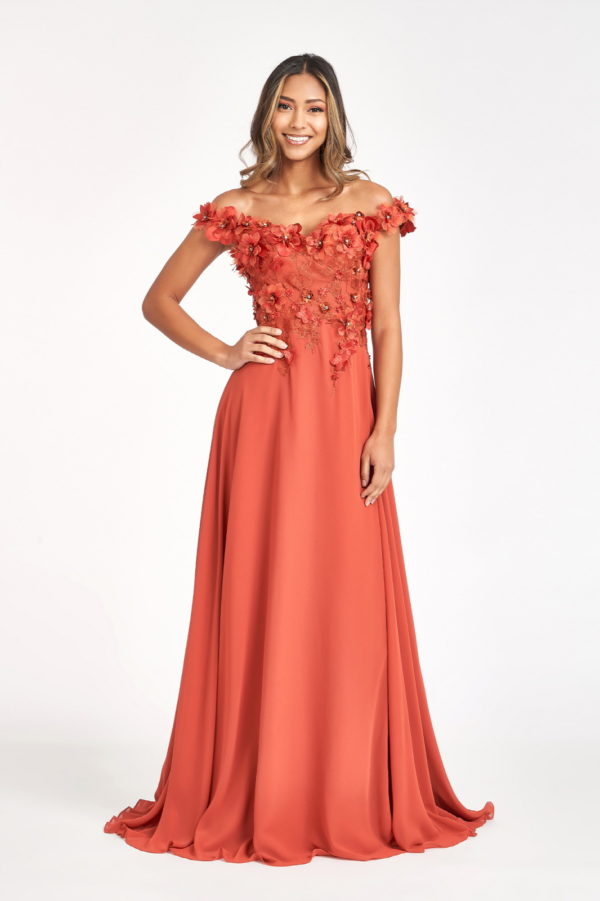 Get the look: GL3018 Floral 3D Applique and Embroidery Embellished Bodice A-Line Chiffon Dress
5. Navy A-line chiffon dress with embroidery
This final handpicked look is for the ladies wondering what to wear to a winter bridal shower. Dark shades and gem tones are generally popular colors to wear in the winter months—and they work very well for winter bridal showers too! Dark sapphire blue, ruby red, and emerald green are all top-notch picks. If the bridal shower is formal, we recommend pairing these rich shades with luxe fabrics, like lace or satin. You'll elevate any look instantly! As you can see, you can find long or short A-line dresses suitable for bridal showers. If you want to show off your legs, look for a skirt that hits just above the knees. Styling tip: Wear a pair of nude heels to elongate your legs.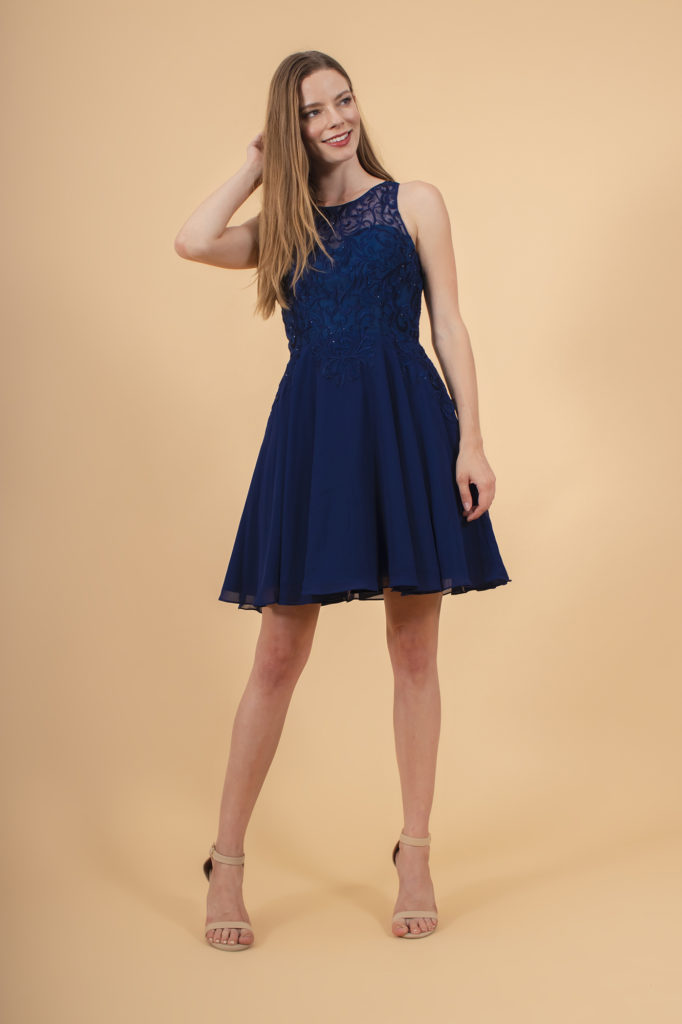 Get the look: GS1618 Embroidered Bodice Chiffon Short Dress
What to Wear to a Bachelorette, Wedding, and More
We're sure you're headed to all sorts of wedding-related events. Find outfit inspo for all occasions below!
---
Leave a comment