PARTY QUEEN / Aug 17, 2023
WHAT TO WEAR TO A GALA: GALA DRESS CODE OUTFIT IDEAS
If you've been invited to one, one of the first things that probably comes to mind is: "What do I wear to a gala?!" For most of us, these fancy events don't come around too often, so of course, you want to look your best! Most women will opt to wear
gala dresses
. You can totally wear pants if you prefer them. We recommend a formal pantsuit or trousers to ensure you're meeting the dress code. 
But if you're looking for gala outfit ideas that are dresses, you're in the right place. We selected five of our favorites to show you today.
What to Wear at a Gala: Gala Attire for Women
Most galas have a black tie dress code, which calls for floor-length dresses. Here are five long dresses that check off all the boxes for a formal affair.
1. Silver sequin and velvet mermaid dress
Metallics, like silver and gold, are always great go-to's for gala attire. We associate these colors with wealth and luxury, so of course, they're perfect for galas! To make your silvery look really pop, we recommend choosing a dress with some texture, like this sequin and velvet fabric. With every step, you'll shimmer and shine. You can layer on the details when it comes to gala outfits for women. Feather embellishments, puff sleeves, skirt slits, or all three. As you can see here, they look great together! Don't be shy to zhuzh it up. A gala is an event where it's not only allowed but definitely encouraged!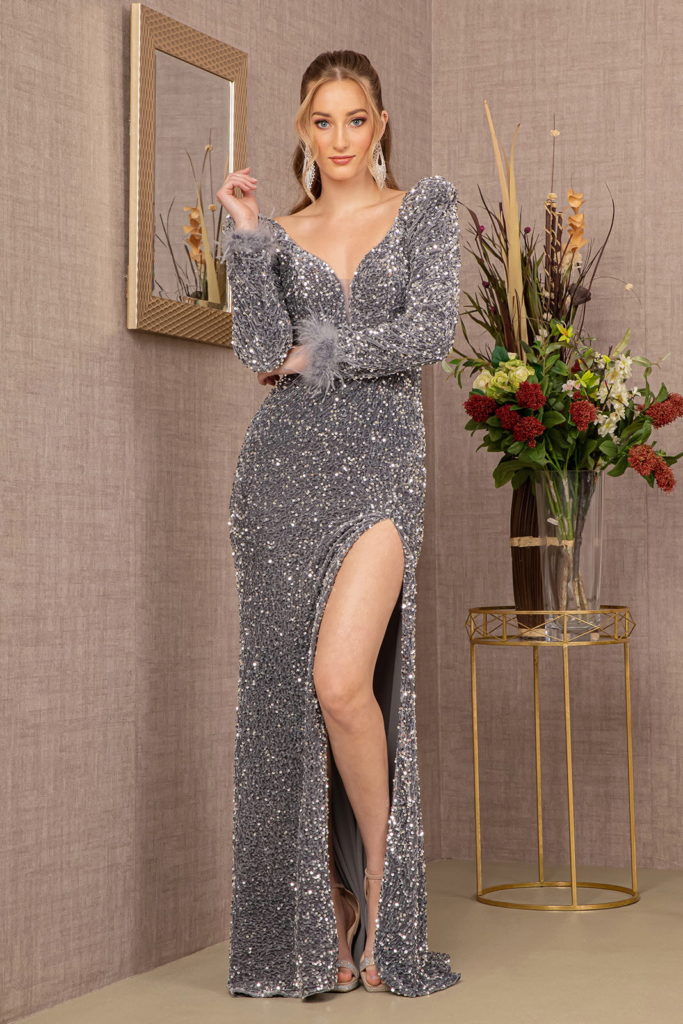 Get the look: GL3122 Puff Shoulder 3/4 Sleeves Feather Velvet Mermaid Dress
2. Rose gold embellished mermaid dress
Who doesn't love rose gold—especially for gala attire? Like silver, this dazzling metallic color will always meet the gala dress code. If you're looking for feminine details, try on dresses with sweetheart necklines or slits in skirts. These are classy ways to show off your assets! A mermaid dress is also very popular for gala attire because it hugs your curves while offering a long silhouette. Embellishments in floral or other delicate patterns can also create the feminine look you're going for. To dial up your gala outfit, look for layers or capes. When else can you rock these regal details? Plus, some may even be detachable. So you can take them off whenever you feel like it.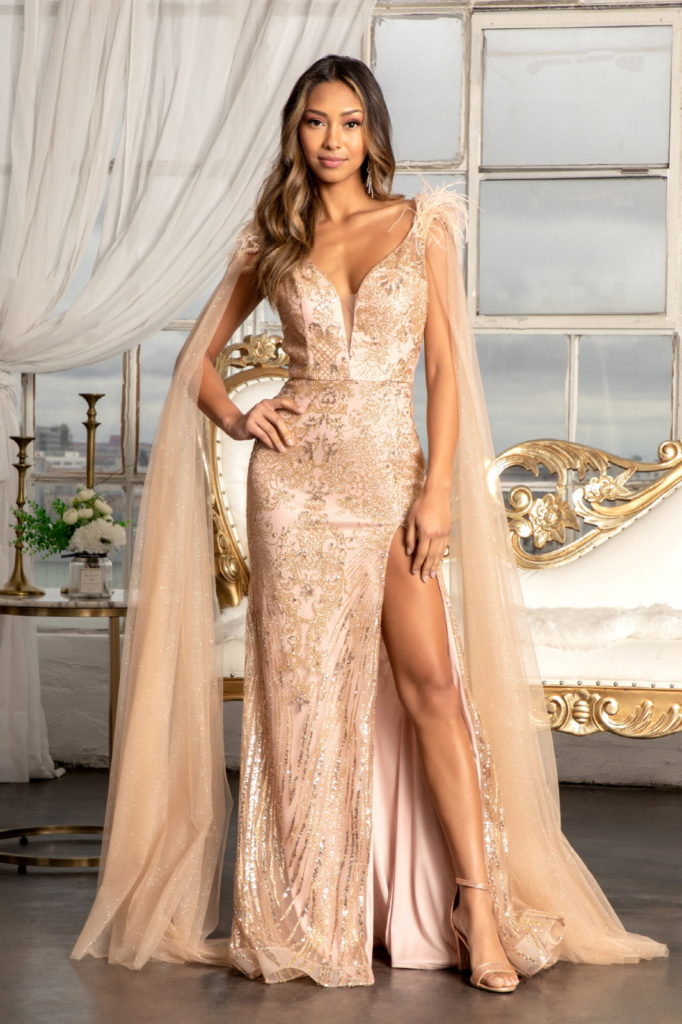 Get the look: GL3047 Feather-Shoulder Embellished Glitter Mermaid Dress w/ Mesh Layer Drape
3. Black mesh A-line dress
If you're struggling to figure out what to wear to a gala, remember: black is always a good idea! It's timeless, chic, and flattering—talk about a triple threat! Plus, the color works year-round. So you can rewear it at another gala or formal event. We love this black mesh dress because it's oh-so elegant. The feathered straight-across neckline and off-the-shoulder sleeves create a soft, feminine look. The embroidered bodice adds just the right amount of sparkle. And the mesh A-line skirt drapes beautifully over the legs and hips. No matter what your body type is, it's bound to flatter! Style your hair in a low bun or side-swept, loose curls to complete this look.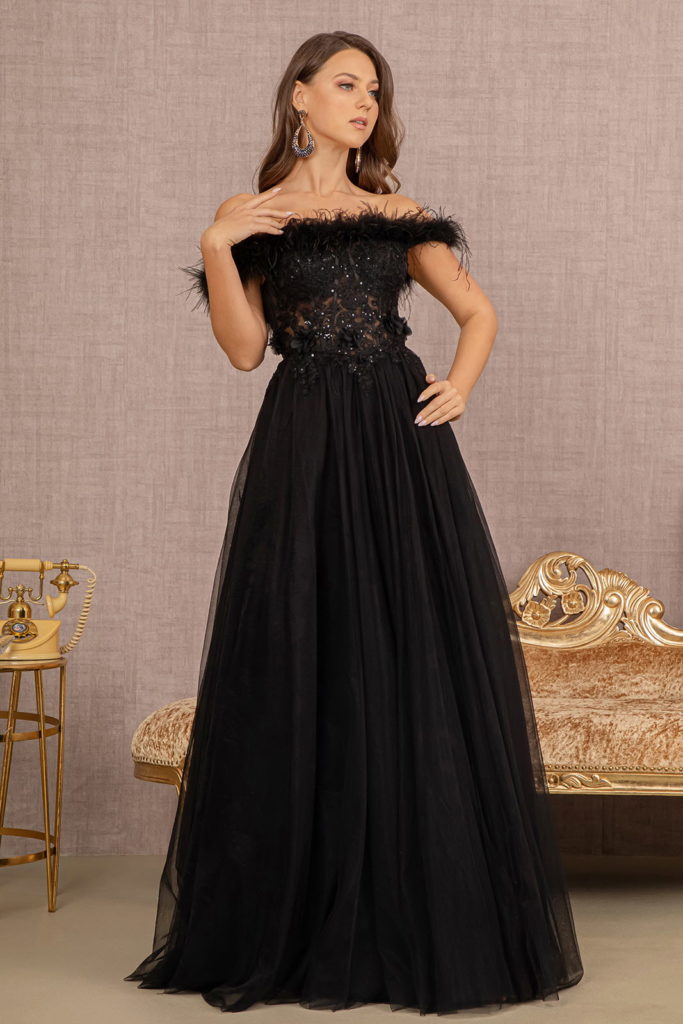 Get the look: GL3138 Embroidery Sheer Front Mesh A-line Dress w/ Feather Embellishment
4. Red satin mermaid dress
Some colors will always be fit for gala attire. Red is one of them! It's striking on any skin tone and great for any season. Its versatility makes it a favorite for gala outfit ideas. Right now, satin is a very trendy fabric for formal wear—from weddings to the red carpet. Why? Its smooth, lustrous texture screams luxury. It elevates any outfit instantly. Here, paired with the red color and mermaid silhouette, the satin creates a sultry look. If you're ready to dial up the spice, this gala look is for you. (Don't hesitate to complete this look with a red lip!)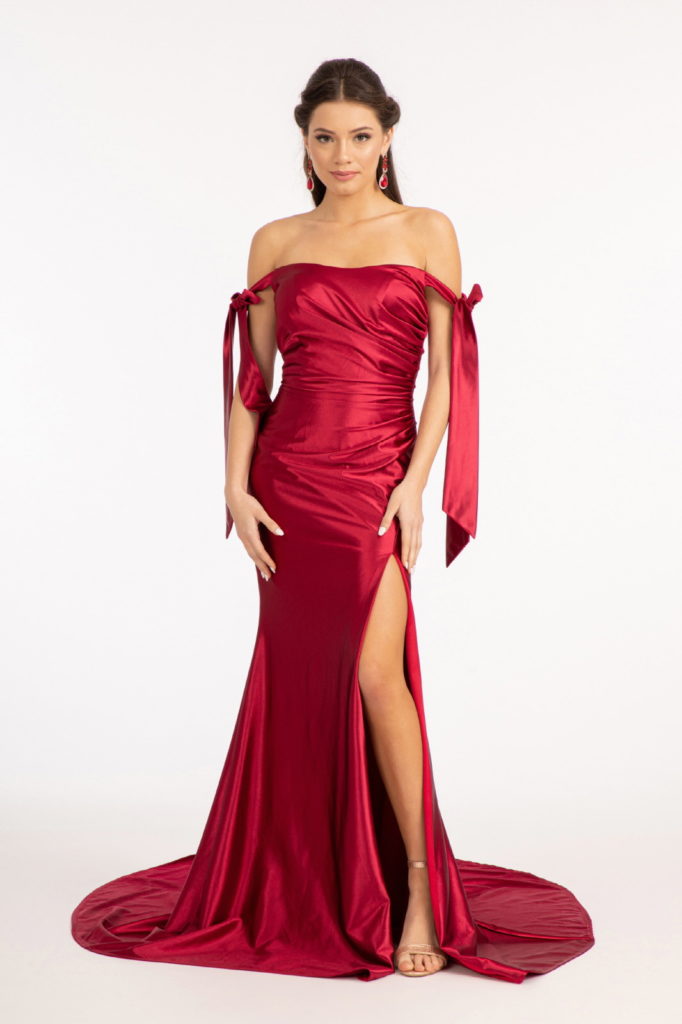 Get the look: GL3059 Gathered Bodice Satin Mermaid Dress w/ Straight Across Neckline
5. Blue asymmetrical crepe dress
While we've shown you some classic takes on gala attire, you can also explore more unique options. Take this aqua blue dress as an example. 
It's certainly acceptable to wear bright or trendy colors to a gala. Bright blues, purples, greens, pinks, yellows—you name it. These colors are especially fitting in the summer and will show off your natural glow. But remember that the overall look must still meet the formal dress code. So, for example, the dress needs to be floor length. And you should opt for fabrics like satin or glitter crepe instead of cotton or linen. Dramatic details, like this long asymmetrical layer, will not only help you meet the dress code but also earn you a stamp of approval from any style gurus in attendance!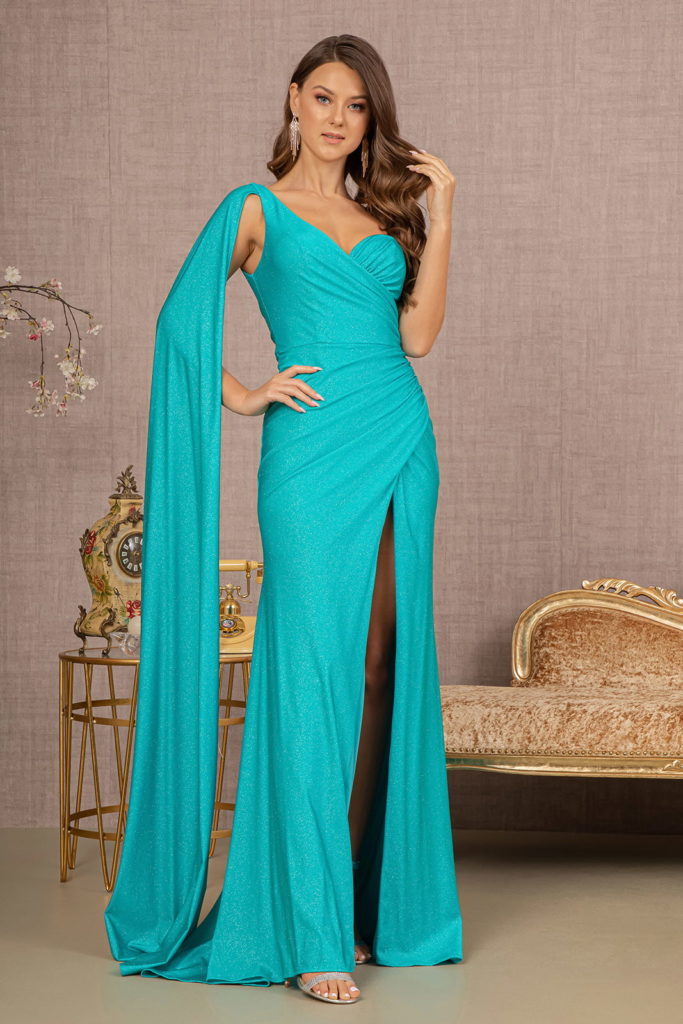 Get the look: GL3136 Glitter Asymmetric Ruched Side Mermaid Dress w/ Side Long Layer
More Gala Outfit Ideas Below!
By now, you likely have a better idea of what to wear to a gala. It could be a gala outfit idea we showed you today! But if you'd still like to peruse your options, take a look at the blogs below.
---
Leave a comment