BRIDAL GURU / Oct 04, 2021
WHAT TO WEAR UNDER YOUR WEDDING DRESS: UNDERGARMENTS 101
Your wedding day look is all about the execution. While your wedding gown takes center stage, there are many other important things to consider: hair and makeup, shoes, jewelry, and undergarments.
Undergarments aren't supposed to be seen. But if you choose the wrong one, it could wind up visible and impact your look. Nobody wants that!
So that's why we're here today. We're exploring the less glamorous side of putting together a wedding look—what to wear under your wedding dress—so you can look absolutely flawless on your big day.
You'll see that most of our advice revolves around one thing: the cut of your dress. So it's vital to pick your wedding dress before buying what you'll wear underneath it. Got your gown? Let's get started.
☁️ Color
Most wedding dresses are relatively light in color—white, cream, champagne, etc.
So when choosing what to wear underneath, it's essential to pick the right shade. The key is finding undergarments that are as close to your natural skin tone as possible. Many lingerie companies only offer one shade of "nude" underwear—and let's be real—one color does not fit all.
While you should keep an eye out for that marketing ploy, more and more companies are emerging that cater to different skin tones. So just do some research, and you'll find the right nude for you.
☁️ Bras (and Alternatives)
Because there's so much variety in wedding gown bodices, your bra options are also endless. But what should you wear under your wedding gown? We may be able to help you whittle down the choices.
❒ If your dress is strapless and has a built-in corset, you've got a few options:
» No bra: With the corset, you have all the support you need!
» Pasties: These are small, lightly padded stickers that go over your nipples. They add coverage, though, not support.
» Stick-on silicone cups: Like pasties, they provide coverage and add natural padding.
❒ If your dress has a low back, you could try: 
» Tape strips: Okay, first of all, please don't mix this up with regular tape. These are meant to be worn under your gown. They provide coverage and moderate support.
» Longline bra: These look just like regular strapless bras, but instead of stopping under the cups, the material continues down the waist (kind of like a corset)—allowing them to have a low-back cut.
❒ If your dress has straps: 
» Regular bra: If your dress has straps and a regular back, you can totally wear a regular bra. Just make sure the straps are thinner than your gown's.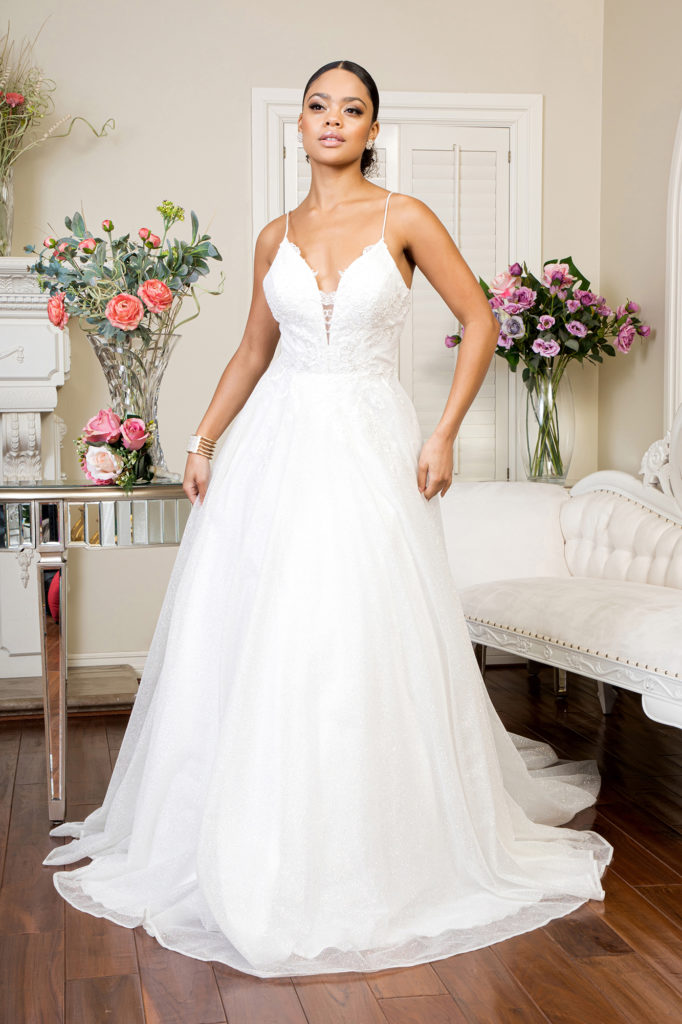 Get this wedding look:
style GL1904
| Embroidered Bodice Sweethearted Glitter Mesh Wedding Gown
- Editor's Note: Thick straps, thin straps, no straps—you can rock anything you like with the right undergarments.
☁️ Underwear
You've invested so much time and effort in your wedding look. Please don't let your panty line steal the show!
In addition to picking the right shade, it's also crucial to choose the proper cut and fit.
Our two cents? Go for a pair of seamless panties. They're more forgiving and don't hug your hips as much as those with elastic waists and side seams. If your wedding gown is very fitted, you may want to wear a seamless thong to eliminate any chances of showing a panty line. You could also consider high-waisted underwear if your gown is fitted and has a natural waistline. This will smooth out your lower abdomen.
Many lingerie companies don't allow returns, so for an event like your wedding, it's worth buying two sizes and trying them both on.
Oh—and while you probably know this, skip anything with prints or texture. If your gown has a delicate fabric like silk or satin, it will show through.
☁️ Shapewear
Shapewear is the unsung hero in most wedding outfits. It contours and smooths out lumps and bumps so that your gown can drape perfectly on your body.
In addition to making you look stunning, shapewear can also add comfort. Gowns are hot, and they don't offer much breathability. Because most shapewear incorporates sweat-wicking technology, you can be kept cool and dry. (Well, it depends on how much late-night dancing you do.)
Again, think about the silhouette and cut of your dress when shopping for shapewear. If it's tight around your waistline and legs, you may want to consider shapewear that also covers the upper thigh. If your dress flows at the waist, then hey—maybe you don't need it!
If you're interested in exploring shapewear, Spanx is the go-to in this category, and for a good reason. They have a cut for every shape and silhouette—so whatever gown you're wearing, you'll be able to find something to match.
🌼 More Wedding Blogs You May Like...
Prepping for your wedding day can be overwhelming. While you may have a better idea of what to wear under your wedding dress, you may still have 101 more things to figure out. (You're not alone!)
Instead of spending hours sifting through different blogs, you can find everything you need right here.
Here are a few blogs we think you may be interested in:
---
Leave a comment