FASHION TRENDS / Nov 25, 2021
DATE NIGHT OUTFITS: THE COMPLETE STYLE GUIDE
Got a date night coming up and not sure what to wear? We've all been there. Despite having a closet full of clothes, it's hard to find an outfit that's just right, isn't it?
Don't stress just yet. We've considered all sorts of date nights and pulled together this style guide, so you know what to wear—no matter what the plan is!
Let's get straight to it. Here are four looks to inspire your next date night outfit.
💘 First Date Outfit
Ah, the first date. While it's exciting, it can also be quite nerve-wracking. Here's an outfit that'll keep your nerves at bay: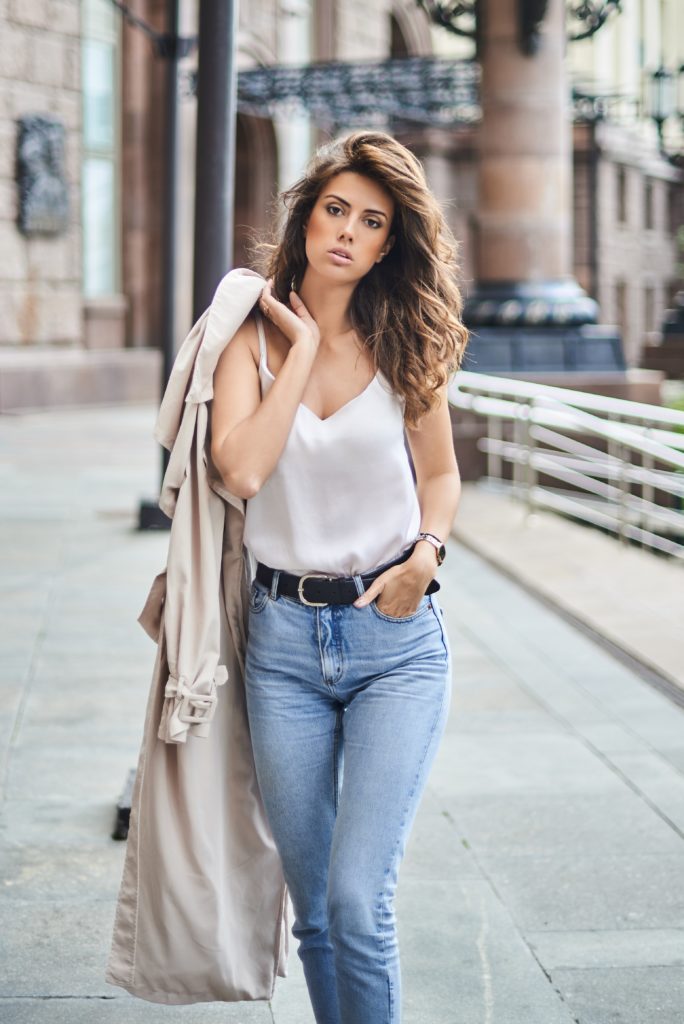 Fitted jeans, a satin blouse, and a trendy jacket create an effortlessly chic look no matter what the date is. Not too dressy, not too casual. (As Goldilocks would say, it's just right!)
If you're looking to dial up the glam, pair this date night outfit with heels or boots. You can also add some accessories: belts, hats, watches, and jewelry would all look lovely.
What to do with your hair and makeup? Make it look effortless to match your outfit. Your hair can be left straight, in loose waves, or a bun—and your makeup could simply be mascara and gloss.
First dates are all about good first impressions—and there's no question you'll impress with this date night outfit (but here's more first date outfit inspo if you need it).
💘 Dinner and Drinks Date Outfit
Dinner and drinks is a classic date night idea, and for a good reason—you get to spend most of the date talking and spending quality time with one another (although, yummy food and drinks never hurt).
Since you'll be seated for the majority of the time, you can sacrifice a bit of comfort to pump up the sexy. Our favorite look right now? A little black dress, heels or boots, and an eye-catching coat.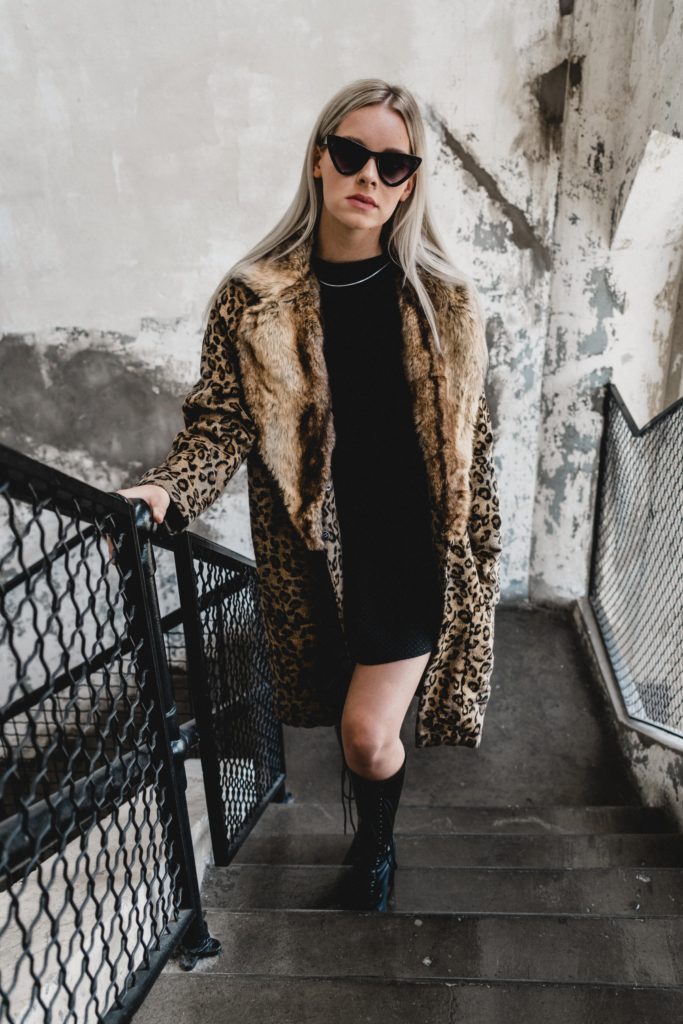 Black, as you know, is super flattering and looks great on any skin tone. Plus, it allows you to wear a bold jacket, shoes, and accessories.
A faux fur coat is certainly on-trend, but if that's too bold for your taste, you can always rock a leather jacket or trench coat.
Heels are a dependable choice, but you can also wear your favorite pair of heeled or laced-up boots. (Bonus: if it's cold out, boots will also keep your legs nice and warm!)
While you may be tempted to wear a bright red lip, we'd caution against it since you'll be eating and drinking. Unless you're good at touching up your makeup, you may want to save it for the next date night (or pick a more neutral hue!)
💘 Concert Date Outfit
Need a fun date night outfit for a fun night on the town? Then look no further. Whether it's a concert, a show, or dancing, this is just the look: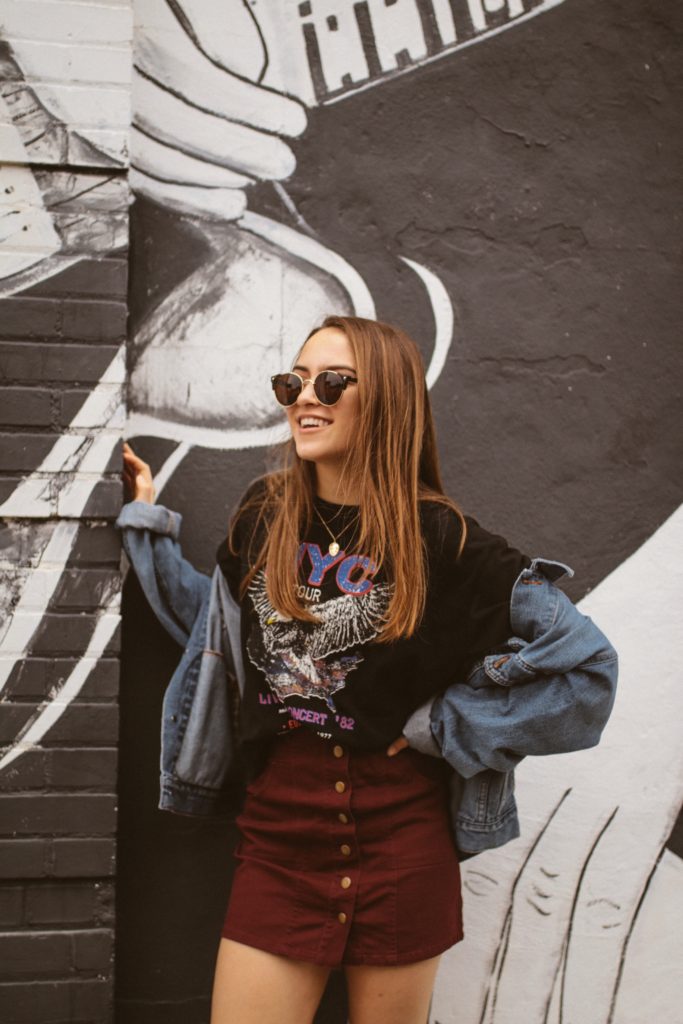 The formula is simple: a mini skirt and graphic tee paired with a jean or leather jacket. Feel free to mix and match colors and textures!
What about footwear? You can pair this date night outfit with sneakers, heels, or boots, depending on what you'll be doing.
We encourage you to go wild with your makeup and accessories too. A bold red lip, a hat, jewelry—layer it on! Let loose and have fun with this date night outfit. When else can you?
💘 Formal Date Outfit
Sometimes, dates can be formal. Galas, weddings, and holiday parties are all examples. No matter the occasion, we've got plenty of looks for you.
A dependable option for this year? A glitter crepe bodycon dress. It's glamorous, it's sexy, and it's super on-trend this fall!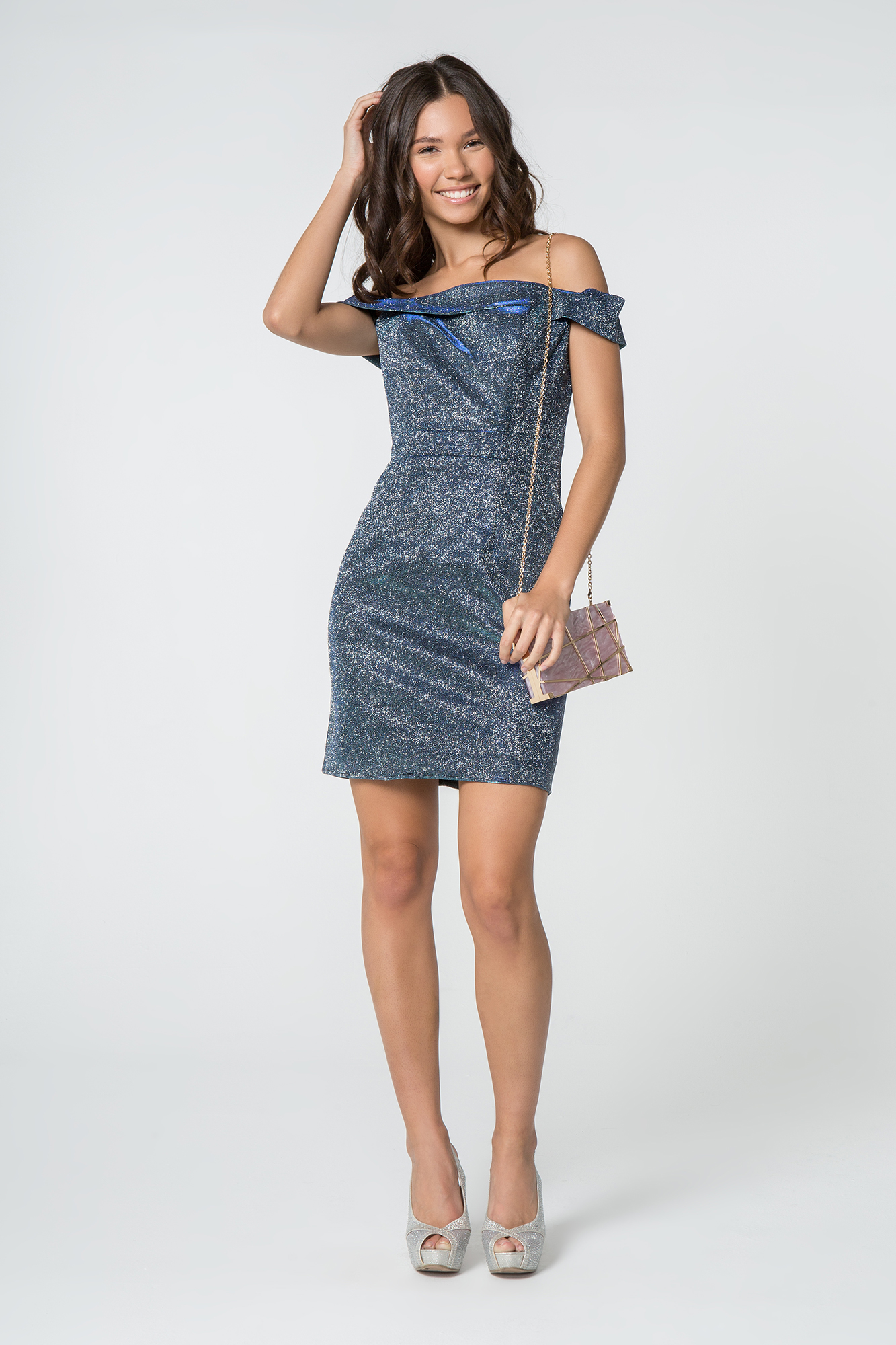 Get the look:
style GS2856
| Cut-Away Shoulder Glitter Crepe Bodycon Dress
Bodycon dresses are typically shorter in length and hug the body making your look stylish for any formal occasion.
Since you're rocking glitter, there's no need to choose a bright color—dark jewel tones would be perfect! But feel free to wear sparkling gold or silver heels to match.
It's important that your hair is styled and makeup is done—no need to overthink it, though. You can sweep your hair to the side and loosely curl it. For your makeup, some mascara, blush, and nude lipstick or gloss will do!
Need More Date Night Outfit Inspo?
We've covered four common date nights in this blog post, but if you didn't find what you're looking for, take a look at these blog posts. From casual dates to cocktail parties, we've got you covered. Enjoy your date night, beautiful!
---
Leave a comment