PARTY QUEEN / Mar 13, 2023
LIKE A ROYAL: SIX ROYAL BLUE PROM DRESSES FIT FOR A QUEEN
Prom is one of the few occasions where we can truly dress like royalty. So ladies, it's time to bring out your fierce queen energy. 
Royal blue is a great choice for those who want to make a strong entrance. The color has regal associations, thanks to its historical relationship with the British royal family. And in color psychology, it symbolizes authority, trust, and confidence. 
Is royal blue the color for you? Then it's time to check out these six royal blue prom dresses. Let's find you a look that'll take the throne. 
1. Chiffon A-line dress with gold embroidery
An A-line silhouette, intricate embroidery, and gold embellishments—this royal blue prom dress offers all the traditional elements of a regal look. 
A-line dresses have been a favorite among royals for years because they're flattering on any figure. They draw attention to a cinched waist and create an hourglass shape. Who doesn't want that on prom night? 
When we think of royalty, we think of rich metals—like gold and silver. On a striking backdrop like royal blue, either of these will stand out and catch the eyes of many. We love how the gold here brings out the details in the embroidery.
If you're looking for a royal blue prom dress that's classically regal, this one is it!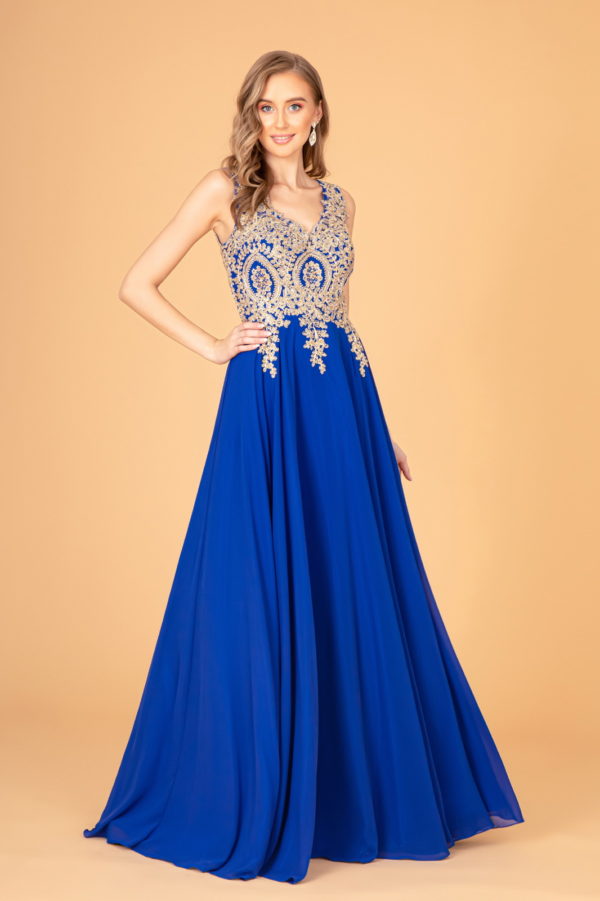 Get the look: GL2311 V-Neck Embroidered Chiffon Long Dress
2. Sequin mermaid dress with embroidery
Queens are powerful figures and not ones to blend in. You too? Then you've got to see this mermaid royal blue prom dress. 
From head to toe, we get fierce energy. First, let's talk about its silhouette and cut. Mermaid dresses are all about hugging your curves and showing off your body. (If you got it, flaunt it, right?!) This royal blue prom dress dials up this spicy silhouette with an illusion deep-v neckline, v-back, and a high slit in the skirt.
Next, let's talk about fabric and embellishments—because they take this look to the next level! Sequins, lace, embroidery, beads, and applique work together to create an ultra-luxe feel. Royals never skimp on luxury. On prom night, neither should you.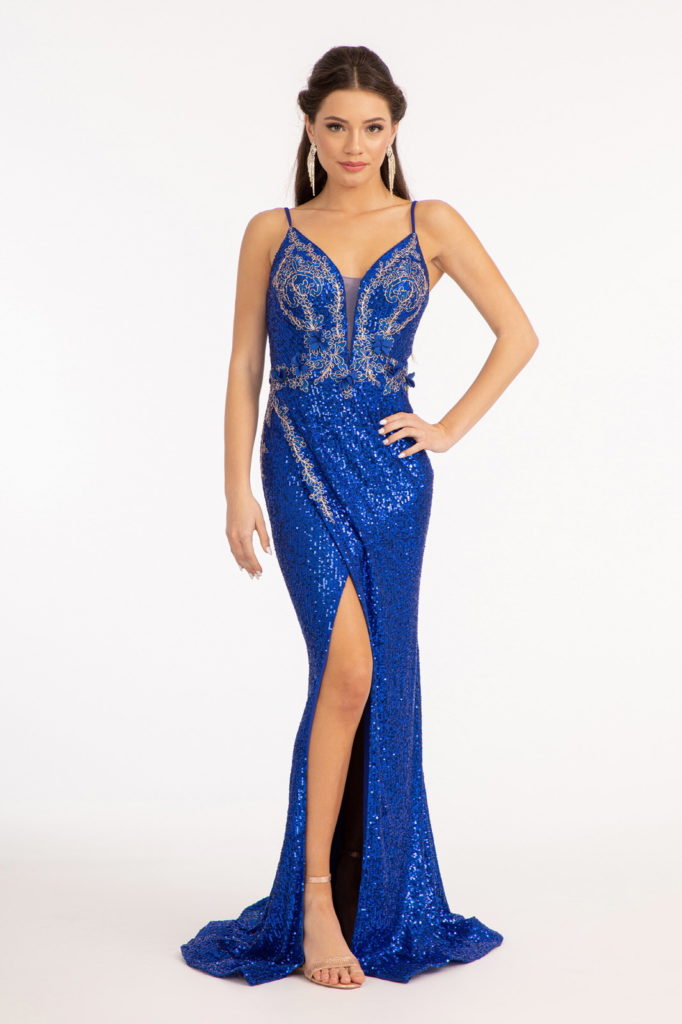 Get the look: GL3053 Sequin Embellished Illusion V-neck Mermaid Dress w/ Open V-back
3. Satin mermaid dress with slit
If you're looking for a feminine and romantic look, this royal blue prom dress has your name on it. 
Every detail highlights the beauty of a woman's body: the mermaid silhouette, off-the-shoulder sleeves, sweetheart neckline, pleated waist, and high slit in the skirt. The satin fabric then drapes beautifully on every curve. (The queen of 1950s Hollywood, Marilyn Monroe, would be all over this dress!)
To complete this effortlessly glam look, keep your hair down and style it in loose curls. Adding some shoulder-grazing earrings would create just the right amount of sparkle!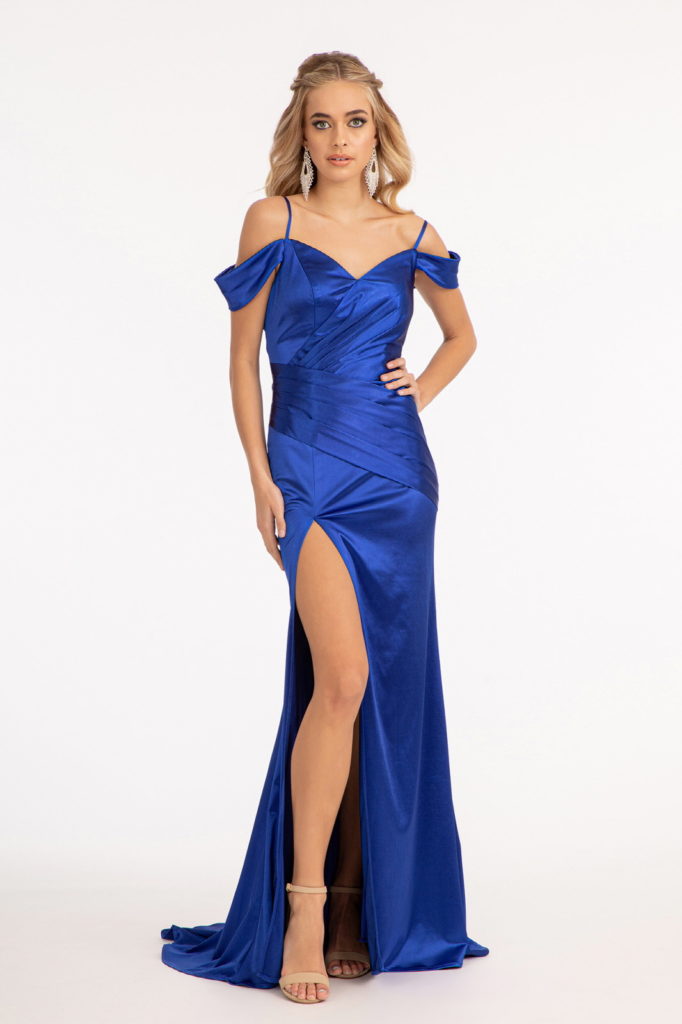 Get the look: GL3060 Sweetheart Satin Mermaid Dress w/ Pleated Waist and Slit
4. Velvet and sequin mermaid dress with feathers
Here's another va-va-voom look for the gals who want to make a statement.
This royal blue prom dress brings all the textures and details. Sequins on top of velvet? How unique is that! And don't get us started on those feathers. They're taking over the fashion scene—and prom is no exception. 
While this dress has many elements, you and your beautiful figure are front and center. The off-the-shoulder sleeves and mermaid silhouette create voluptuous curves that'll make you feel the strong woman you are!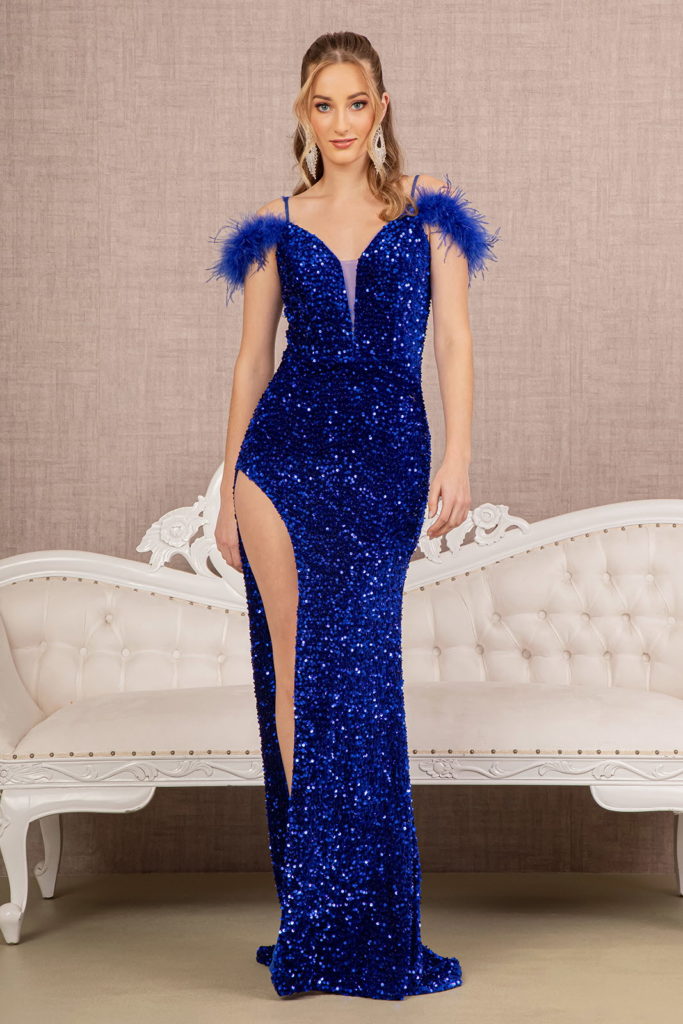 Get the look: GL3149 Sequin Cut-away Shoulder Velvet Mermaid Dress w/ Wide Side Slit
5. Satin A-line dress with rhinestones
Sometimes, less is more. We love the simplicity of this royal blue prom dress and think it's a fabulous option for the low-key ladies out there. 
It creates a regal look without going over the top. Satin, of course, is a luxurious fabric that drapes beautifully on the body. And with an A-line silhouette, you'll look like you're gliding across the dance floor.
The bodice is covered in rhinestones which adds understated sparkle. And the waistband ties everything together (literally) to create a flattering shape. This one gets a big "yes" from us!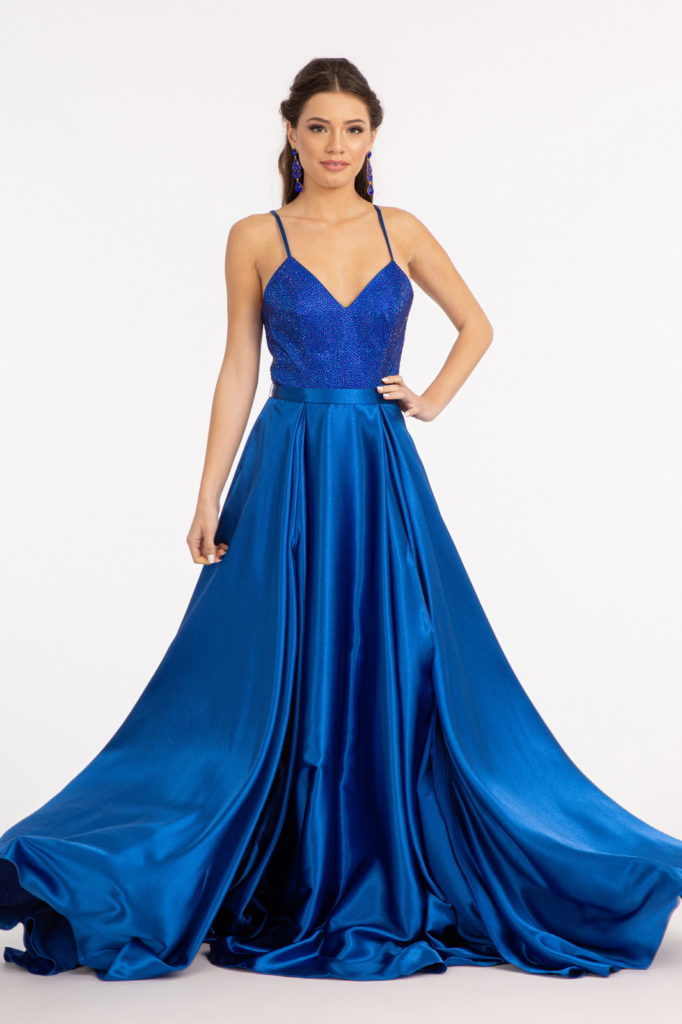 Get the look: GL3040 Full Rhinestone Bodice Lace-Up Back Satin Prom Dress w/ Waistband
6. Chiffon A-line dress with sheer sleeves
Looking for a chic and elegant royal blue prom dress? This sheer chiffon number has your name on it. 
We love that this dress leaves more to the imagination yet still brings sexiness through the sheer fabric. It offers the perfect balance! And while there's perhaps more fabric than the other options, it's still so incredibly flattering—thanks to its A-line silhouette and waistband. 
We can't leave without admiring the bodice. The illusion sweetheart neckline, beads, and short sleeves work together to create a unique and striking prom look.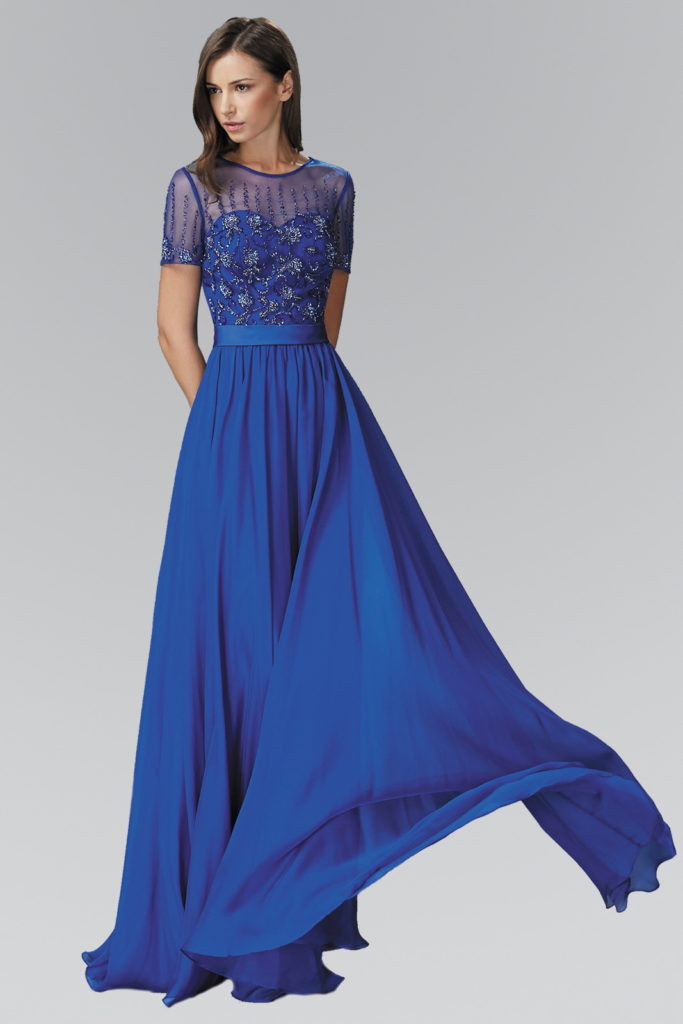 Get the look: GL2042 Short Sleeve Chiffon Long Dress with Beaded Bodice
Let's Look At More Prom Dresses, Shall We?
Ladies, we could do this all day. So if you're looking for more prom dress options, we'd be happy to show them to you! To start, here are some blogs we think you'd like: 
---
Leave a comment