PARTY QUEEN / Sep 08, 2023
TOP PROM DRESS STYLES AT WORLD OF PROM ATLANTA
We're back from World of Prom Atlanta! We were in absolute heaven, being the fashionistas that we are. It was amazing to meet other retailers, see the latest trends, and share our best styles with boutiques located across America.
If you're looking for the next big thing in prom attire, you're in the right place. Check out our newest additions to the GLS catalog and find them now at a local retailer near you!
💖 Our Top 10 Looks at World of Prom Atlanta ✨
World of Prom Atlanta got us super excited for next year's prom. There were so many gorgeous styles! Here are some of our favorite GLS Collective dresses—and photos—of the week.
1. Black embellished mermaid dress 
Who says black has to be boring? This mermaid dress brings all the drama—with nearly head-to-toe sequins and a detachable skirt layer. (It makes for great photos!)
Mermaid silhouettes call attention to your gorgeous figure. A deep-v neckline and slit in the skirt will highlight your hourglass shape. This look definitely gives confidence. If you got it, flaunt it!
If you're off to a Great Gatsby-themed prom, this luxe look is it.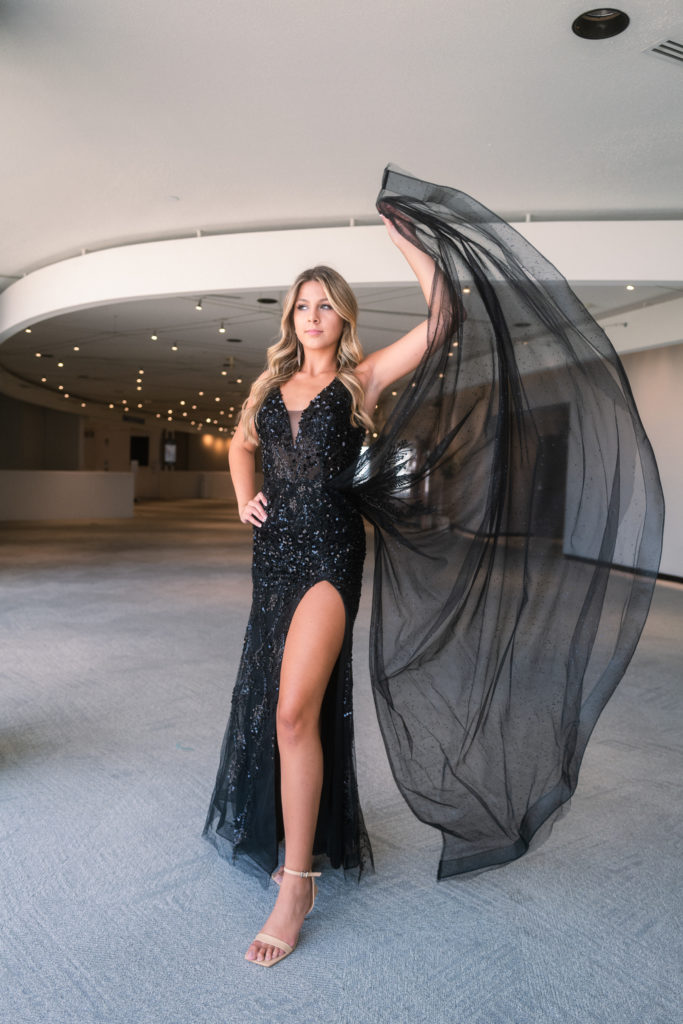 Get the look:
style GL3119
| Sequin Sheer Bodice Mermaid Dress w/ Side Long Mesh Layer
2. Black strapless mermaid dress
As you can see, black mermaid dresses come in many forms. This one has voluptuous ruffles. Yes, you can have a curve-hugging silhouette and a full, fab skirt.
Corset tops are so trendy right now and we're big fans. They're super flattering and zhuzh up any bodice. This strapless, sweethearted version is giving us everything we wanted.
Headed to a masquerade-themed prom? You gotta try this one on!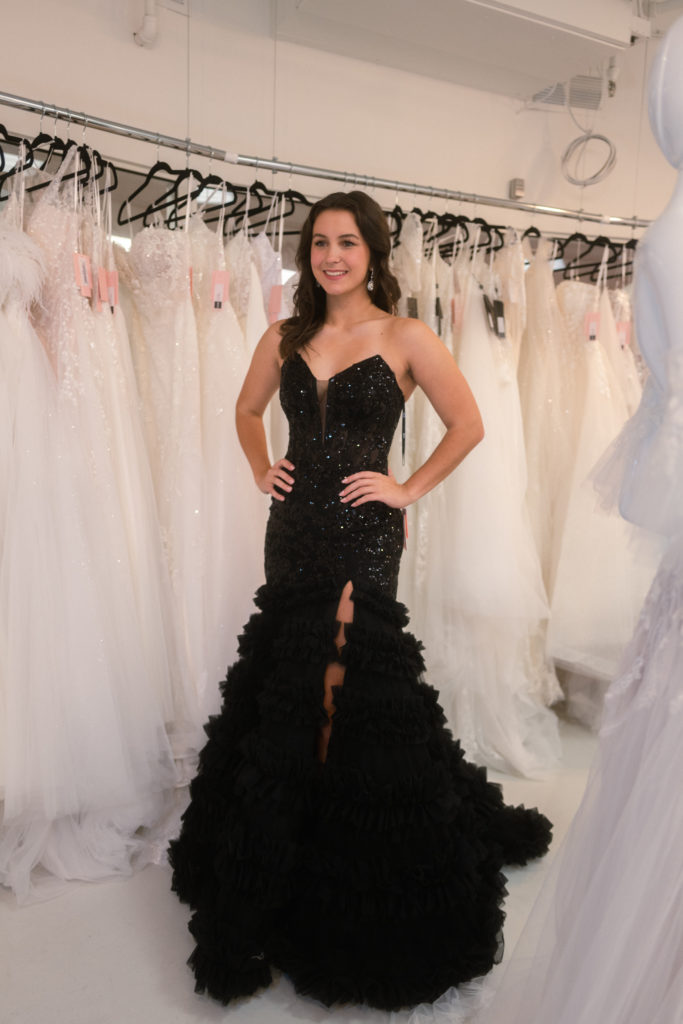 Get the look:
style GL3315
| Sequin Sheer Bodice Ruffled Skirt Strapless Mesh Trumpet Long Dress
3. Pink spaghetti strap mermaid dress
Looking for a Barbie-inspired prom dress? Then of course you gotta go pink. This fuchsia mermaid dress is for those who want to go big and bold.
The mesh corset paired with the flowing skirt gives you structure and softness all in one. The added layer to the skirt will make for cute photos—especially when you're on the dance floor.
While this color is super on trend today, it will also fit right in at an 80s-themed prom.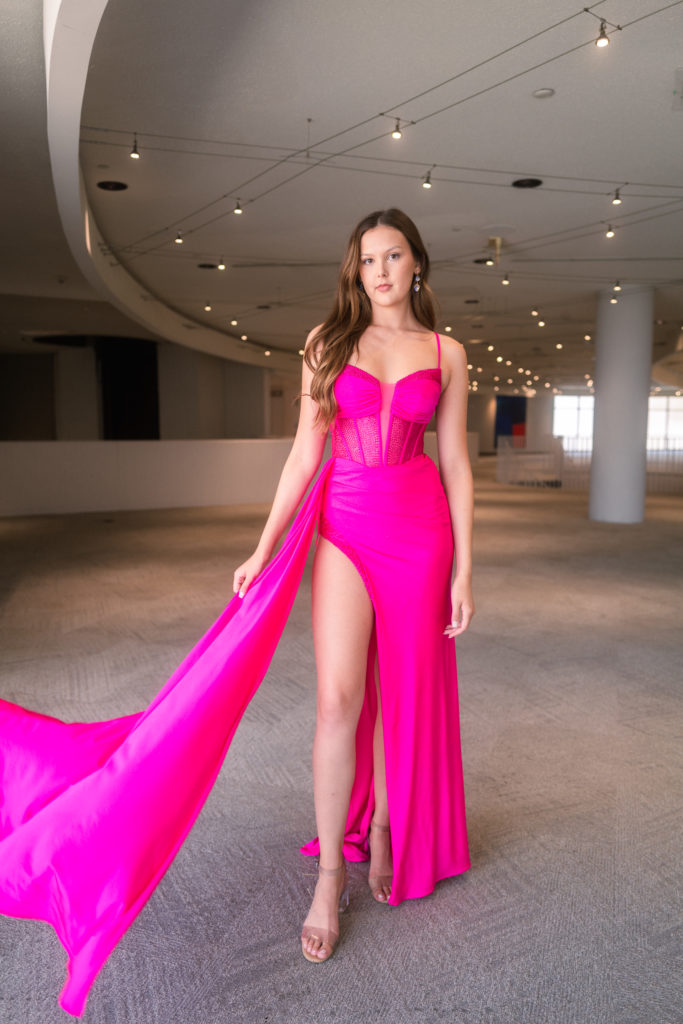 Get the look:
style GL3260
| Bead Ruched Side Rome Jersey Mermaid Long Dress w/ Side Drape
4. Pink A-line dress with puff sleeves
When it comes to Barbie-inspired prom dresses, we know you want options this year. This particular style is flattering on any figure. The A-line silhouette is the unicorn of all silhouettes. No matter your body type, it'll create an hourglass shape.
The detachable puff sleeves, alongside the shimmery fabric, also make this an elegant, royal look. It's perfect for a vintage-themed prom.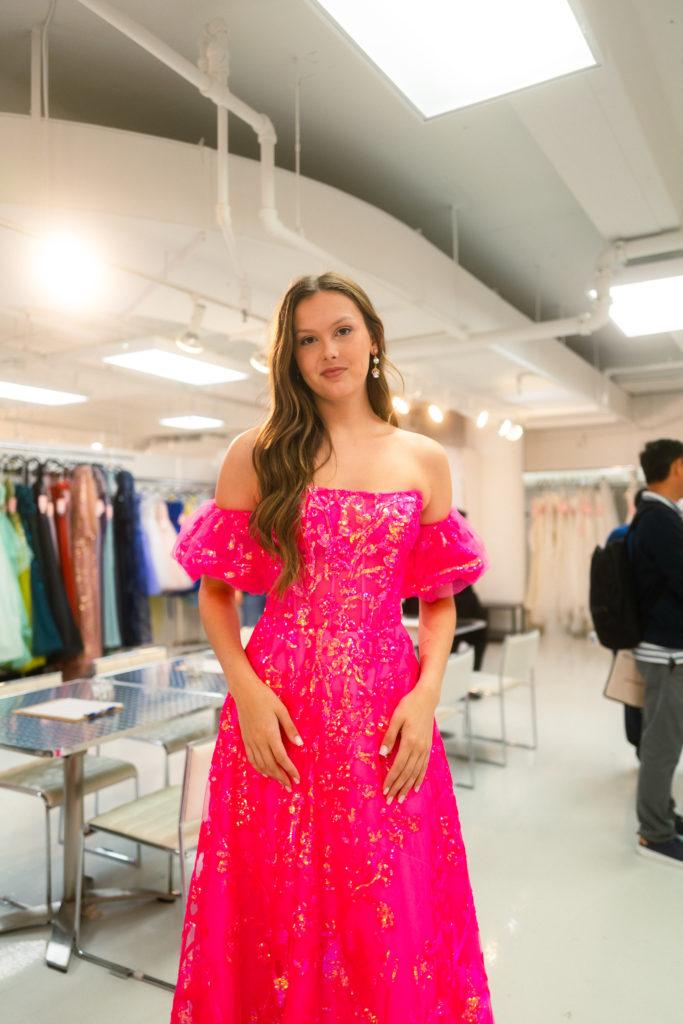 Get the look:
style GL3311
| Sequin Sheer Bodice Mesh A-line Long Dress w/ Puff Sleeves
5. Yellow A-line dress with applique
To all the bright, bubbly personalities out there: this sunshine-yellow gown is your perfect prom look. It lights up any room, just like you!
You'll also turn heads with this voluptuous, layered A-line skirt. And the floral applique? It totally completes this dress.
This look is totally giving Belle from Beauty and the Beast. Off to a French or Parisian-themed prom? This is your dress!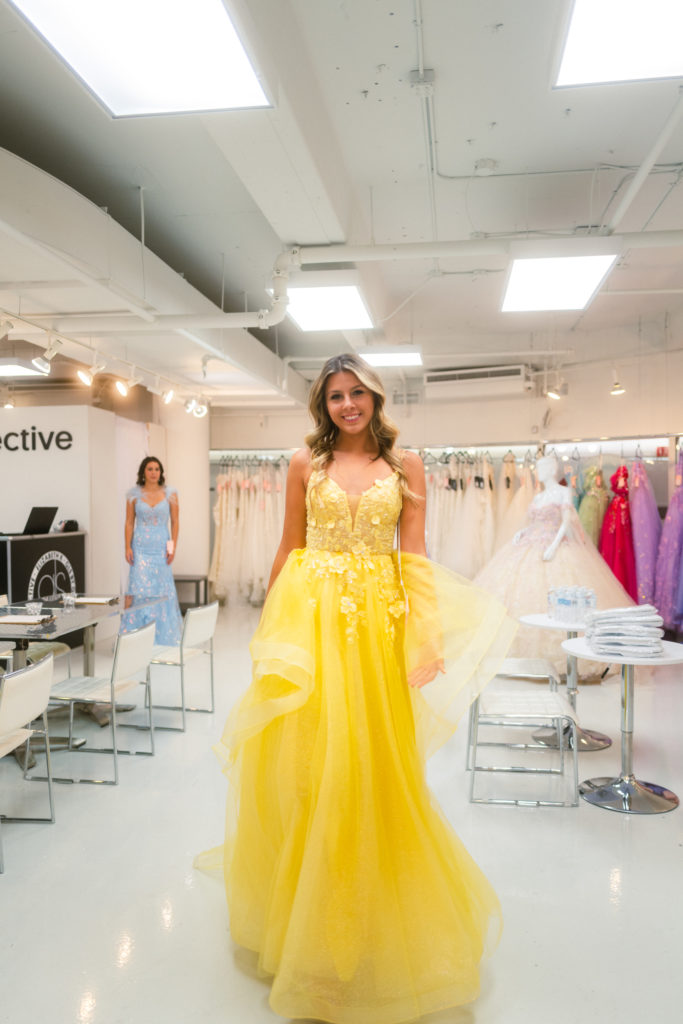 Get the look:
style GL3356
| Bead Sequin Mesh A-line Long Dress w/ Ruffled Layered Back
6. Orange embellished mermaid dress
If the above look is sunshine in a dress, this one is giving us sunset! Its warm hue and shimmering sequins will bring out your natural glow. Every hour is golden hour in this dress.
We have to say, this look is all about the details. The illusion deep-V neckline, beaded details, floral sequin designs—together, they take our breath away.
This radiant number is just the look for a Hollywood-themed prom.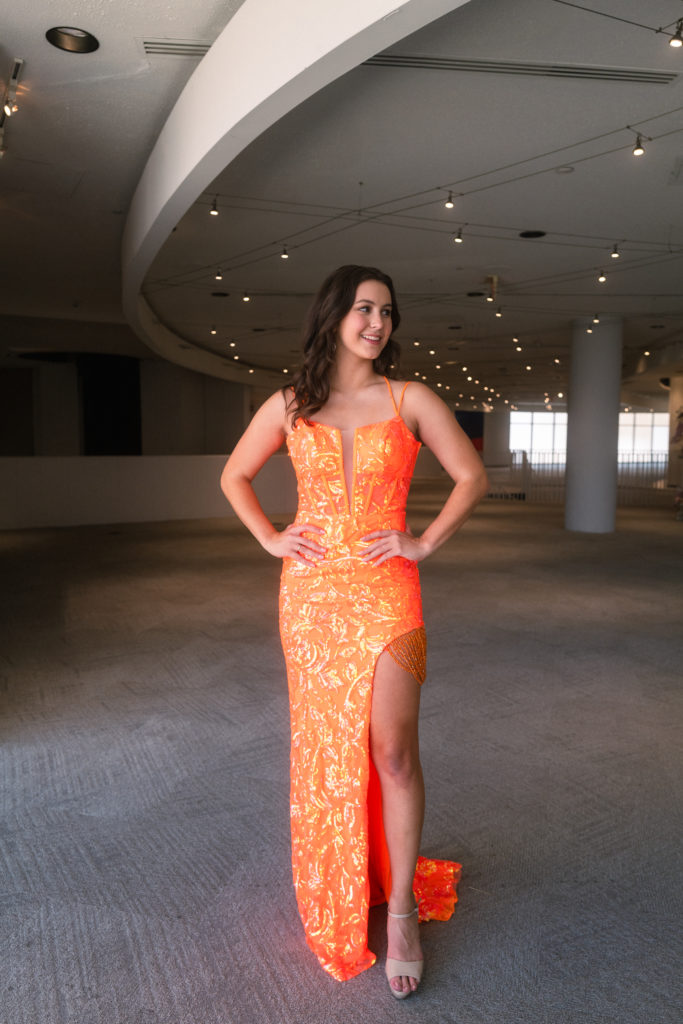 Get the look:
style GL3376
| Bead Sequin Sheer Bodice Mesh Mermaid Long Dress w/ Side Slit
7. Blue A-line dress with sheer bodice
Soft, whimsical, angelic—this light blue prom dress is an absolute stunner. 
We have to take a moment to appreciate the details here. Its 3-D floral appliques are oh-so delicate and pretty. The feathered sheer bodice is super on trend. And the open back? Wowza.
If you're headed to a fire and ice prom, this look will be a showstopper, for sure!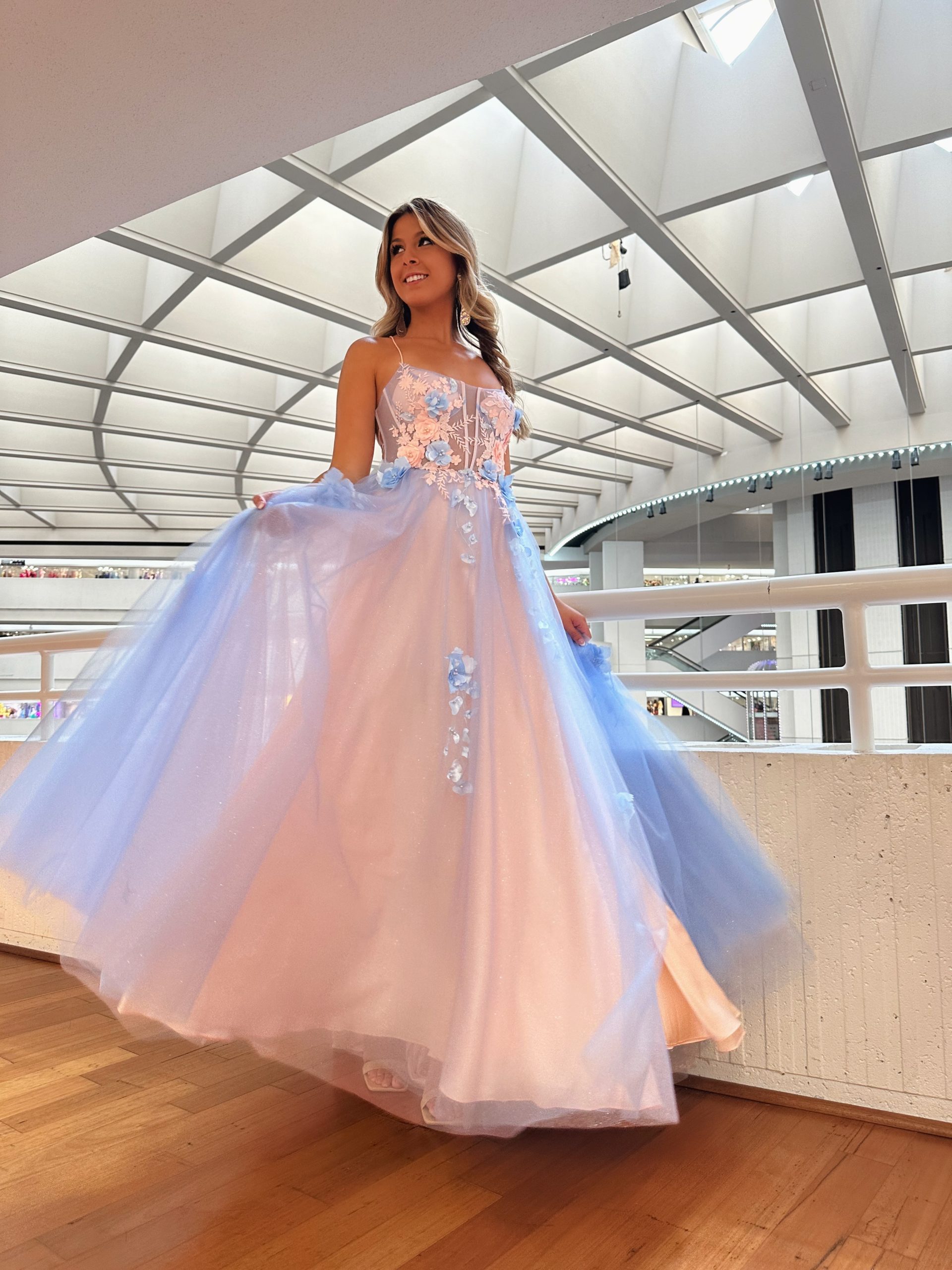 Get the look:
style GL3250
| 3-D Flower Sheer Bodice Cut-out Back Mesh A-line Long Dress
8. Blue floral A-line dress
Prom can feel like a dream. It's such a magical night. This blue and pink prom dress captures that feeling perfectly. It's so soft and feminine!
The corset bodice and off-the-shoulder sleeves are ultra romantic, showing off your collarbone and shoulders. The tiered A-line skirt flows gracefully over your hips and legs. You'll practically glide across the dance floor.
If you're off to an enchanted forest-themed prom, look no further.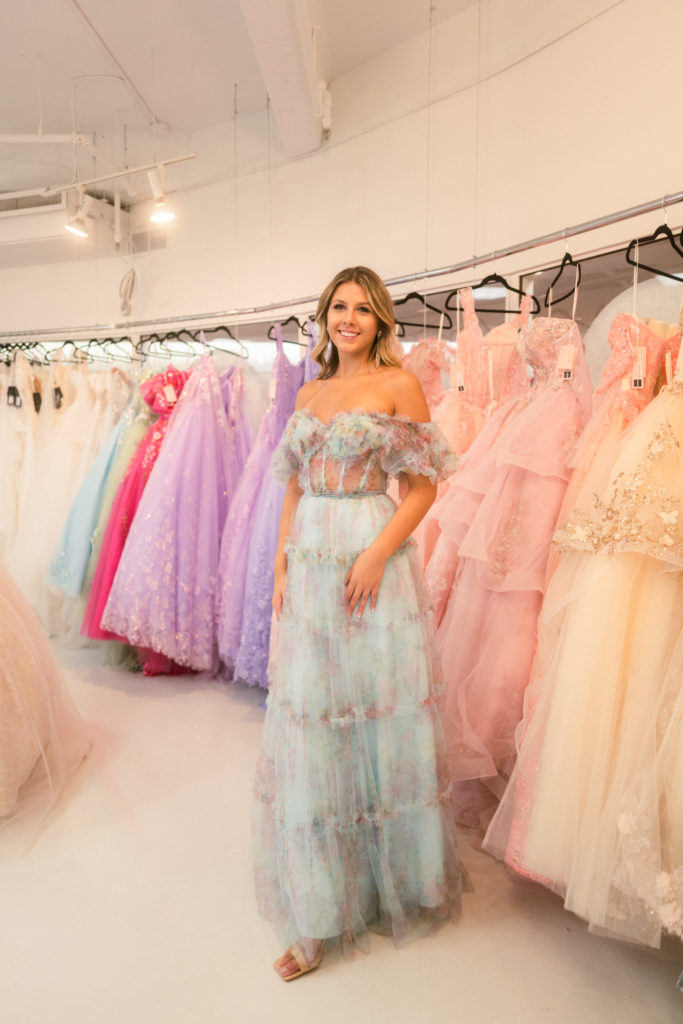 Get the look:
style GL3394
| Sweetheart Off Shoulder Ruffle Mesh A-line Long Dress
9. Blue mesh mermaid dress
We love a dramatic silhouette. While some mermaid-style prom dresses have a subtle "tail," this dress brings all the volume.
If you're looking for a vibrant, head-turning look, this dress is a top contender. This shade of blue is not for fitting in—it's for standing out. And the deep-v neckline and voluptuous skirt create an hourglass shape that rivals Marilyn Monroe's.
Love this color? Find more blue prom dresses here.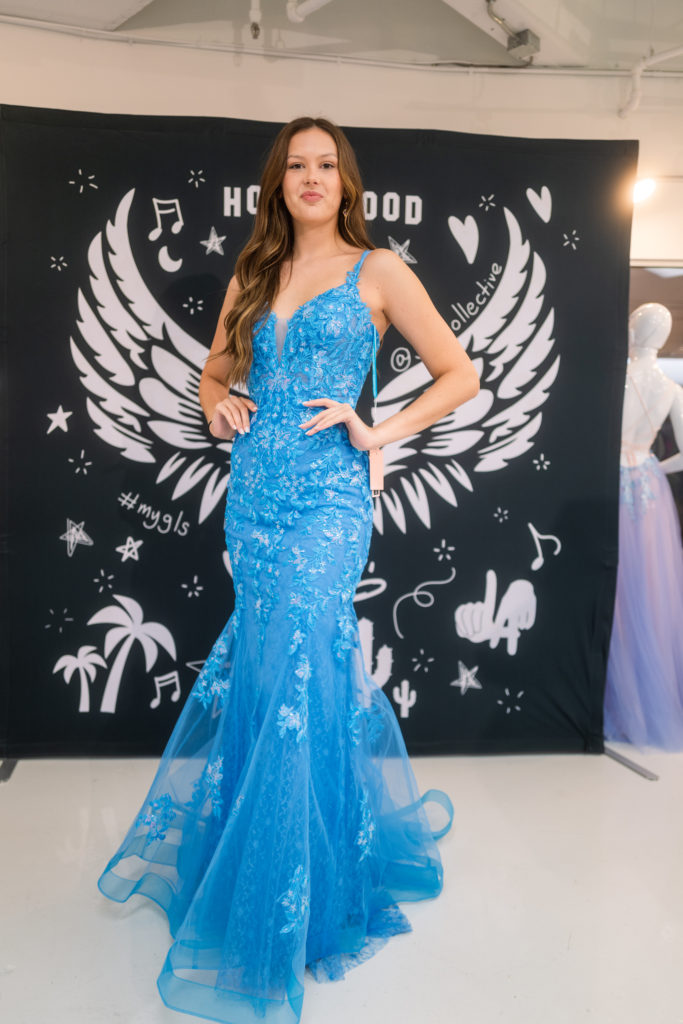 Get the look:
style GL3333
| Floral Embroidery Sequin Sheer Bodice Mesh Mermaid Long Dress
10. Strapless mermaid dress with layers
This dress is all about the glam—and we think there's no better place for it than prom.
First, let's talk about the skirt layers. This dress has them along the waist and sides of the dress, which is both flattering and luxurious.
It's very trendy, with the corset bodice that cinches the waist. Snag this dress in pastel colors like mauve, peach, and champagne.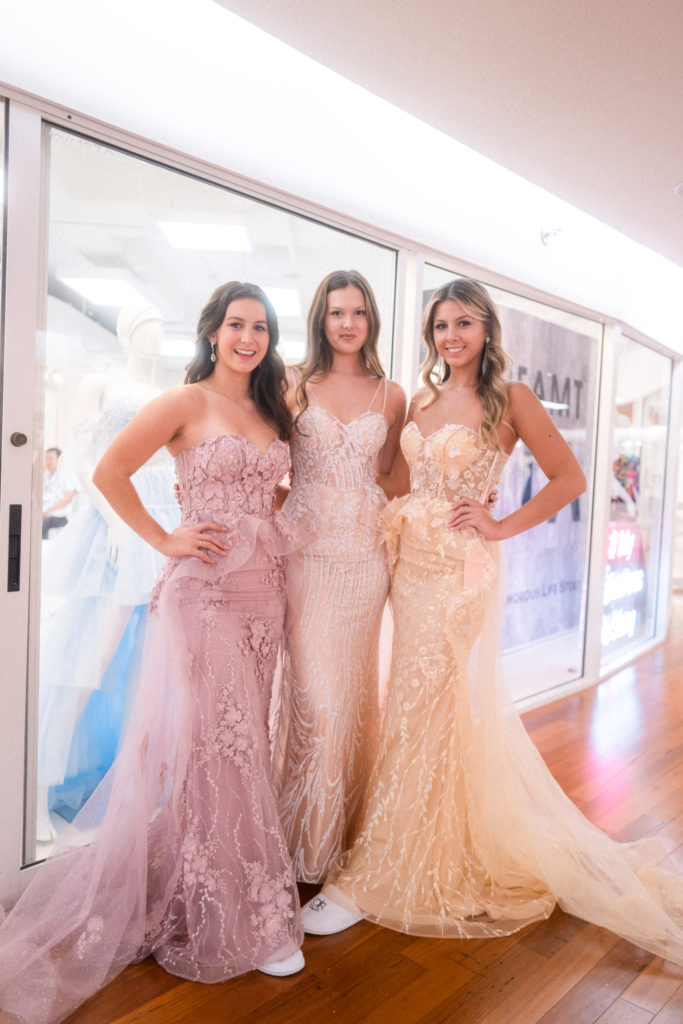 Get the look:
:: Left ::
style GL3257
| Jewel Strapless Mesh Mermaid Long Dress w/ Waist Drape
Get the look:
:: Center ::
style GL3259
| Glitter Sheer Bodice Mesh Mermaid Long Dress w/ Waist Drape Layer
Get the look:
:: Right ::
style GL3256
| Jewel Sheer Bodice Mesh Mermaid Long Dress w/ Waist Drape
Find Your Favorite GLS Collective Dresses At a Boutique Near You
These dresses from our latest collection are gorgeous, aren't they? Want to try a few on? Check out our store locator to find your nearest retailer and snag the perfect prom dress that will get you that prom queen crown!
---
Leave a comment